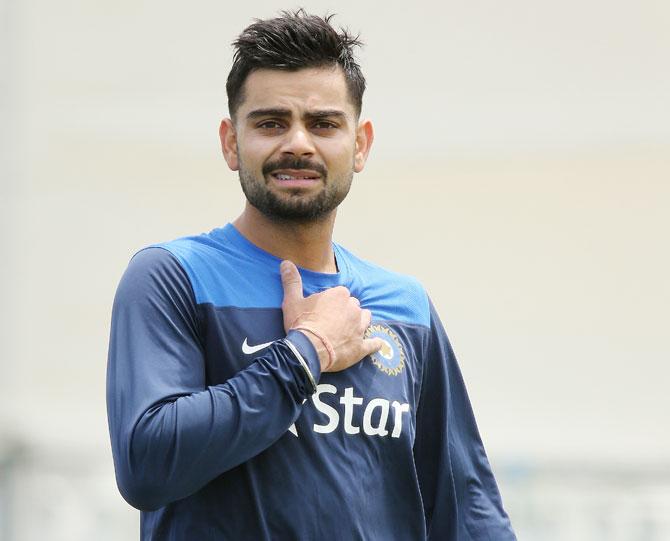 India's Virat Kohli during a training session. Photograph: Morne de Klerk/Getty Images
Wriddhiman Saha was effusive in his praise for India's new Test captain Virat Kohli and said the team was all fired up under the elegant Delhi batsman.
"He always tries to liven up the atmosphere. I know him (Kohli) since his U-19 days and he always plays an aggressive brand of cricket. With him being the captain, everybody in the dressing room is aggressive and not defensive. If we can translate that into performance and play session by session, we'll definitely play well."
The 30-year-old got opportunities twice (in Adelaide and Sydney) and though he looked compact, he could not make it big. His inexperience came to fore when he got out for 13 while stepping out to Nathan Lyon with India 65 runs shy of an improbable target of 364 at the Adelaide Oval in the first Test.
'Dhoni's announcement surprised all of us'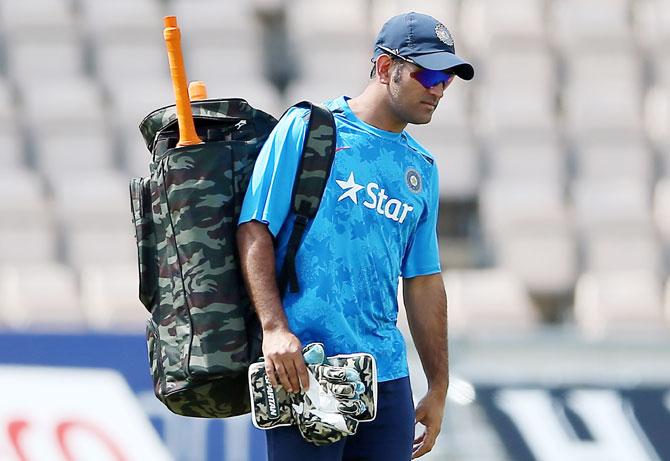 India captain MS Dhoni during a training session. Photograph: Getty Images
India skipper Mahendra Singh Dhoni's retirement from Test cricket could prove to be a boon for Saha, who had been waiting in the fringes for long, but the Bengal wicketkeeper said there's no way he could breathe easy.
"There's no scope for relaxing in international cricket, there's too much competition. You have to keep performing," he said. Saha rescued Bengal against Jammu and Kashmir with an unbeaten 129 in their Ranji Trophy match a day after his return from Down Under.
Asked whether he's relieved, the unassuming Saha said: "Dhoni's announcement surprised all of us but despite his absence it's a XI-member team only. We have to keep playing in the same manner."
'The series Down Under has helped me boost my confidence'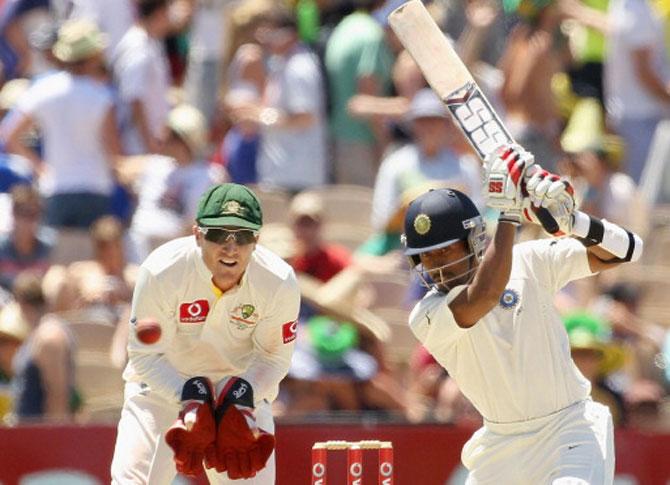 India's Wriddhiman Sha hits out as his Australian counterpart Brad Haddin looks on during the opening Test in Adelaide. Photograph: Hamish Blair/Getty Images
With Kohli unbeaten on a fine century, Saha broke loose after hitting a six and four only to leave open India's tail, as they went down by 48 runs.
An eventual 0-2 Test series loss might have been different and Saha said it was unfortunate not to win the first Test.
"We're told to go after the chase in the team meeting and we wanted to score freely but unfortunately I got out." Saha however said the Australia tour was a great learning experience for him.
"Definitely, the series has helped me boost my confidence. Playing Australia in Australia is a big challenge. My batting too has been fine tuned after getting some tips from the coach (Duncan Fletcher) who has worked with my foot movement and stance."