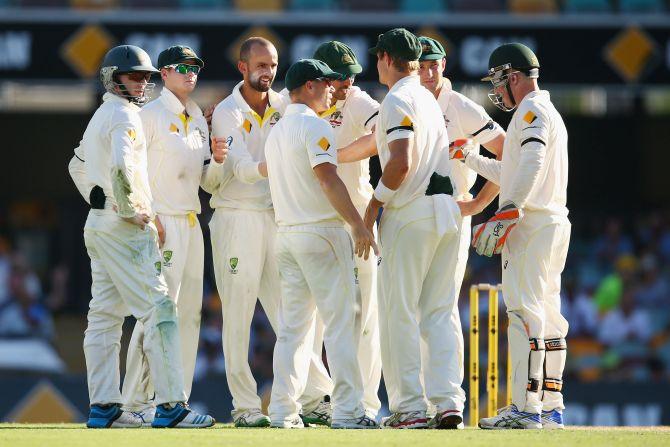 Nathan Lyon celebrates after picking up th wicket of Murali Vijay during the second Test match in Brisbane. Photograph: Cameron Spencer/Getty Images
Australian coach Darren Lehmann praised his team for enduring a tough opening day of the second cricket Test at the Gabba but said he expects them to come up with a better showing against India on Thursday.
Riding on opener Murali Vijay's hundred, India finished the first day on 311-4 even as Australia struggled with their fitness in brutal Brisbane heat.
"It was a hard day in terms of conditions. We had a few good periods with the ball, especially in the second session," Lehmann told reporters.
"But in the end, we didn't have a good third session. It is hard to put the ball in right areas when you have so many players pulling up due to cramps or injuries. Obviously the heat affected their skills and it was like a revolving door today. But these are excuses and we are better than that.
"Overall I think we had a good day. I haven't experienced a day like that as coach or as player, so that says something.
"It was an eventful day for us. Obviously it would have been nice to have the full contingent on the park after the day's play out there. But it happens in cricket sometimes and hopefully won't happen again," he added.
'Hazlewood was very good for us today'
Josh Hazlewood celebrates after picking up the wicket of Cheteshwar Pujara during the second Test in Brisbane. Photograph: Chris Hyde/Getty Images
Mitchell Marsh, Mitchell Starc and Josh Hazlewood, all left the field at some point of time during the day. Marsh has injured his right hamstring and might not bowl again in the match. Starc and Hazlewood were cramped up as temperatures soared at the Gabba. They are expected to bowl again tomorrow.
"Josh Hazlewood was very good for us today. He has just suffered cramps. It was good to see him pretty relaxed in the morning when he came up to play for his country and received his Baggy Green. He was the pick of our bowlers by far today. I am told he should be fit for tomorrow and that is good news," said the former Australian cricketer.
'There was time wasting going on everywhere'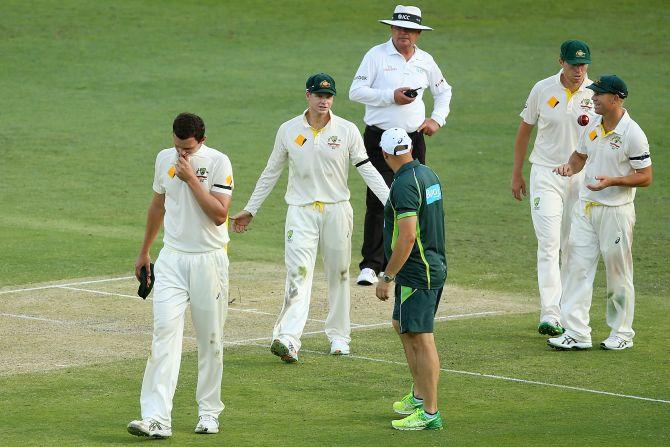 Josh Hazlewood of Australia leaves the ground with an injury during day one of the second Test match. Photograph: Chris Hyde/Getty Images
Player fitness though wasn't the only concern for Australia and their new skipper Steve Smith on the day. Play was called off seven overs earlier as the hosts couldn't maintain a proper over-rate.
"I didn't like it," said the coach about this matter.
"There was time wasting going on everywhere. The players, ground staff, people waiting in the boxes or walking across sight screens, the security, too many drinks' break and we had a lot of injuries too. Hopefully we will get better tomorrow.
"Overall though we bowled pretty well. The first session was okay. We didn't get our lengths right. Then the second session was very good. The third session was very poor and we were bowling too full and too wide. We went for 160 runs in 30-odd overs which is not what we are about. We have got to do better than that.
"But also, credit goes to India, they really played well. Hopefully we can back it up tomorrow and start with taking some quick wickets," Lehmann said.