'At least 7 to 8 players, who are all Test team specialists will have to be in England in June'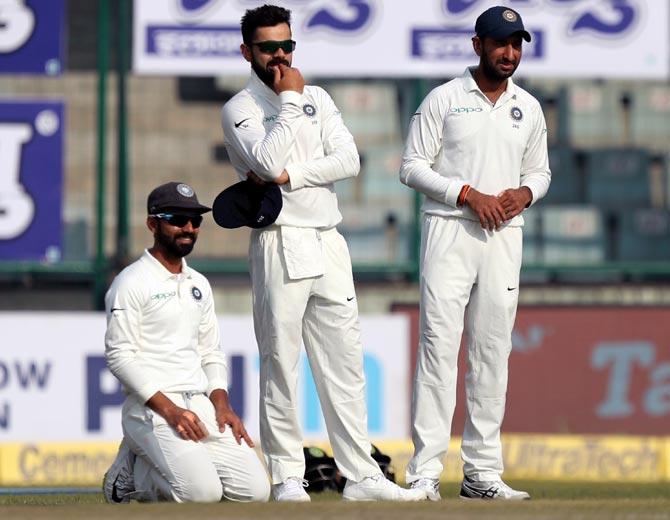 The Committee of Administrators (CoA) chief Vinod Rai said on Saturday Test specialists Murali Vijay, vice-captain Ajinkya Rahane and the others will all land in England in June as a part of Rahul Dravid-coached India A side that play a number of first-class games against county teams as well as England Lions (A) side.
The five-Test series against England will start in August and skipper Virat Kohli considers it as his biggest test.
Kohli will be playing for Surrey in the month of June after the IPL. Cheteshwar Pujara and Ishant Sharma will be playing for Yorkshire and Sussex from the start of the County season.
The former CAG however maintained that BCCI is not at all taking Afghanistan lightly and a very competitive side like the one that won the Nidahas T20 Tri-Series will be fielded against the talented Afghanistan side during the historic one-off Test in Bengaluru, starting June 14.
"We are looking at the bigger picture and we have had discussions with our core think tank -- skipper Virat, coach Ravi (Shastri), India A coach Rahul and GM (Cricket Operations) Saba Karim and chairman of selectors MSK Prasad. The general consensus has been preparation for England Test series," Rai said.
"There will be a few seniors -- among Test specialists, who will leave for UK in early June along with Rahul's (Dravid) India A team. I can't say how many -- anything between two to four senior team players will be there from the start of the A tour. A few will play the Afghanistan Test match and then leave for England. But yes, at least 7 to 8 players, who are all Test team specialists will have to be in England in June," Rai elaborately explained the arrangement.
"It is important to play red ball cricket in England in June as the entire July will be the limited overs series (three ODIs and 3 T20 Internationals). So in June, they play red ball cricket, switch to white ball in July and then the Test series starts in August."
However he assured that a very good side will take on Afghanistan in the one-off Test.
"Everyone can be rest assured that we are not taking Afghanistan Test lightly. Yes, Virat won't be available for the Test match but either among Ajinkya or Rohit will lead the side in Virat's absence," Rai said.
What has impressed Rai is that the players understood what they need to do in order to put up a good show in England.
"Virat himself was first to come to me and say that he wanted to play county cricket. And talking to the players, we understood how badly they want to do well in England. Also this Afghanistan Test will also give us a chance to create a three-tier national team -- all of same standard and ability. A few younger players will get a chance to play Test cricket," Rai said.
There is every possibility that likes of Washington Sundar or Yuzvendra Chahal might get a chance to make their Test debut against Afghanistan along with the likes of Shardul Thakur.
IMAGE: Ajinkya Rahane, Virat Kohli and Cheteshwar Pujara
Photograph: BCCI