India might have been reeling at 136 for nine on the first day of the opening Test but spinner Harbhajan Singh said the match is still not over and they had enough ammunition to strike back.
The senior off-spinner said the toss played a crucial role in the opening Test, which was delayed by four hours because of overnight and early rain at the SuperSport Park.
"It was bad day for us. Losing the toss was the most crucial blow as the wicket was clearly damp. The ball was doing quite a bit. It was swinging and cutting too," Harbjhajan said.
"But I would like to say that still the match is not over. We need to collect as many runs as possible and then try and bowl well to restrict them in the 1st innings.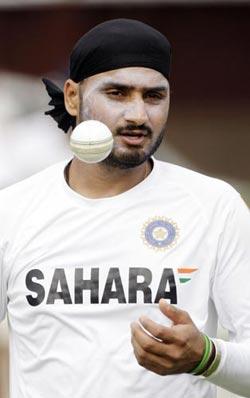 "We have very good and experienced batting line up. They will score good amount of runs in the second inning. I only hope that this wicket will keep on assisting bowlers," he added.
Asked about his bizarre dismissal, Harbhajan said it was very disappointing as he was batting well.
"I was very upset when I got run out. The bat got stuck in the grass and (Mark) Boucher was lucky with his back flick throw. I was getting a good feel of the ball onto my bat. I was looking to score runs and not just try to survive," he said.
Batting at 27, Harbhajan was slow to turn for the second run after Dhoni pushed a delivery through cover. He had almost made it before his bat fell from his hand just inches near the crease and wicketkeeper Mark Boucher brilliantly struck with an underarm throw onto the stumps.
The 30-year-old tweaker also heaped praise on South African bowlers for exploiting the seaming conditions well.
"Though the wicket was good to bowl, I would like to give some credit to their bowlers. They bowled in good areas and took all the advantage of a good helping wicket," he said.
Invited to bat, India were reduced to 71 for six in just 24.4 overs but Harbhajan was not ready to accept that the visitors' preparation was not up to the mark.
"I think our preparation was not good enough. Unexpected rains have spoiled our plans as we lost the toss and had to bat first. Don't worry we will come back in this Test match. Today was bad day for us but we have fire power to strike back," he said.