India skipper Mahendra Singh Dhoni is confident that the experience of playing in the Indian Premier League and Champions League in South African conditions will hold the team in good stead during the three-match Test series against the Proteas.
"It will be important for us to adapt to the conditions. Yet I believe we will be better prepared than before, because the guys have played here in the IPL and in the Champions League and it is not that foreign to them," Dhoni said.
"The most important thing is to remain focused and well-prepared for what awaits us," the India skipper added.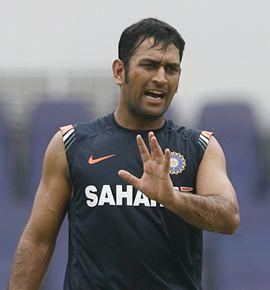 The second edition of the IPL was shifted to South Africa due to general election in India and the rainbow nation also hosted the Champions League earlier this year.
Countering the hosts' threats of preparing fast and bouncy tracks Dhoni said, "We are so used to that question -- about how we will handle it when we are bombarded with short balls."
"The answer is that it will not bother us. Most of our batsmen have recently played quite a lot in South Africa and are much more familiar with conditions than was the case in the past," Dhoni added.
India's captain, however, believes that the South African fast bowlers are at the moment focusing on the short-pitch stuff to unsettle his team.
"It is not something which we are not expecting. It is after all how South Africa have achieved success against us in the past," he said.
Despite India's none-too-impressive record in South Africa, Dhoni is unperturbed. He said his team is in good form and not thinking about the past.
"We do not pay attention to what history says about what happened here in the past. We do not think too much about the statistics," said Dhoni.
Atop the ICC Test rankings at the moment, India have won just one of the 12 Tests in South Africa.
Dhoni was all praise for coach Gary Kirsten and said his knowledge of the local conditions will certainly come handy.
"Gary Kirsten is the best thing that could have happened to Indian cricket. He not only knows our players but also understands the mindset of the South Africans and that insight will be important," he said.