Bikash Mohapatra reports from Trent Bridge
'To be the No.1 Test side is great. But our ultimate goal, whether we achieve it in this series or not, is to be the No.1 team, not just by ranking but by perception as well.'
Those were Andrew Strauss's calculated comments ahead of England's home series against India.
The captain was aware his team needed to win by a two-Test margin to usurp the top spot from their opponents -- certainly not an easy task.
And that explained why didn't want to be misquoted.
A fortnight later, Strauss can afford this risk. His team had ensured him two comprehensive wins, at Lord's and Trent Bridge, and an unbeatable 2-0 lead in the four-match series.
Yet, he preferred to be cautious.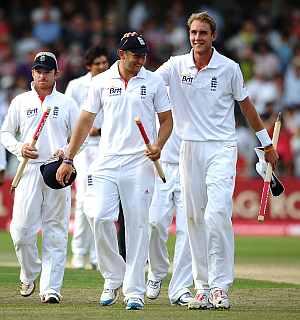 "No, not yet," said Strauss, when asked if he is now more assured of his team topping the rankings.
"But we have taken a step forward," he continued, adding, "All we will try to do is turn up at Edgbaston and win that Test."
England's captain was, nonetheless, effusive in praise of his team.
"Twice India looked favourites to win the games, but we turned it around on both occasions," he exulted.
"One of the measures of a good side is the manner in which they are able to turn things around. In the last two Tests, we have had to dig deep. And I am happy that our guys have delivered.
"Besides, there were some outstanding individual performances."
Strauss also applauded India for making his team earn the wins, adding that hard work made them memorable.
"We have had to work very hard on our scores in each innings," he explained.
"They have taken early wickets initially, but our batsmen have done well to grab the initiative gradually.  I think we have had two outstanding performances. It is very encouraging for us going forward," he added.