Brad Haddin of Australia is congratulated by teammates after taking a catch to dismiss Cheteshwar Pujara of India. Photograph: Scott Barbour/Getty Images
Defending his team's tactics in the drawn third cricket Test against India, Australian vice-captain Brad Haddin said the hosts earned the right to go about the way they wanted after playing India out of the series.
"We won the series, that's the main thing we took out of it. I think we earned the right to play the way we did in Melbourne. We've played India totally out of the series," he said.
"Come Sydney if we get ourselves into that situation it'd be different because we've taken India out of the series. We earned the right to play the way we did.
"We knew exactly where the game was going, what path it was, and we were very happy with where it ended up with a series win. We went out there and said if we were to create 10 chances we'll win the game and we did create 10 chances, we just didn't take a few," he added.
Australia have taken an unassailable 2-0 lead after the third Test ended in a draw in Melbourne. The home team was criticised for being defensive in Melbourne and also drew flak for their particularly sloppy fielding.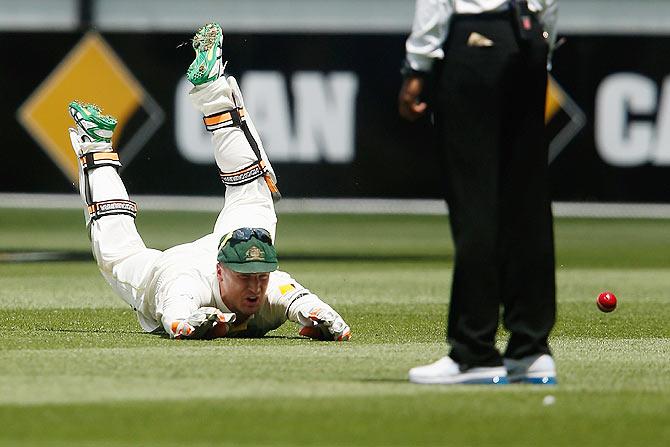 Brad Haddin of Australia drops a catch during day three of the Third Test match between Australia and India at Melbourne Cricket Ground on December 28. Photograph: Darrian Traynor/Getty Images
Haddin minced no words in expressing his displeasure with the effort.
"That wasn't acceptable for an Australian cricket team. We set our standards a lot higher than that and we've got to improve. We can't do that to our bowlers. Our bowlers are creating chances and we only need them to create 20 chances," he said.
"We should be doing the best we can to take all those chances and make the job as easy as we can for the bowlers. They've got a hard slog out there. It's not acceptable from us. Everyone knows it wasn't the way Australians present themselves in the field and we've got to be better."
The Indians have targetted Haddin with short deliveries but the Aussie said he is not perturbed.
"I think I've said for a while I feel in better touch with the bat than I did leading into last summer. It was good to contribute with the bat the other day but the big thing was we had to get through that night," Haddin said.
"We couldn't expose our lower order late that night and that was the most pleasing thing from Steven and my point of view -- getting through that uncomfortable 10 overs knowing the Indian bowlers had to back up the next day," he said.