- We have seen how much he has evolved in the last couple years'
- 'I think this is the best form of my life'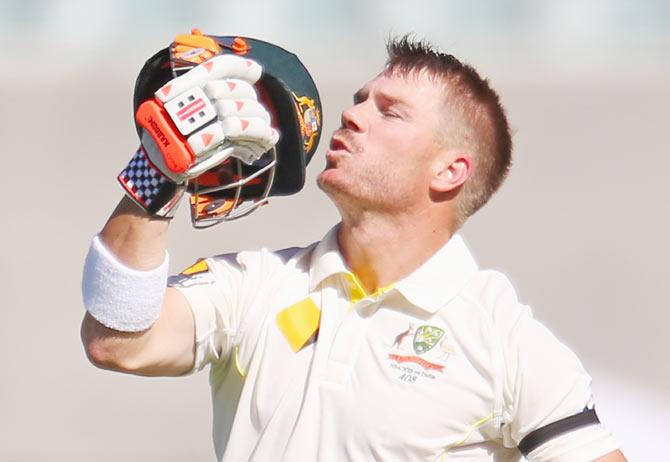 David Warner kisses the badge on his helmet after completing his century on Friday. Photograph: Scott Barbour/Getty Images
He may have made scoring look easy on the Adelaide track by notching centuries in each innings, but David Warner insisted that the pitch isn't placid anymore and his team is determined to take all 10 Indian wickets on the final day and win the first Test on Saturday.
The opener scored 102 runs on the fourth day as Australia took a 363-run lead after dismissing India for 444 in their first innings. They declared their first innings at 517 for seven.
"At the moment it's hard to score when the ball gets older, but there is a nice rough area for Nathan Lyon to exploit tomorrow," said Warner, at the end of play on Friday.
"We saw that in first innings he pretty much hit it with every delivery. Tomorrow we will try to take wickets with the new ball and once it gets older we will try and use the conditions to reverse the ball," he added.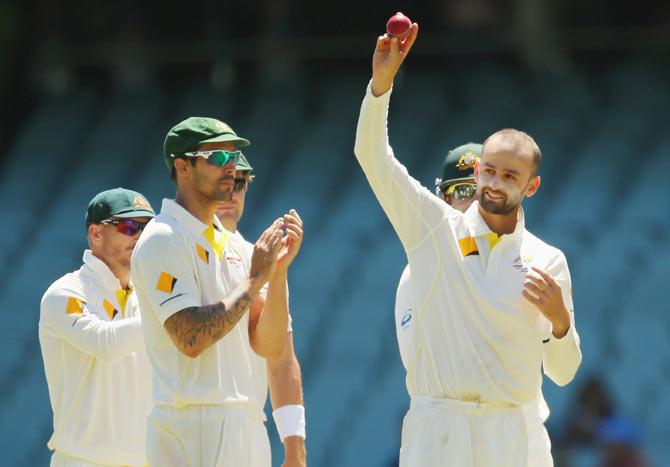 Nathan Lyon celebrates after completing a five-wicket haul. Photograph: Scott Barbour/Getty Images
Talking about Lyon, who took five for 134 in the India's first innings, Warner said, "We have seen how much he has evolved in the last couple years. Now he has a fiver in the first innings of a home Test. There is no reason why he can't come out tomorrow with his tail up and help us take 10 wickets.
"The pitch has changed and there are nearly 98 overs, there will be at least 10 chances for us to do that. When we went out to bat, we were only ahead by 70-odd runs and we had 70-80 overs remaining in the day.
We batted normally first to set up the game and later Steve Smith and Mitchell Marsh came and hit the ball out of the park."
He replicated his team-mate Phillip Hughes in scoring two hundreds in the same Test. The late batsman achieved that feat against South Africa in South Africa in March 2009.
"Yeah, definitely, it was in the back of my mind as well. I have been seeing highlights of his back-to-back hundreds over the last week or so. Probably that gave me some luck out there today. It was a memorable thing to do. Phil had played fantastic knocks in South Africa," said Warner.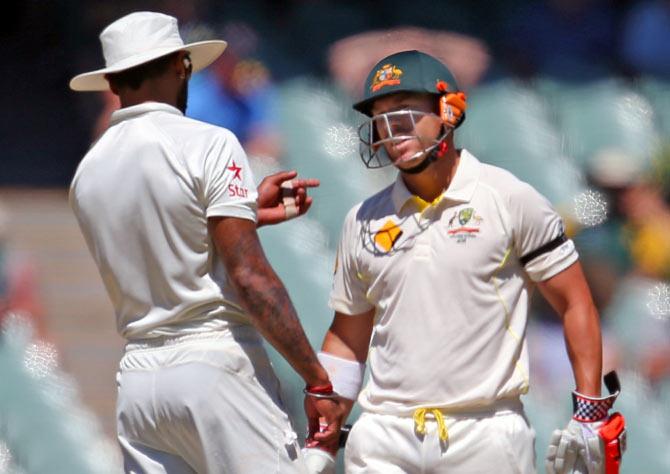 David Warner (right) and Shikhar Dhawan exchange words. Photograph: Scott Barbour/Getty Images
The left-hand batsman said he is probably in the best form of his life at the moment.
"I think this is the best form of my life. I want to keep doing my job for the team and that is to score runs at the top. I would like to get big hundreds going forward and convert these hundreds to double hundreds, like Michael Clarke did last time against India. That is the next goal. They are the achievements you want and they get recognised a lot," said Warner, who got three lives during his second innings knock.
The first of them was perhaps the most prominent when he was bowled by Varun Aaron off a no-ball at 66. It started an intense exchange in the middle between the two, with Shane Watson, Shikhar Dhawan and Indian skipper Virat Kohli getting involved.
Later there was another such incident between Rohit Sharma and Steven Smith, and, on both occasions, the umpires had to intervene.
"The temperature in the middle got up to 40-degree-plus, so maybe it got to some people. It happens in cricket when decisions don't go your way and you get bowled off a no-ball. They will come at you. Sometimes you give it back, sometimes you take it silently," said Warner.
"It is just how cricket is played. When things don't go your way, you get full of adrenaline. Aaron bowling that no-ball and nearly getting me out, he came at me. And I had a go at him too. Everyone knows I like to get involved and get verbal. But maybe I shouldn't have done that. It was a bit of a contest and it is like a roller-coaster ride. You just ride it," he insisted.
This was in sharp contrast to how the Australian team had reacted on Day 3 when Kohli was hit on his helmet by a Mitchell Johnson bouncer. All the players rushed to check on the batsman.
"Given the incidents of the last week-and-a-half, it is quite tough when someone gets hit in the head. You sit back and hope he is okay. We play cricket in the spirit of the game. But when we play tough, we play tough. That's only verbal, though. But when someone gets hurt, you have to give him sympathy."