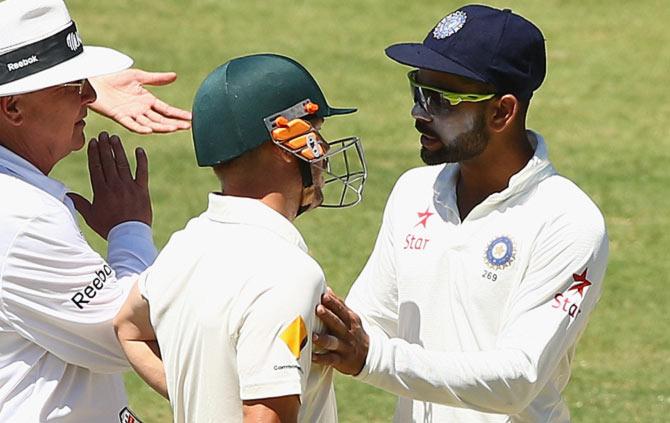 India captain Virat Kohli (right) speaks to David Warner. Photograph: Robert Cianflone/Getty Images
A dash of spice was finally added to what has been an emotionally-charged first India-Australia Test match when David Warner and Varun Aaron got involved in a war of words after the opening batsman was called back by the umpire following a no-ball dismissal in the post-lunch session on the fourth day, in Adelaide, on Friday.
- Scorecard

The incident took place when Aaron was introduced into the attack in the 34th over. The Indian pacer bowled four eventful overs, and was nearly successful in his second one when he bowled Warner with the batsman on 66.
But the umpire ruled it a no-ball after the pacer had overstepped the bowling crease, recalling the left-hander, who had already started to make his way back to the dressing room.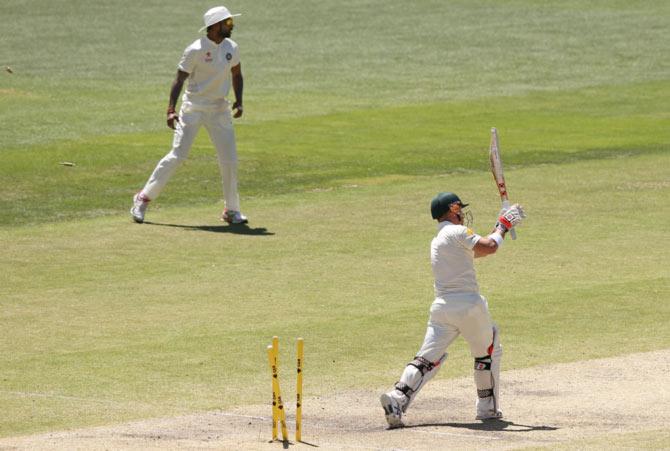 David Warner is bowled by Varun Aaron but it was later deemed as a no-ball after a replay. Photograph: Michael Dodge/Getty Images
Warner charged back to the middle and gave it back to the bowler who was celebrating wildly moments ago.

The next delivery was left alone by Warner, who then had a few words with Aaron which got the crowd going a bit and along with Shikhar Dhawan, who was not happy with the Australian's batsman reaction.

Tempers flared up as a result with Aaron, Warner, Shane Watson and Dhawan getting involved, and the umpires had to step in to resolve the situation.

After the next delivery was bowled, in the 34th over, umpire Ian Gould stepped in to have a word with Dhawan who was positioned at silly mid-on, while Indian captain Virat Kohli tried to calm Warner down.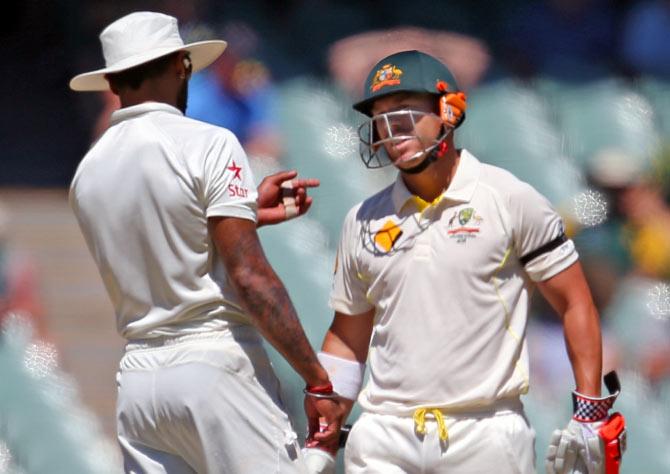 David Warner (right) and Shikhar Dhawan exchange words. Photograph: Scott Barbour/Getty Images
The incident was in stark contrast to the poignant build-up to the match owing to Phil Hughes' death late last month after being hit by a bouncer in a domestic match.
- Jittery Aussies rattled after Kohli hit by bouncer

On Thursday, the emotionally rattled Australian players had rushed to check Kohli after he was hit by a Mitchell Johnson bouncer which is quite unlike the usual staring and exchange of words that follows such deliveries.