'Dhoni is 33-34 now and there has to be a change in captaincy at some point, so why not now?'
Former India spin great Erapalli Prasanna says, in the team's interest, Kohli should be given charge right away.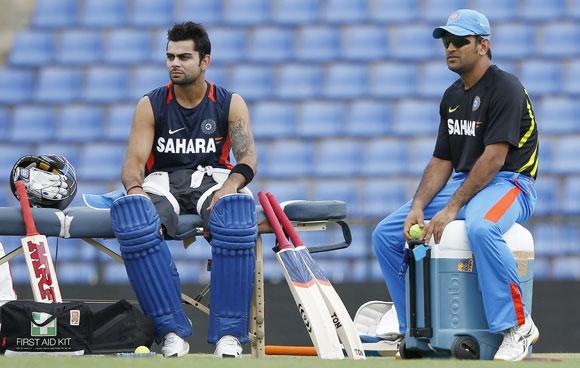 IMAGE: India's Test captain Virat Kohit, left, and Mahendra Singh Dhoni, captain of the ODI and T20 teams, during a practice session. Photograph: Reuters
Spin great Erapalli Prasanna says the time has come for Virat Kohli to lead India in all three cricket formats, and Mahendra Singh Dhoni, who is captaining the One-Day International and Twenty20 squads, can continue playing as wicketkeeper-batsman in the limited-overs' formats.
Though Dhoni, under whom India lost their last three ODI series, has already been named captain for the World T20 in March-April, Prasanna wants the appointment to be reassessed.
"I think the time has come to make Kohli captain in all three formats. Dhoni is 33-34 now and there has to be a change in captaincy at some point, so why not now? He can keep playing as a player. Ultimately, it is Dhoni who will take the call. If you ask me, let him keep the wickets and give Kohli the charge right away. It is in the team's interest," said Prasanna.
Asked whether Dhoni can continue as a player in the team, Prasanna replied: "If you look at the overall scenario, he may be a better batsman than (Wriddhiman) Saha, but wicketkeeping-wise Saha is equally good. Perhaps, Dhoni can carry on and you can still expect a 30-40-run innings from him in the slog overs."
Prasanna said Dhoni was found wanting in the ongoing series in Australia, with the hosts fancying a 5-0 whitewash of India in the fifth ODI in Sydney on Saturday.
"Some of the selection choices have been baffling, to be honest. Dropping your number one bowler (Ravichandran Ashwin) in the last two games was beyond logic. If he was around in the third ODI (at Melbourne), India could have built more pressure with (Ravindra) Jadeja bowling well from the other end. Instead, Dhoni took Jadeja off the attack soon after he removed Steve Smith. It was surely questionable," said the 75-year-old, who took 189 wickets in 49 Tests for India.
He also did not understand the logic behind dropping Manish Pandey after the first two ODIs and picking Gurkeerat Singh Mann and Rishi Dhawan for the following two matches.
"Manish hardly got time to prove himself and then you picked Gurkeerat and Rishi, both pretty mediocre players. If you look at the bench strength, it is nowhere near international standards. If you drop Ashwin and put players like Rishi you are not expected to win.
"It seems the only way India can win right now is if they get a slow turner," added Prasanna.
Gurkeerat scored 5 and 8 and failed to pick up a wicket while Rishi too returned wicketless in his outings.