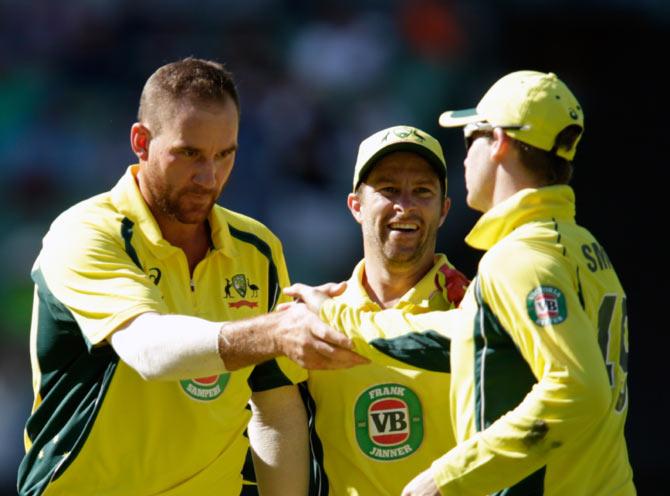 IMAGE: John Hastings (left) is congratulated by captain Steve Smith after taking a wicket. Photograph: Darrian Traynor/Getty Images.
Pacer John Hastings has provided fill-up to Australia's ambitions of notching up a 5-0 whitewash in the ODI series against India, saying he is thriving on the extra responsibility following a few impressive performances.
Hastings took the important wickets of centurion Shikhar Dhawan and India skipper Mahendra Singh Dhoni to play a key role in the home team's victory in the fourth ODI in Canberra yesterday, their fourth in a row.
With his show in the Australian capital, Hastings has proved that leadership is something that comes naturally to him.
"I think (I feel like a leader) a little bit more so in the last couple of games. Now that I've started to feel more of a part of it and taking a few wickets and contributing to wins, definitely," Hastings said.
He added, "It's a very young bowling group so I suppose I am the older one at 30 years old. I just try and help out wherever I can for the guys and hopefully they can learn something and I can learn something off them. We can do it together."
Born and bred in Sydney, Hastings, who is hoping to be included in Australia's squad for the upcoming World T20 in India, will return to the place where he began his journey in the fifth ODI at the SCG on Saturday.
"You never know when that next chance is going to come and I think a few injuries have opened up an opportunity for a lot of us so hopefully this time I can keep doing okay and try and see if I can play for a little bit longer, that'd be nice," he said.
"There's a lot of memories there of going to state training (at the SCG) when I was a 17-year-old rookie at NSW so it will be good to run out there for sure."