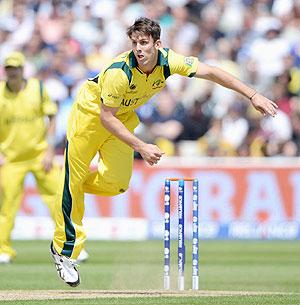 Australia great Allan Bordrer was baffled by Cricket Australia's decision to rest all-rounder Mitchell Marsh from the squad for the second one-day international against India here.

The junior of the Marsh brother has been replaced by John
Hastings.

Justifying the move selector Rod Marsh stated, "Mitch is a tremendous asset to Australian cricket and we are conscious of managing his workload and his travel, especially with so much cricket to come during the rest of this summer and beyond.

"By taking this decision we have opted to give him an extra day at home in Perth after match one, before he flies to Melbourne on Thursday to prepare for Sunday's third match of the series."

But former captain Border was not convinced.

"I cannot work it out; he must be knocked up from practising. Because he hasn't played a lot to be rested, really," Border told Fox Sports alongside former Australia cricketers Brad Haddin and Stuart Clark.

Marsh played in all six Tests of the Australian summer as well as the first ODI but has only bowled a total of 99.3 overs across the two formats and during the three-Test series against the West Indies he only batted once.

"I would've thought (Josh) Hazlewood would probably have been the bloke to have a rest. I find the Mitchell Marsh one really odd, I would have given him a bat a three (to) see what happens," Border said.

Haddin said, "He (Marsh) hasn't played a lot of cricket and he hasn't had great opportunities to bat. And during the one-day series it's sometimes a great opportunity to get yourself back into the rhythm of batting leading into such a big series in New Zealand...maybe he's got a twinge, maybe he's got something we don't know about."
Image: Australian all-rounder Mitchell Marsh is rested for Brisbane ODI.
Photograph: Gareth Copley/Getty Images.