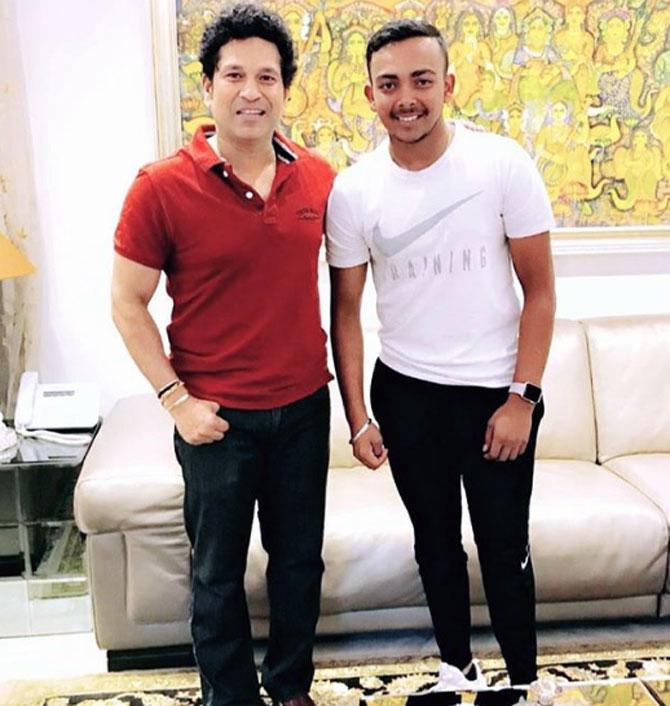 India's latest batting sensation Prithvi Shaw caught up with Sachin Tendulkar in Mumbai on Monday, October 22.
'SIR #idol#respect,' Prithvi posted on Instagram.
Man of the Series in the recent Test series against the West Indies, Prithvi scored a century on debut in the first Test in Rajkot.
The 18 year old smashed 134 off 154 balls to become the second youngest Indian to hit a Test century after Tendulkar.
Prithvi is the first Indian cricketer to hit centuries on his Ranji Trophy, Duleep Trophy and Test debut.
Sachin has been effusive in his praise for the Mumbai youngster.
'Lovely to see such an attacking knock in your first innings, @prithvishaw! Continue batting fearlessly. #INDvWI,' Tendulkar tweeted after watching Prithvi's explosive knock in Rajkot.
Tendulkar said he had predicted 10 years ago that Prithvi would play for India.
'Ten years ago, one of my friends asked me to take a look at a young Prithvi. He asked me to analyse his game and see if there anything he could work on. I had a session with him and gave couple of pointers on how to improve his game,' Sachin said.
"Are you watching? That's a future India player," Tendulkar later told his friend.