Trans-Tasman rivalry will reach fever pitch
'We're probably seen as the little brothers from across the ditch'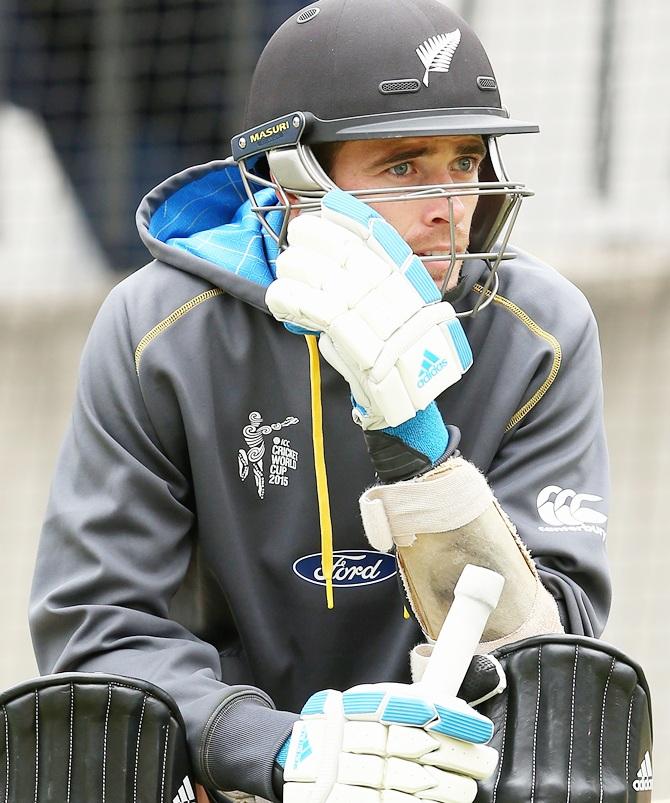 Tim Southee of New Zealand looks on during a New Zealand nets session at Melbourne Cricket Ground on Friday. Photograph: Quinn Rooney/Getty Images
New Zealand's cricketers grew up playing backyard battles against imaginary Australia sides and will be eager to get one over their 'big brothers' in the World Cup final, paceman Tim Southee said.
Don't Miss! The Rediff Cricket Show
Lara names McCullum captain of his Dream World Cup XI
Henry relishing chance to play in final after late call-up
The trans-Tasman rivalry is fierce across all sports but will reach fever pitch on Sunday when nearly 100,000 will pack out the storied Melbourne Cricket Ground for the title-decider.
"The rivalry between Australia and New Zealand does cover every sport and it is massive," Southee said.
"We're probably seen as the little brothers from across the ditch. We do quite well to compete in other sports.
"Obviously Australia have had the wood on us in cricket over the last few years but we're slowly starting to even that picture.
"As a kid growing up it was always Australia you wanted to play against or (if) you were playing against someone in the backyard it was New Zealand-Australia.
"There is a massive rivalry in whatever sport you play in New Zealand and you always want to have one up over, I guess, the big brothers."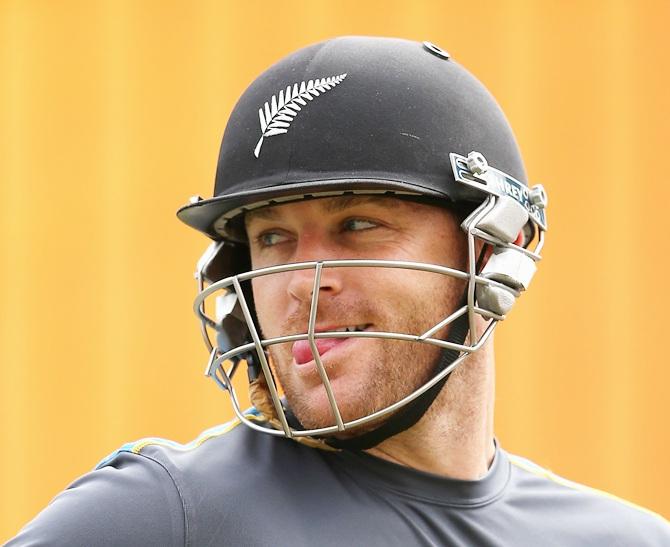 Brendon McCullum of New Zealand looks on. Photograph: Quinn Rooney/Getty Images
Led by swashbuckling captain Brendon McCullum and playing a hyper-aggressive brand of cricket, the 'Black Caps' have not lost a game and believe they have claimed hard-won respect from their neighbours, who they beat in a thriller during the pool phase on home soil.
"I think in times gone by we probably haven't played to our potential as consistently as we should have for the last two years," Southee said.
"We respect Australia, they're a quality side. They're not number one in the world for no reason.
"And I'm sure that they've gained a little bit of respect for the brand of cricket that we've played over the last couple of years.
"I guess the opinion has changed a little bit."
Sunday's final will be New Zealand's first match of the tournament away from home soil and their first at the MCG in since a six-wicket win over the hosts in 2009.
Southee dismissed the idea his team might struggle with the ground's sprawling dimensions after playing on smaller venues at home.
"Although the grounds in New Zealand are small, we do have a couple of big ones," he said. "We're not too worried about the size of the ground."
Four-time champions Australia will enter the match favourites after thrashing India in Thursday's semi-final but New Zealand will have no shortage of backers having waged a thrilling campaign to reach their maiden final.