The World Cup quarter-final at the Adelaide Oval looked set for a tame ending after Australia shot out Pakistan for a meagre 213. Paceman Wahab, however, sparked the match into life with two wickets and an enthralling duel with Shane Watson.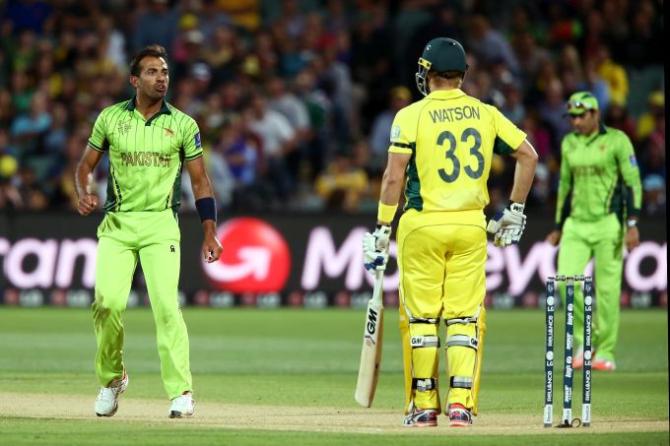 Wahab Riaz of Pakistan reacts to Shane Watson of Australia during the World Cup match at Adelaide Oval. Photograph: Morne de Klerk/Getty Images
Just before the start of the crunch World Cup quarter-final against Australia, Pakistan pacer Wahab Riaz was quite vocal about his team's strategy to beat the former World champions.
It was simple: play fearless and attacking cricket.
Sadly, he was the only one in the team who believed in it.
Pakistan are known to be blessed with an array of fast bowlers, which often makes them the envy of teams, especially India.
But while players like Waqar Younis, Wasim Akram and Imran Khans were better known for their yorkers and ability to reverse swing the ball, they had no one who could deliver the perfect short ball.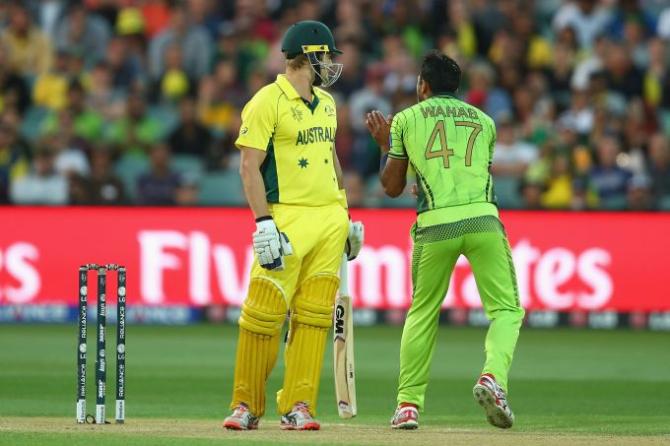 Shane Watson of Australia looks on as Wahab Riaz of Pakistan gestures to his team mates during the World Cup match at Adelaide Oval. Photograph: Mark Kolbe/Getty Images
On Friday, in the third quarter-final of the World Cup against Australia at the Adelaide Oval, Raiz did just that while providing an exhibition of what true fast bowling is all about.
Pakistan, bundled out of 213, needed wickets to entertain hopes of making it to the semis.
Introduced into the attack in the ninth over, Riaz struck immediately, with his third delivery, sending David Warner walking back for 24. The opener slashed one outside off-stump and gave an easy catch to Rahat Ali, stationed at third man.
Then the Wahab Riaz show began.
Michael Clarke, who is not in the best of form, was undone by a snorter from the pacer; all Australia's captain could do was offer a dolly to forward short-leg, Shoaib Maqsood.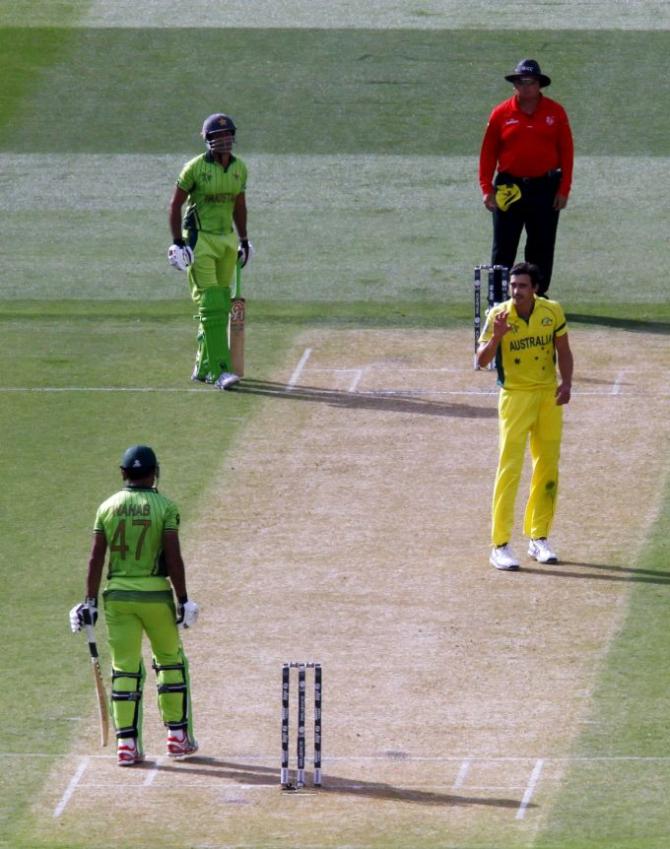 Australian bowler Mitchell Starc (right) speaks to Pakistan's batsman Wahab Riaz during their World Cup quarter final match in Adelaide. Photograph: David Gray/Reuters
Now, the 29-year-old pacer had sniffed blood, and Pakistan, a chance to beat the four-time former champions and make the last four.
Perhaps, the real reason why Raiz was pumped up was because of a sledging duel that took place when Pakistan batted.
Mitchell Starc, who was frustrated by Raiz's stay in the in the middle, taunted him, leading to a series of verbal duels before the umpires intervened.
Thus, Riaz was more than happy to return the compliment.
The next 30 minutes saw one of the most hostile spells from any bowler in the ongoing competition.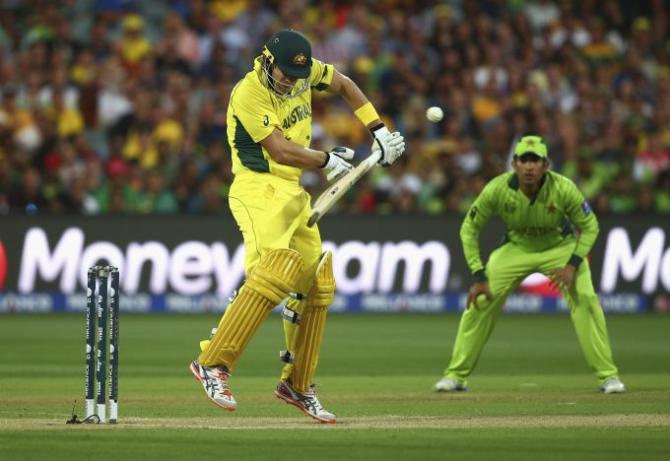 Shane Watson of Australia plays a short pitched ball from Wahab Riaz of Pakistan during the the World Cup match at Adelaide Oval. Photograph: Ryan Pierse/Getty Images
New-man in Shane Watson was welcomed by an excellent bouncer. Wahab walked the entire stretch and stood next to Watto and applauded his fielders.
The next delivery was even faster; it clocked at 150 kmph. Riaz was more than happy to repeat his earlier gesture. The look on Watto's face said it all.
Yes, he wasn't amused. It forced the umpires to step in and asked the Pakistan pacer to tone down his aggression.
Indeed, it was clear that Riaz was trying to unsettle Watson and set him up.
It almost worked.
Watson hopped, ducked and swayed as Raiz made him look like a tailender at the wrong place, at the wrong time.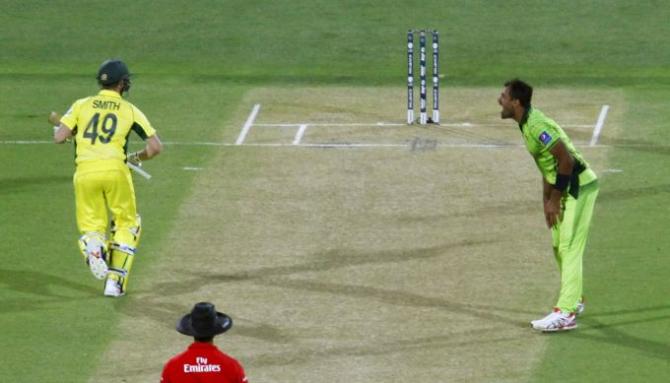 Australia's Steve Smith (left) runs as Pakistan's bowler Wahab Riaz screams after Smith's team mate Shane Watson was dropped in the outfield. Photograph: David Gray/Reuters
Then Watto, halfheartedly, pulled one towards deep backward square leg only for Rahat Ali to drop a sitter.
In a back-to-the-wall situation like Pakistan were in, Riaz thrives.
In his comeback spell, a barrage of bouncers had Glenn Maxwell too guessing. He could have had the swashbuckling batsman's wicket too, but, instead, had the mortification of seeing Sohail Khan fail to hold on to a catch on the run.
A cry of anguish was all he could come up with.
Had all the Pakistani players played with the intensity Riaz displayed, maybe, this World Cup would have seen India and Pakistan meet for the second time in the competition.
Right through his seven-year career he struggled for consistency. On Friday, on the game's biggest stage, whatever the outcome of the match, he got it right and left his mark.