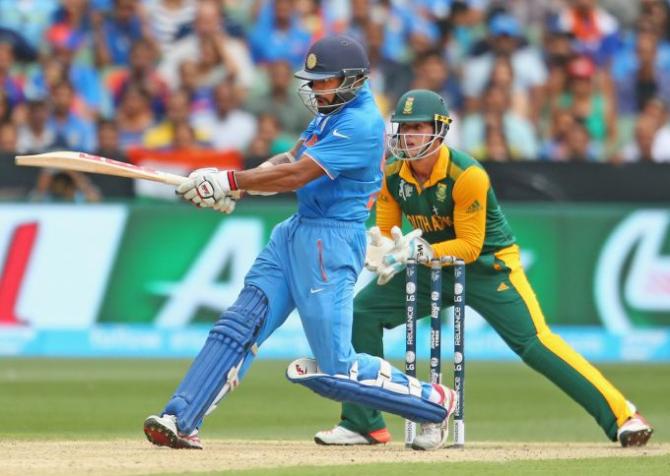 Shikhar Dhawan of India bats as wicketkeeper Quinton de Kock of South Africa looks. Photograph: Scott Barbour/Getty Images
Praising opener Shikhar Dhawan's match-winning century against South Africa, India skipper Mahendra Singh Dhoni said the left-hander played smart by staying at the crease even after getting his hundred.
"Today, he was really batting the way he bats. When he needed to play the big shots, he did play, and he was also rotating the strike. He made sure that once he got his hundred, he was still there at the crease," Dhoni said after India's impressive 130-run win.
"It's important if you get a hundred and you are able to score 130 or 140 runs, you always see the team getting those extra 20 or 25 runs. So it was good on his part to make sure he stays until the end because the general tendency at times is for the openers is to after the 25th over they like to play the big shots. They think their job is over. But I think in these conditions, once you are set you have to make the most of it," Dhoni said.
'We actually wanted to see how much we can push'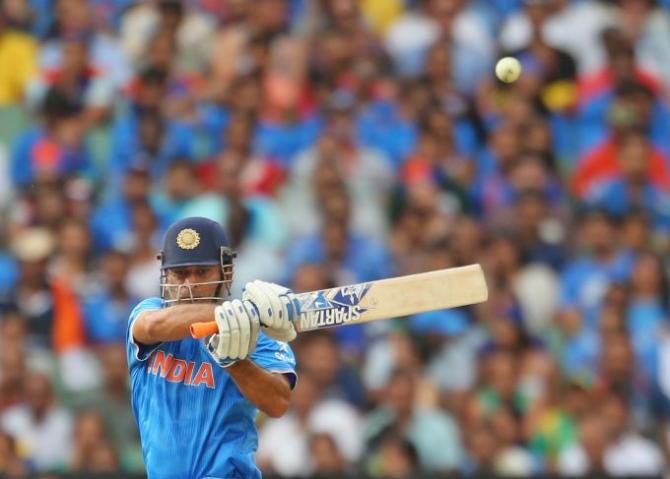 MS Dhoni of India bats during the World Cup match against South Africa. Photograph: Scott Barbour/Getty Images
The skipper revealed that Dhawan was still putting in the hard yards during the practice session and his efforts finally bore fruit against the Proteas.
"Shikhar batted really well. He was putting in effort in the net sessions, and as I said, a lot of times people talk about form, but form is something that nobody can see like that. It's just a matter of 15-20 minutes, and maybe it was something that he spent in the last game, that 20 minutes of initial batting that really helped him," Dhoni said.
The skipper is happy that the team has found some momentum after back-to-back wins.
"The kind of wins that we have had in the last two games, it's tough to get, so definitely both the games were important for us. The way we played in this game, also -- last game I said it was a complete batting performance, but this game also I felt we did really well with the batting. We tried something different.
"Last few overs, we actually went for those big shots irrespective of wickets falling. We actually wanted to see how much we can push, so even though Raina got out, it was Jadeja, who went for his runs and ultimately Shami and Ashwin batting in the end and getting past 300 runs, which was fantastic. It was definitely a par-plus score on this wicket, and when we turned up with the ball, I think we bowled in the right areas and we made it tough for the opposition to score."
'Bowlers never gave any extra width to the batsmen'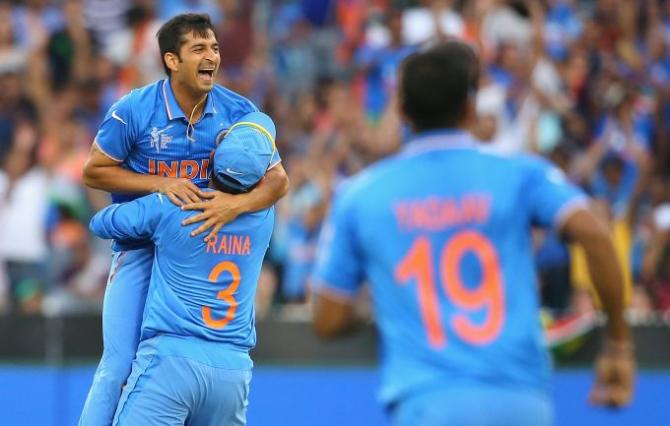 Mohit Sharma of India is congratulated by team mates after taking the wicket of Hashim Amla of South Africa. Photograph: Quinn Rooney/Getty Images
Dhoni was particularly pleased with his bowling unit, who once again came up with the goods when it mattered.
"Definitely, it was a fantastic performance. Maybe, the wicket also helped us a bit, but still, hitting the right areas, the length, according to the wicket, how the wicket is behaving, is crucial, and I felt that was the main aspect where we were really good that they quickly assessed what was the right length to bowl, and they didn't give too much role."
"When it was swinging they made sure they bowled tight length, and at the same time when it stopped swinging, still they were bowling close. They never gave any extra width to the batsmen, and most of their batsmen, if you see, they love that extra width right from the top order," he said.
"In the first 10 overs this was definitely one of our best performances in the recent past," the skipper added.
Dhoni agreed with AB de Villiers' assessment that the wicket was a two-paced one.
"It was definitely two-paced right from the start, but maybe under the lights it quickens up a bit. We were able to get a bit more swing under the lights. I felt the mix of pace was good from our bowlers, but what was really crucial was the use of the bouncer. I think the run-out in the middle overs, from the fast bowlers, especially from the deep, I think that really changed the game for us."
Good fielding unit
MS Dhoni of India runs out David Miller of South Africa during the World Cup match. Photograph: Quinn Rooney/Getty Images
Having effected two run-outs, Dhoni said that the fielding unit is also doing its job efficiently.
"We can add minimum 10 to 15 runs to whatever we score. So if we score 280 runs, which is a par-score, we know with our fielding we can actually add another 15 runs with the kind of fielders that we have got. I think we have got some excellent fielders, and apart from that we have got fast bowlers who are above average fielders."
"Overall, I've got plenty to play with. I don't always have to think about which player needs to go where. I have time to think more about the strategies rather than trying to use four or five good fielders and seeing what's really needed, whether I need to stop the singles or I need boundary riders, who can stop the twos and the threes. That actually eases the pressure off me."
Intensity was low in tri-series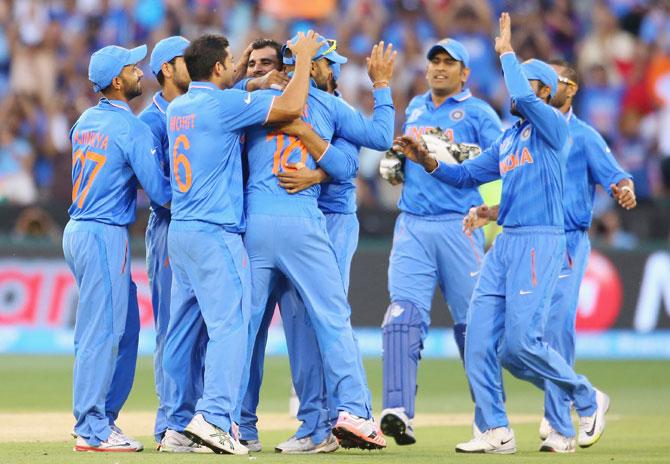 The Indian team celebrates the fall of a South African wicket in Melbourne. Photograph: Scott Barbour/Getty Images
Dhoni admitted that the intensity was a bit on the lower side during the tri-series as it was a big tour.
"We kept it very simple right from the start. We knew it would be slightly tough for us to turn it on, the reason being we'll be here for four to four and a half months. We wanted to give players more opportunities in the tri-series to some extent. There were quite a few players who were injured, also. We kept the intensity a bit low during the tri-series.
"Still, we wanted to win. We pushed for the wins, but we are not able to get that. But at the same time we knew with the World Cup right at the corner, this tournament was much more important to us, and we had to make sure people with niggles, they don't come into the World Cup.
"Also we had put in a lot of effort and time in these 15 to 17 players, so this is the right time. They have played ODI cricket for the last couple of times, many of them, so when you are putting in so much effort, you have to make sure these individuals who are playing for the last couple of years, they turn up for the World Cup because you are giving them minimum 40 to 50 games."