'The consistency of India's bowlers throughout the tournament disguised the team's batting problems till they were exposed in the semi-final against Australia,' says Harish Kotian/Rediff.com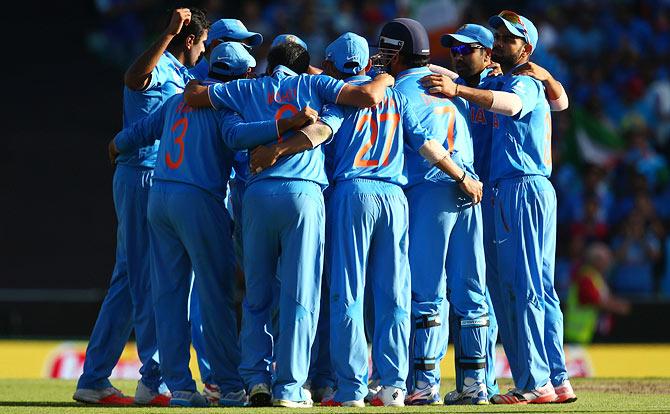 Image: The Indian team won seven matches in a row. Photograph: Mark Kolbe/Getty Images
India's World Cup march came to a thundering halt in the semi-final in Sydney, on Thursday, March 26.
Unbeaten for seven matches in the tournament, India found the co-hosts too hot to handle and went down by 95 runs.
For once, India's bowling came up short. They had claimed all 10 wickets in their seven previous victories, but against Australia's solid batting seven was all they could get, at the cost of 328 runs.
Replying to that formidable total, India's batting caved in under pressure, and except for Captain Mahendra Singh Dhoni, who hit a gritty knock, none stood up to the challenge.
Harish Kotian/Rediff.com presents his World Cup report card on Team India.
Shikhar Dhawan: 6/10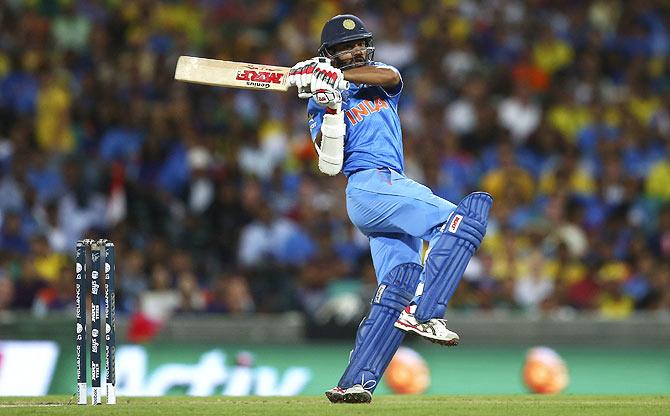 Image: Shikhar Dhawan in action. Photograph: Ryan Pierse/Getty Images
The opener came into the World Cup under a lot of pressure after his failure in the ODI tri-series preceding the event and the Test series before that.
He quickly silenced critics with two good knocks at the start of the tournament -- 73 against Pakistan and 137 against South Africa.
He scored another century (100) against Ireland.
His dismissal after scoring 45 from 41 balls swung the momentum Australia's way in the semi-final.
Shikhar was India's top scorer with 412 runs from eight matches, at an average of 51.
Rohit Sharma: 6/10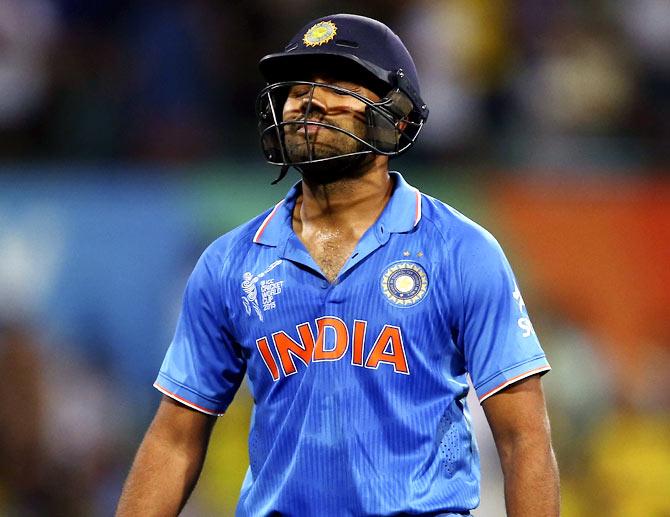 Image: Rohit Sharma walks back after a dismissal. Photograph: Ryan Pierse/Getty Images
Another see-saw performance at the top of the order.
Rohit hit a match-winning 137 against Bangladesh and rescued the team after a not-too-good start.
He also had two half-centuries, against the minnows: 64 versus Ireland and 57 not out versus the UAE.
Other than that, he failed to hit a fifty against teams with stronger bowling attacks.
He finished the tournament with 330 runs from eight matches, at an average of 47.
Virat Kohli: 5/10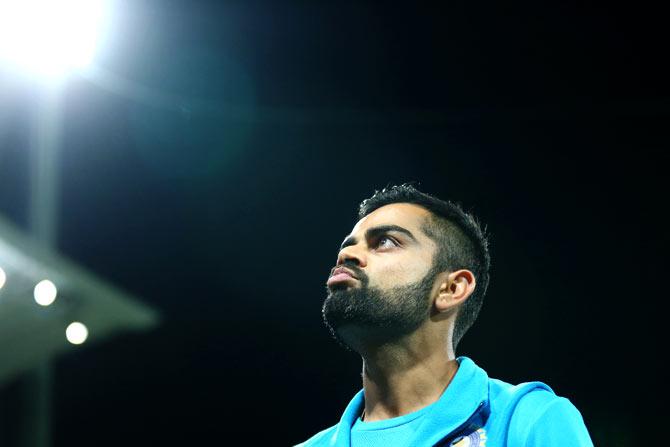 Image: Virat Kohli walks back after another disappointing innings. Photograph: Mark Kolbe/Getty Images
India's best batsman came up short on the biggest stage of them all.
Virat announced himself with a bang, slamming 107 in the opening game against Pakistan. After that his batting went downhill and he failed to score a fifty in the seven games that followed.
305 runs in eight games, at an average of 50, may make good reading, but Virat will know he belied expectations.
Ajinkya Rahane: 5/10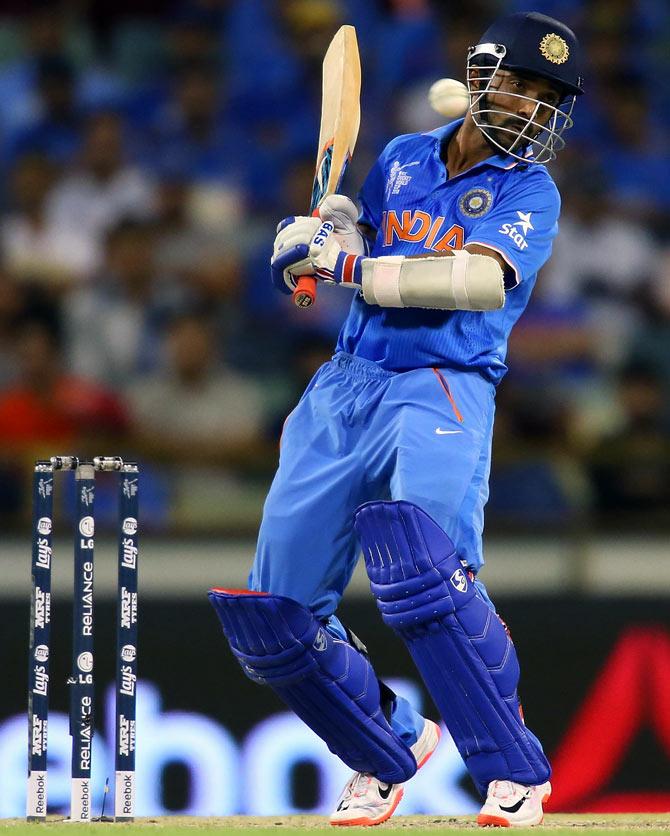 Image: Ajinkya Rahane avoids a bouncer. Photograph: Paul Kane/Getty Images
Ajinkya proved to be a one-match wonder at the World Cup. He played a brilliant innings of 79 against South Africa in Melbourne, but other than that has nothing to show.
The consistency of India's bowlers throughout the tournament disguised the team's batting problems till they were exposed in the semi-final against Australia.
Suresh Raina: 6/10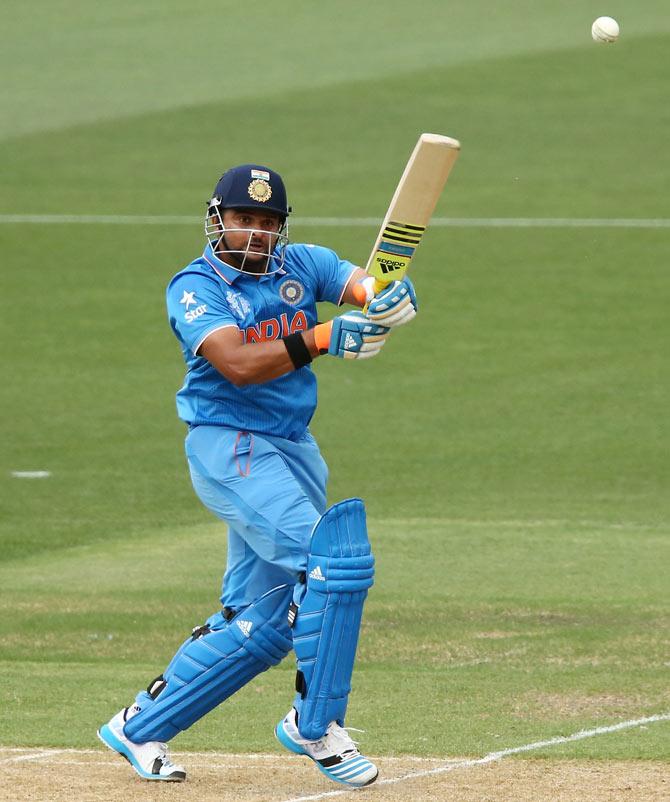 Image: Suresh Raina hits out. Photograph: Morne de Klerk/Getty Images
Raina played out of his skin to help India avoid an embarrassing defeat against Zimbabwe with a splendid unbeaten 110. He chipped in with brisk knocks of 74 and 65 against Pakistan and Bangladesh respectively.
The left-hander will be pleased with his effort: 284 runs, at an average of 56, which looks even better when you take into account his strike rate of 110.
Mahendra Singh Dhoni: 5/10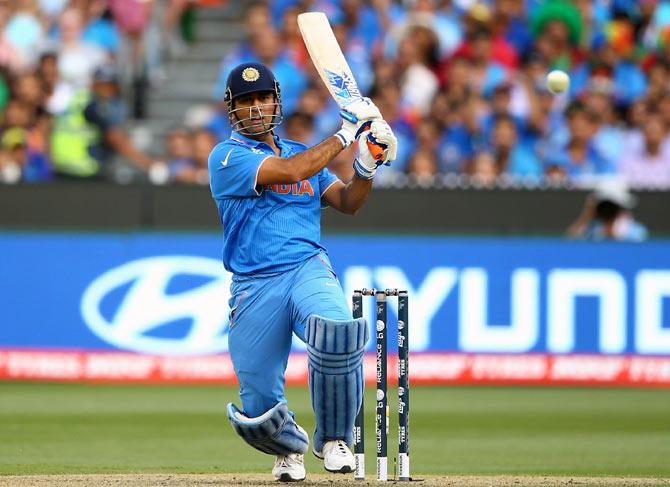 Image: Mahendra Singh Dhoni smashes the ball. Photograph: Robert Cianflone/Getty Images
The skipper did whatever was asked of him and finished off matches against the West Indies and Zimbabwe, taking India home from tight situations with knocks of 45 and 85 respectively.
Alas, in the semi-final, his courageous 65 could not stave off defeat.
Ravindra Jadeja: 2/10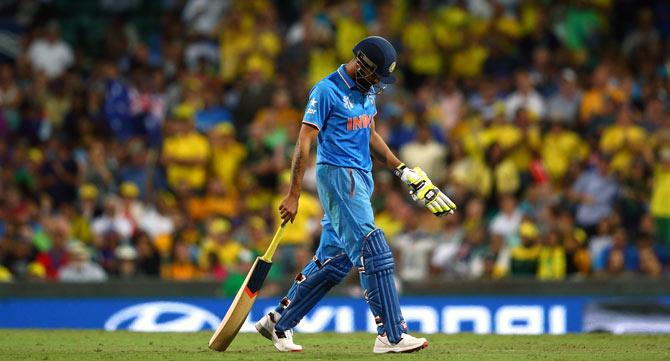 Image: Ravindra Jadeja failed his team-mates. Photograph: Mark Kolbe/Getty Images
How long will Jadeja continue enjoying his captain and the selectors's backing?
India had all-rounders Stuart Binny and Axar Patel among the reserves, but Dhoni did not feel the urge to play either the medium-pacer nor the left-arm spinner despite Jadeja not making an impression throughout the World Cup.
Jadeja was the only Indian bowler to concede more than five runs an over while taking nine wickets.
His batting was a bigger disappointment. He scored just 57 runs, at an average of 14.
Ravichandran Ashwin: 8/10
Image: The consistent Ravichandran Ashwin! Photograph: Quinn Rooney/Getty Images
Ashwin rose to the occasion and performed admirably in the middle overs.
The off-spinner took 13 wickets and kept the runs down for an economy rate of 4.28.
In the semi-final, when the other Indian bowlers went for runs aplenty, he held his own, taking one wicket for 42 runs in 10 overs.
The only time he went for runs was against Zimbabwe: He conceded 75 runs in his 10 overs.
Mohammed Shami: 9/10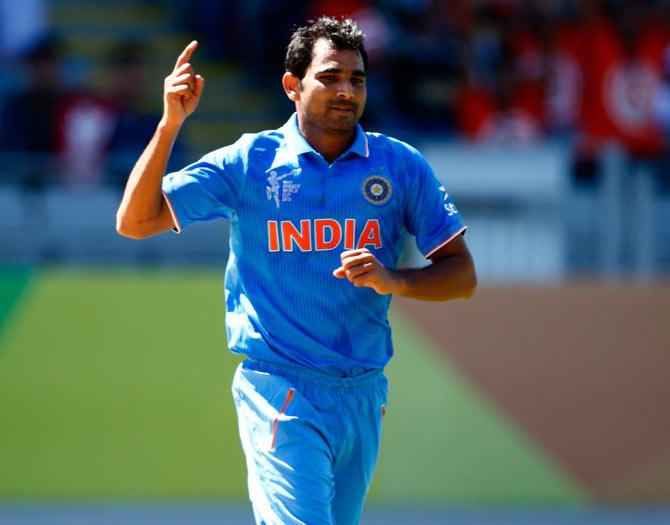 Image: The awesome Mohammed Shami! Photograph: Phil Walter/Getty Images
Shami was easily India's best bowler of the World Cup.
He looked a completely different bowler from the player who struggled in the ODI tri-series, involving Australia and England, and the Tests against Australia that preceded the World Cup.
He generated good pace and troubled every batting line-up that came his way. He started with a bang, claiming 4/35 against Pakistan. He only failed to make an impact against Australia, going for 68 runs in 10 overs without a wicket.
He finished with 17 wickets from 7 matches, at an average of 17.
Umesh Yadav: 9/10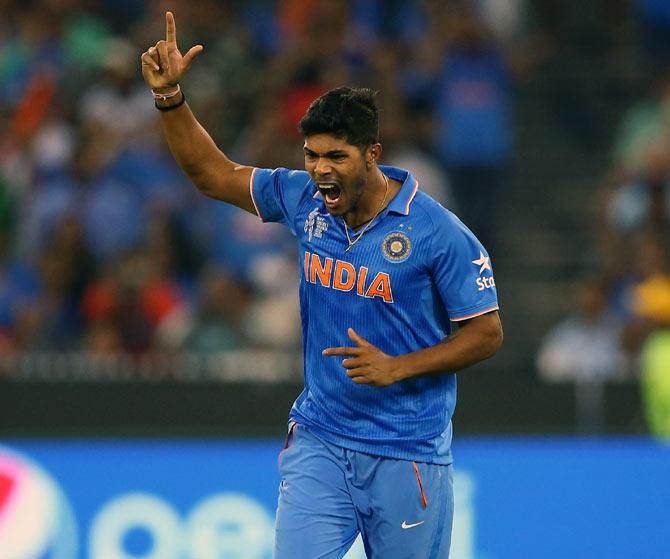 Image: The amazing Umesh Yadav! Photograph: Robert Cianflone/Getty Images
Umesh was another star performer with the ball. He finished as India's highest wicket-taker in the Cup with 18 wickets, at an average of 17 and an economy rate of 4.98, inclusive of two four-wicket hauls.
He played a big role in restricting Australia to 328 in the semi-final, taking 4/72 as the Aussies threatened to post in excess of 350 at one stage.
His extra pace and aggression complemented Shami perfectly as India's pace attack startled observers and drew applause.
Mohit Sharma: 8/10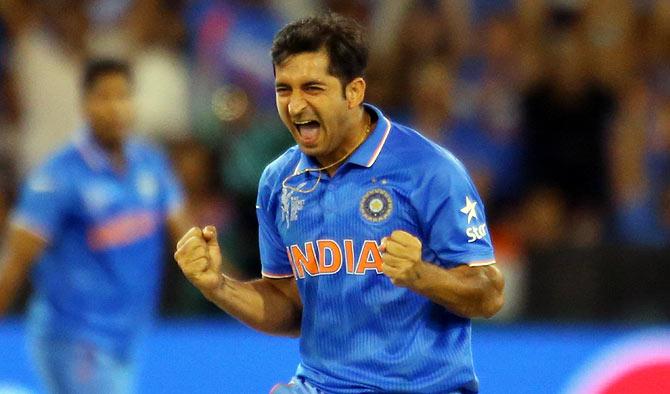 Image: The surprising Mohit Sharma! Photograph: Scott Barbour/Getty Images
Called up as a replacement for Ishant Sharma, Mohit was surprisingly consistent.
The Haryana pacer, who bowled one change, impressed with his ability to bowl on a good line and length. He chipped in with vital spells in the death overs.
His tournament yield of 13 wickets, at an average of 24, augurs well for the future.
Bhuvneshwar Kumar: 3/10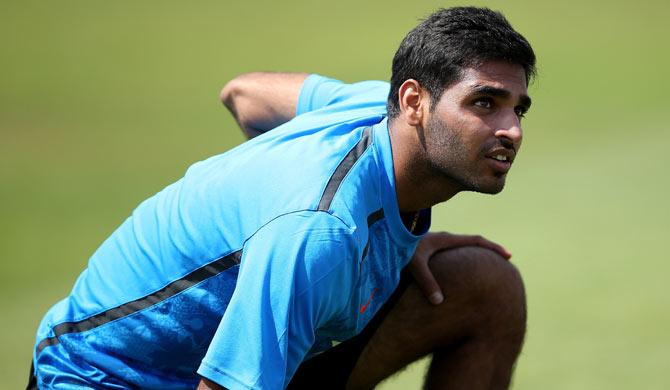 Image: Bhuvneshwar Kumar during an India nets session. Photograph: Scott Heavey/Getty Images
Bhuvneshwar was lucky to get at least one game: Stuart Binny, Axar Patel and Ambati Rayudu were not given a single opportunity to prove their worth.
He played in the game against the UAE in which he took 1/19 in 5 overs.
From being India's frontline bowler a year ago, Bhuvneshwar is now the fourth choice seamer.
DON'T MISS PREM PANICKER ON THE WORLD CUP!