'This was not the cleanest game of cricket you've ever seen -- there were too many flubs and fumbles for that. But it was certainly the semi-final this mostly blah tournament has needed -- two tough, well-rounded teams, toe to toe, slugging it out, bleeding and drawing blood until there was only one left standing.'
Prem Panicker, The Master, at work.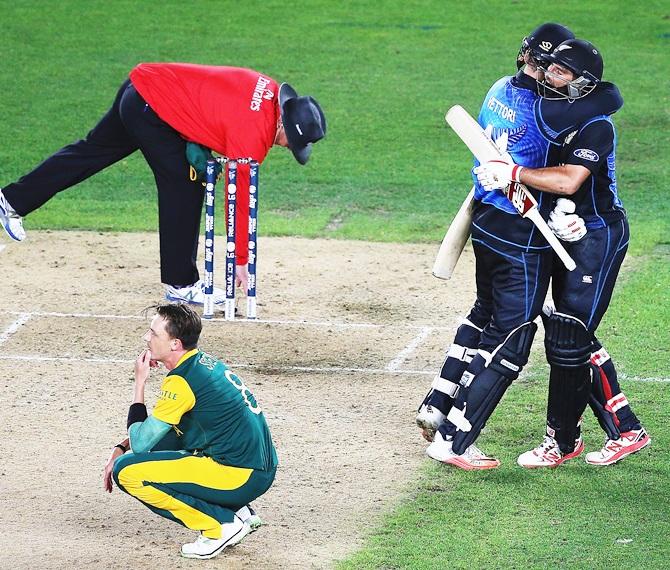 Image: Dale Steyn is heartbroken as Daniel Vettori and Grant Elliott celebrate New Zealand's maiden entry into a World Cup final. Photograph: Hannah Peters/Getty Images
Shakespeare famously spoke of the 'tide in the affairs of men/Which taken at the flood, leads on to fortune.'
'Omitted,' he warned, 'all the voyage of their life is bound in shallows and in miseries.'
The geography of missed opportunity changed in 1991, when the Proteas were readmitted into international cricket. Since then, the Tide Not Taken has led inexorably to South Africa. Remember?
1992: The post-rain 'calculations' that asked South Africa to score 22 runs off one ball -- a heartbreak rendered doubly poignant by the fact that when the game was called off, there was sufficient time and light to bowl two more overs.
1999: The infamous Lance Klusener-Alan Donald mix up with one to get to make the final.
2003: The run not taken, as the Proteas dressing room failed to get a message to the middle that one more run was needed, and Mark Boucher carefully defended Muthaiah Muralitharan's last delivery...
In every World Cup since their readmission, the Proteas have fielded a team that looked the one to beat, and in almost every Cup, it has rained on their parade. Literally.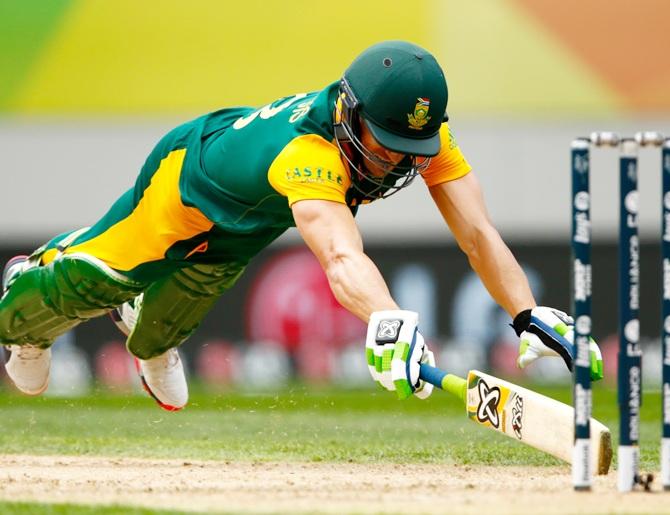 Image: Faf du Plessis dives to make his crease. Photograph: Phil Walter/Getty Images
South Africa, the only cricket team whose serial misfortunes have midwifed a book titled the Art of Losing (by Luke Alfred), can with justification consider themselves Fortune's Fools. Improbable though it sounds, it happened again at Auckland's Eden Park against tournament co-host New Zealand.
At the end of 30 overs, the Proteas were on a careful 129/3 with Faf du Plessis (48 off 83) and A B de Villiers (8 off 13) building towards a back-end assault.
Du Plessis pulled the trigger in the 31st over with a six off the hitherto immaculate Matt Henry who, pitchforked onto the big stage in place of the injured Adam Milne, had earlier produced a stunning first spell of 5-2-9-0. Dan Vettori was next to go, with both batsmen taking fours off the ageless Kiwi in the 32nd over.
From there on it was akin to watching two heavyweights slugging it out to a finish: McCullum kept attacking with catching positions, and de Villiers counter-attacked with a display of blistering hitting. The two batsmen pounded 55 runs off the five overs between 31 and 35.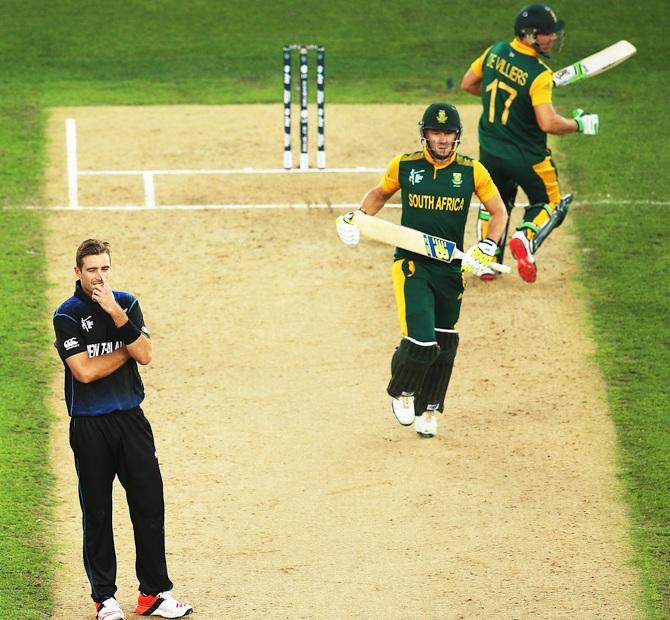 Image: Tim Southee looks on as David Miller and A B de Villiers take a run. Photograph: Hannah Peters/Getty Images
The force was now with the Proteas, who took the power play. De Villiers thumped a six and two stunning on-driven fours off Anderson in the 36th; Southee then kept things quiet with a 5-run over; Boult was plundered for 12 in the 38th -- and the players disappeared off the field, thanks to the rain that had begun as Boult started his over.
When they came back, it was to resume an innings foreshortened by seven overs. Du Plessis was out to the second ball on resumption; David Miller played a scene-stealing cameo that produced 49 off 18 balls with six fours and three sixes while A B de Villiers was becalmed at the other end, and South Africa ended on 281/5.
The target was adjusted to 298 to win off 43 overs which, when you break it down, meant that South Africa had 'gained' 17 runs for the loss of seven overs of batting at the death, with de Villiers (65 off 45) and J P Duminy (8 off 4) at the wicket and Philander, Morkel and Steyn to follow.
Why reduce overs, when there is a full reserve day in place? If the full 50 overs had been bowled and the Kiwi innings could not have been completed in time, there was still the option of a. extending play as long as light was fair and b. resuming on the reserve day from where the teams had left off.
What if it had rained all day tomorrow, was an argument I heard advanced with some vehemence on Twitter and elsewhere. Well, what if?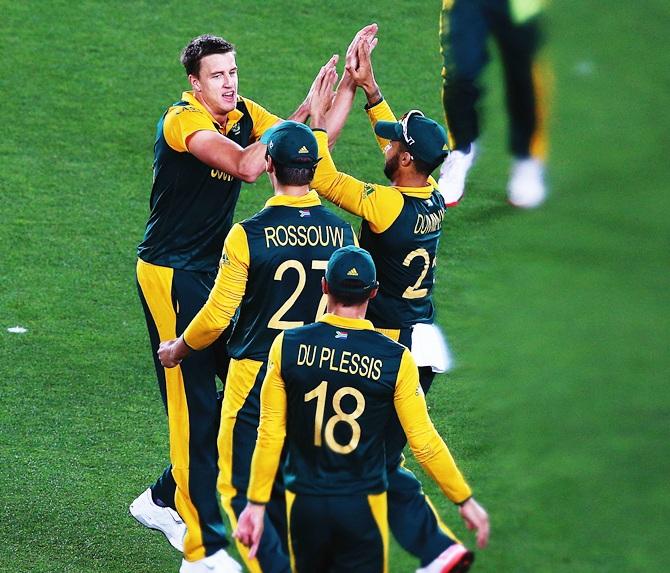 Image: Morne Morkel celebrates after bowling Kane Williamson. Photograph: Hannah Peters/Getty Images
The Kiwis would have been given their Duckworth-Lewis par scores as they started their second innings. Had the reserve day been totally rained out, there would still be a completed game, and the Kiwis would have known exactly what they had to do at each stage of their innings.
Against that, what if it hadn't rained (the forecast for Auckland does not prognosticate the kind of downpour that would frighten Noah)?
Two great teams would have gotten to play out an entire semifinal without one having the goal-posts moved on them. Surely that was a risk worth taking? Surely 'cricket would have been the real winner,' as its administrators so love to say?
After the 22 runs off one ball debacle back in 1992, cricket writer Martin Johnson was moved to say 'Had Martians landed at the SCG, they would have concluded that there was no intelligent life on Earth.' Amen to that.
Brendan McCullum has made 'aggressive cricket' his Gayatri, chanting it at every opportunity, and he walked that talk again here after losing the toss and having to field first.
The fields he set would have raised admiring eyebrows in Test cricket these days -- three slips, then four, then four slips and a gully and a point drawn up close.
That meant seven including the bowler and 'keeper in close proximity to the batsman; a further fielder up inside the ring on the on and just three, sometimes only two, fielders protecting the outfield.
The challenge to the bowlers was to bowl tight; the gauntlet to the batsmen was, try and go over the top if you are good enough.
For the first 20 overs, the Proteas weren't. They managed 77/2 in that time, rarely able to inch above four an over thanks to some astonishing bowling by Trent Boult, Tim Southee and Matt Henry, the youngster pitchforked into this contest thanks to Adam Milne's injury. To produce a decent spell under such pressure would have been admirable; to bowl a 5-2-9-0 first spell coming behind Southee was unimaginable.
Southee was a bit undercooked in comparison to his heroics against Australia and the trend of his bowling thus far, but Boult more than compensated. The young strike bowler (7-0-38-2) seemed to have the ball on an invisible string -- he altered lengths and angles at will, made one go straight through, another bend back in, a third leave the batsman, and looked at all times capable of running through the side all on his own.
A length delivery on the angle away from the right hander lured the usually imperturbable Hasim Amla into a drive in the 4th over. The ball moved back, fractionally and late, found the edge and smashed into the stumps.
Quinton de Kock, whose painful 17-ball tenure at the wicket was a sort of cricketing Stations of the Cross, finally picked out third man with a wild swing.
Faf du Plessis and Rilee Rossouw batted well within themselves, concentrating on setting up a platform for de Villiers and the strikers to follow. To their credit they soaked up the pressure admirably and pushed the score along to 114 in the 27th over before fifth bowler Corey Anderson, brought in by McCullum after some rapid shuffling of Grant Elliott and Kane Williamson, took Rossouw (39 off 53) out.
De Villiers allowed himself the space of some three overs to settle in and then both the Proteas captain and his partner du Plessis opened out. And there was no telling where that combined assault would have ended, had rain not interfered.
That said, 298 was a mountain to climb -- and the Kiwis had only themselves to blame for allowing the Proteas to erect it. Rarely has a top team fielded and caught so shoddily in a key game.
De Kock edged the second ball of the first over wide of third slip, who -- or so it seemed -- dived fractionally late. In the next over, Southee found Amla's top edge with a great bouncer, and Boult -- one of the best catchers in the side -- stood back on his heels too long at long leg before running and diving forward in a futile bid.
In the next over, Boult's second, he got late away swing to find de Kock's edge, and wicket-keeper Luke Ronchi dived, got his hand to it, and let the chance go.
In the 23rd over, Williamson nailed du Plessis (then 35 off 63) bang in front as the batsman tried to hit across the line and strangely, the Kiwis opted not to review. In his turn, Williamson missed running out de Villiers (33 off 26 then) with the batsman well out of his ground, when he paused a fraction too long at short cover to line up the throw, and then missed.
An over later, Williamson rounded off a very bad day in the field by dropping de Villiers at the same position, off Anderson -- and to the mortification of the bowler, de Villiers took him for 6-4-4 off the next three balls.
It was surprisingly shambolic from the usually razor-sharp Kiwis; it took much of the edge off the bowling, and it testified to the sort of pressure a Cup semifinal can put on even a side that had till then swept everything before it.
Brendan McCullum's opening assault was another reason to question the needless fiddling with over-allocation.
South Africa, batting first, went for the logical option -- bat calmly in the first half, set things up for de Villiers and company to go for it at the back end. Sure, they chose to bat and sure, they must have seen the forecast too, with the promise that it might rain sometime during the day -- but their game-plan was the best option going, particularly in the face of the furious opening spells of the Boult-Southee-Henry combine.
You time your finishing kick for where the finish line is. And then it moves...
McCullum kicked things off with a six off Dale Steyn over extra cover off only the fourth ball of the innings, and then took off. Vernon Philander bowled the second over and got taken for a six over long leg, a four square on the on, and a Kapil Dev-style one-legged pull, again through square.
It was brutal stuff, and the take-down of Steyn in the 5th over was particularly cruel: A six to begin the over as McCullum danced down the Proteas quick as if he were a spinner -- a flat-batted four through mid off, a pulled six off a bouncer that almost propelled the ball into orbit, a flicked four to fine leg, and finally, as if to prove he could actually play Christian shots, a lovely cover drive to round off a 25-run over.
When the gladiatorial Kiwi skipper made a mess of an attempt to charge Morne Morkel and holed out to mid on, his 59 off 25 balls (8 fours, four sixes) had blasted his side out of the blocks and put the best of the Proteas bowlers under enormous pressure.
The assault had reduced the ask to 6.3 and the wicket fell at 71/0 in the 7th over -- the score South Africa had managed to get at the end of the 18th over.
The Kiwis could seal the win with percentage cricket -- or so it appears, from the comfort of the living room couch. Out there, pressure hug like a suffocating blanket over both sides, and the chase was reduced to a question of who would hold his nerve longer -- or, who would make that one mistake too many.
Guptill, hero of the quarter-finals, made the first when he dragged an attempted pull onto his stumps. De Villiers made it one all when, following that wicket, he opted for the same option and brought on fifth bowler J P Duminy rather than use one of his frontline bowlers to attack Ross Taylor.
Taylor made it 2-1 for the Kiwis, when execrable calling and running, with considerable pauses for afterthought, ended in a ludicrous run out. And then Taylor scored an own goal when an attempt to shuffle across and work Duminy to leg ended with the softest of dismissals, a glove through to de Kock (who, to his credit, covered the big deflection well and held in style).
De Villiers could have attacked new man Corey Anderson, but opted to use more of Duminy. In Luke Alfred's forensic examination of why the Proteas lose so much of the crunch games, he makes the point that they always tend to choose the safe, conventional option; Herschelle Gibbs makes similar points in his autobiography. That tendency to pick the safe, rather than the attacking, option was in view here.
And then de Villiers threw away a gilt-edged chance to finish the game off. Elliott pushed to point, Anderson and was hopelessly lost in mid-pitch when he was sent back. The throw came in on the half volley; the Proteas captain had all the time to collect and take the bails off but in his eagerness, he snatched at the ball, missed, and broke the stumps with empty hands.
He still had time -- that is how far out Anderson was -- to collect and pluck the stump out, but his scrambling attempt failed, and Anderson (33 off 33 then) had a let off.
As if to rub it in, the Kiwis immediately took the power play in the very next over, the 33rd, and Elliott and Anderson set out on the final charge.
Both batsmen got to their fifties in the 37th over and seemed to be cruising -- but in keeping with the roller coaster the game was developing into, Anderson over-hit a short one from Morne Morkel, then into the last ball of an excellent 38th over, and the skier was held by Faf at square leg.
What can you say about the passage of play that followed? A wicket fell (Ronchi holing out to deep midwicket in the 41st over off Steyn); big hits soared skywards and fell between fielders who appeared neither able to judge steepling catches, nor call for a catch when going for it -- for a while, it looked like rush hour at Mumbai's Sion Circle as fielders narrowly avoided colliding with each other.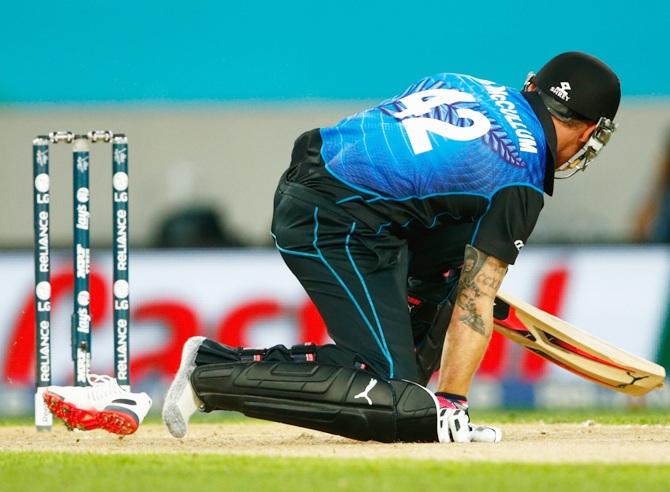 Image: Brendon McCullum loses his shoe during his whirlwind knock. Photograph: Hannah Peters/Getty Images
One such near collision involving Behardien and Duminy cost the Proteas a run out, in the 42nd over.
That set up as tight a finish as a game like this deserved: One over to go, 12 needed off six, Steyn -- one of the all time greats, in what is certainly his final game -- to bowl.
Two singles; then a slash by Vettori to third man for four. A brilliantly conceived bye called and taken by Elliott as a bouncer went through to the 'keeper. Steyn pulls up with a hamstring problem and is treated.
Breaths are bated; tensions rise vertiginously. And then the calmest finish you want to see -- Elliott lofts Steyn high over long on to seal the game with one ball to spare.
You had to wonder the most experienced fast bowler on either side, bowling to stifle, and he produces a half-volley? Just how much did McCullum's early assault, which produced 36 runs off just 14 balls from Steyn, hurt the bowler's confidence?
This was not the cleanest game of cricket you've ever seen -- there were too many flubs and fumbles for that. But it was certainly the semi-final this mostly blah tournament has needed -- two tough, well-rounded teams, toe to toe, slugging it out, bleeding and drawing blood until there was only one left standing.
That the Kiwis went into the final seems fitting -- they've looked the best team in the tournament, right from the start. That the Proteas failed, yet again, to translate undoubted ability into results on the big stage was sad -- and yet, somehow, inevitable.
At the very least, Luke Alfred now has material to update his book. And maybe retitle it The Art of Losing Returns, in the fashion of Hollywood sequels.
Don't miss Prem Panicker on World Cup 2015!