Seven wins in a row made Team India firm favourites in the World Cup semi-final against Australia. However, despite all the favorable factors, records indicated Team India has a woeful record at the SCG.
Uttam Ghosh/Rediff.com, looking at the lighter side of things, believed Thursday's semi-final would not be a walk in the park for the defending champions. And he got it right!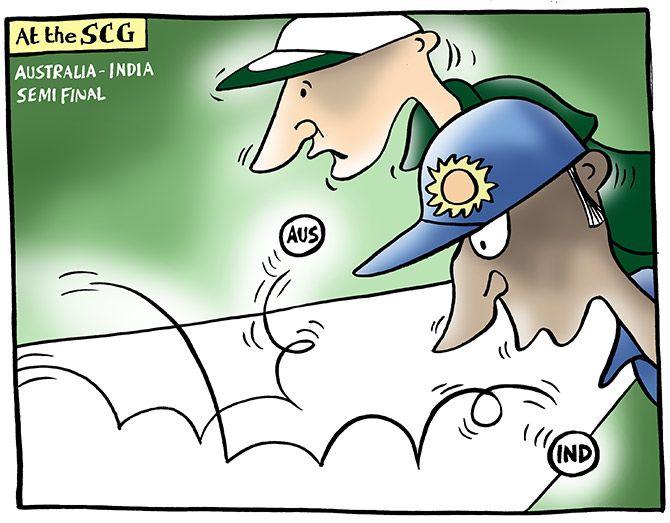 Illustration: Uttam Ghosh
Ahead of the second semi-final between Australia and India there was palpable hype, particularly pertaining to the latter.
The Sydney Cricket Ground would favour Team India, experts opined. The track, usually expected to turn, would help the likes of Ravichandran Ashwin and Ravindra Jadeja. They further added that Australia lacked a quality spinner.
Besides, there was the crowd factor.
- The Cricket World Cup: Complete Coverage
With large scale immigration from the subcontinent, Team India enjoyed more support than the home team.
Further, Mahendra Singh Dhoni and Co were on a winning streak, having won seven matches on the trot in this tournament, and 11 in sum since the last edition.
All the above factors indicated a smooth passage to the final for Team India.
However, despite all the plus points, Team India failed to overturn their woeful record at the SCG.
The Men in Blue had won only one of the 14 matches they played against the hosts at the venue. It was the first of the two finals of the Commonwealth Bank Series in 2008. But that was enough to generate the hype in a nation starved of sporting success.
In the end, all that came to naught as the co-hosts thrashed the holders by 95 runs to book a berth in the final against New Zealand.
Australia have now beaten India on 13 occasions (in 15 matches) at the Sydney Cricket Ground.
- Don't miss Uttam Ghosh's earlier illustrations
The doosra: Dhawan can help Team India reach the Shikhar
The doosra: Is Ravi Shastri's over-confidence justified?
The doosra: Virat Kohli and Dr Jekyll/Mr Hyde...

The doosra: Pakistan looking to be sixth time lucky against India

The doosra: South Africa hold the aces
The doosra: MS Dhoni and Co should now aim for top spot in Pool B
The doosra: Time for captain Dhoni to score more runs