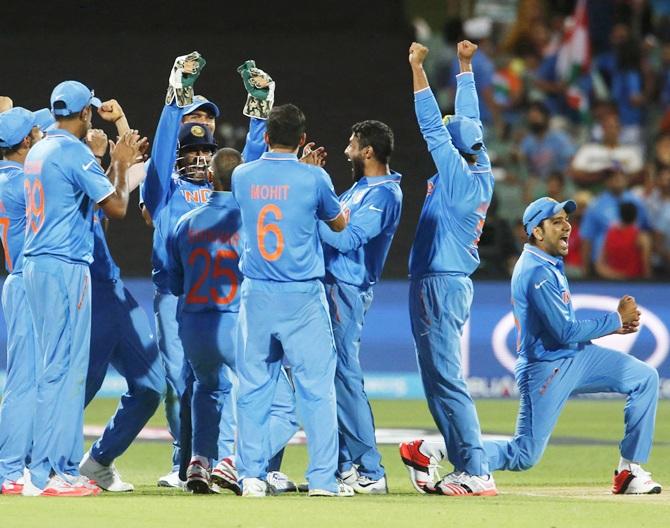 Members of India's cricket team celebrate. Photograph: David Gray/Reuters
Prime Minister Narendra Modi on Sunday congratulated the Indian cricket team after it kick-started the campaign in the cricket World Cup with a stupendous win over arch-rivals Pakistan at Adelaide Oval.
PHOTOS: India make it 6-0 v Pakistan in World Cup
Performer of the day: 22-ton Kohli!
India extend World Cup supremacy over Pakistan after Kohli ton
"Congrats Team India. Well played. We are all very proud of you," Prime Minister Modi said in his message.
President Pranab Mukherjee also congratulated the Indian cricket team for launching their World Cup title defence by recording a big victory over arch-rivals Pakistan.
"Congratulations Indian Team on victory in ICC World Cup's first match; wish you continued success in coming matches," President Mukherjee tweeted.
The Prime Minister had earlier wished all the Indian cricketers individually just before the start of the quadrennial extravaganza.
Defending champions India launched their campaign in grand style as they produced a clinical performance to spank Pakistan by 76 runs, maintaining their unbeaten record against the arch-rivals in the mega event.
In the high-voltage match between the bitter rivals, India again emerged victorious in a rather one-sided affair, thus maintaining their magnificent record against Pakistan by winning the sixth consecutive World Cup game since the rivalry started way back in 1992.