A selection of musings from around the cricket World Cup.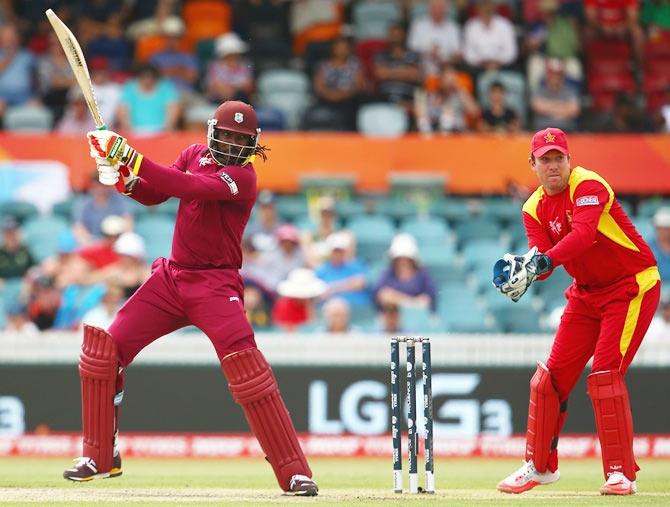 Chris Gayle during his knock of 215 against Zimbabwe on Tuesday. Photograph: Mark Kolbe/Getty Images
This match was supposed to be one of the World Cup's sideshows – a contest between a once-great side and another that the late Peter Roebuck once referred to as the Mugabe XI. Someone forgot to tell Chris Gayle that. After lady luck – and his Instagram page suggests there is no shortage of that – reprieved him off the first ball he faced, Gayle rampaged to 215 off 147 balls at Manuka Oval in Canberra, shattering a slew of records along the way.
The World Cup, as never before on Rediff.com
VOTE: Who will win the 2015 World Cup?
"He is a batsman that I would describe as a bowlers' nightmare," Viv Richards had written in a column for the World Cup website. "On his day, he can be very destructive. He can be a match-winner in any environment and in any match conditions. If he is on song, then the opposition can lose the match in the blink of an eye, that's how destructive he can be."
It was quite an endorsement for a man who had started the tournament with scores of 36 [against Ireland] and four [versus Pakistan], and whose 19 innings since his last ODI hundred had seen him average 14. Irreversible decline? As it turned out, all Gayle needed was that match.
Australians try new helmet in wake of Phillip Hughes's death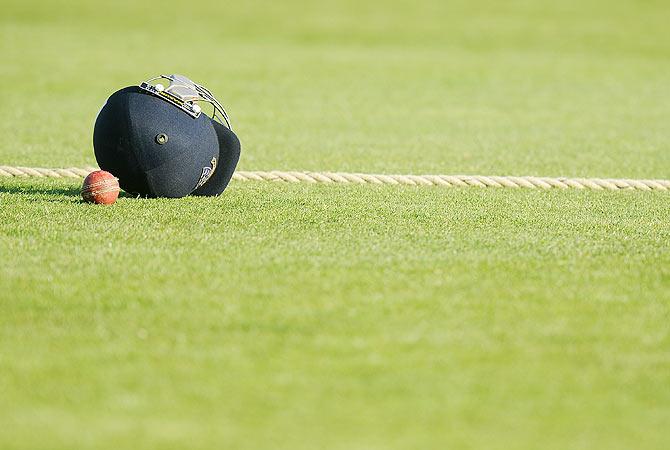 The old ball and players helmet sit on the boundary rope during day one of the LV County Championship match between Sussex and Warwickshire (This image is used for representational purposes). Photograph: Charlie Crowhurst/Getty Images
Australian players will be given the chance to try out the latest honeycomb helmet designed in the wake of Phillip Hughes's death, according to Cricket Australia's high performance chief Pat Howard.
A prototype of the helmet was unveiled by British manufacturer Masuri earlier this month, via a BBC news report, and featured a clip-on guard made of plastic and foam that protected the back of the neck, the spot where Hughes was hit in November.