A selection of musings from around the cricket World Cup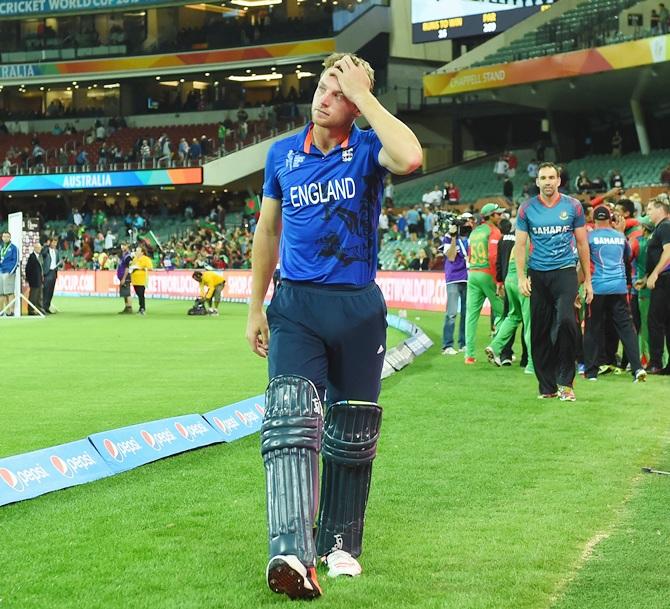 England vice captain Jos Buttler looks dejected as he leaves the field after the match against Bangladesh at Adelaide Oval. Photograph: Shaun Botterill/Getty Images
In the dark moments after his side's humiliating 15-run defeat by Bangladesh, Peter Moores reverted to management speak saying he would have to 'look at the data' to assess the reasons for his team's loss.
- VOTE: Who will win the 2015 World Cup?
- Don't Miss! The Rediff Cricket Show
- The World Cup, as never before on Rediff.com
There is no danger of his eyes turning square because he will not have to peer at the laptop screen for long to work out too few people executed their skill sets. The players were not tight enough and, as Moores likes to say, they did not play like blokes.
'Time for a change'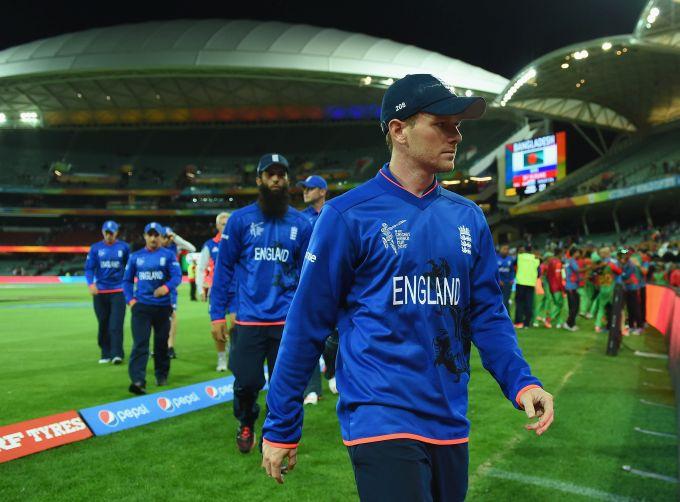 England captain Eoin Morgan looks dejected as he leaves the field after the World Cup match against Bangladesh at Adelaide Oval. Photograph: Shaun Botterill/Getty Images
How the cricket world reacted to England's World Cup humiliation.
Utter humiliation that is totally inexcusable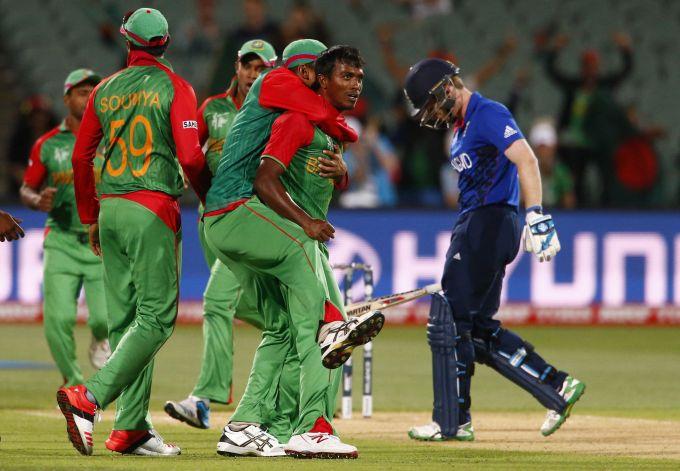 Bangladesh bowler Rubel Hossain (centre) and team mates Soumya Sarker (left) and Taskin Ahmed react after England captain Eoin Morgan (right) was caught out for a duck during their World Cup match in Adelaide. Photograph: David Gray/Reuters
England's dire performance this tournament was their worst ever at a Cricket World Cup.
No long-term planning, poor management and weak decision making all add up to one big shambles.
England should rip up Peter Moores' 'data' and rethink their entire philosophy towards one-day cricket after World Cup exit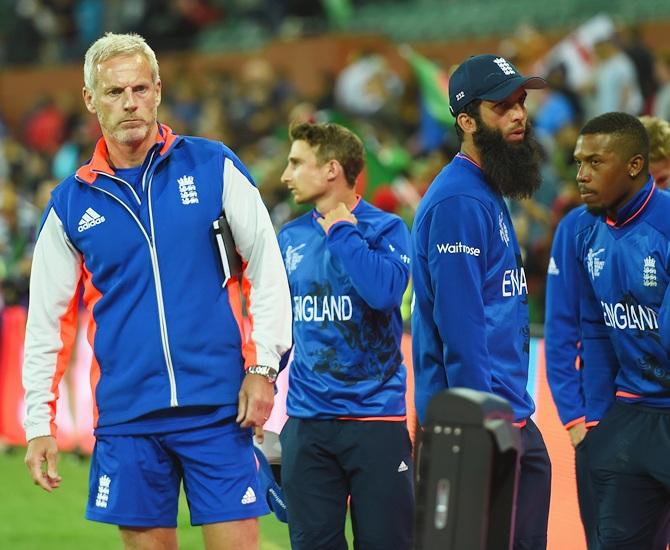 England coach Peter Moores at the end of the match between England and Bangladesh. Photograph: Shaun Botterill/Getty Images
There was nothing more mind-numbingly maddening in the aftermath of England's worst World Cup exit yet than the immediate reaction of Peter Moores.
'We thought 275 was chaseable. We'll have to look at the data,' said a coach now fighting to avoid his second ignominious exit from international cricket as the reality of an embarrassing group stage elimination sank in.
Well, England should rip up their data along with their whole philosophy towards one-day cricket and start again.
Those in charge must answer for England's dismal Cricket World Cup campaign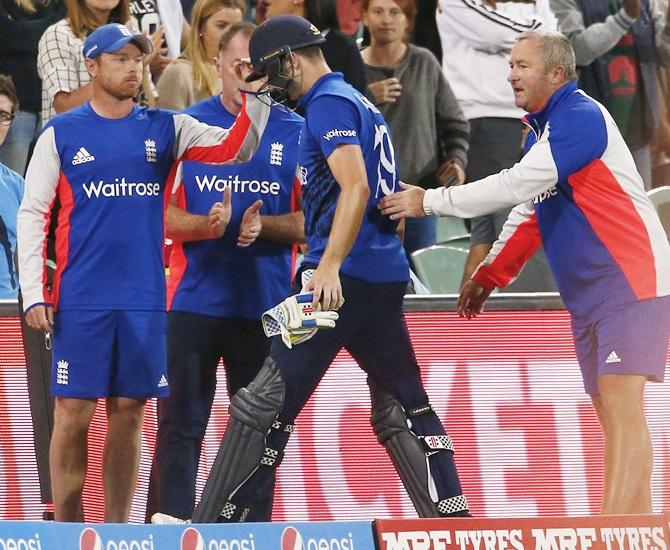 England batsman Chris Woakes is consoled as he walks off the field following their loss to Bangladesh. Photograph: David Gray/Reuters
After this terrible World Cup, the England management and players should cop the same flak and anger Yorkshire received from Colin Graves in 2011.
I think Colin has to do the same now with England. Peter Moores, the coach, Paul Downton, the managing director, and James Whitaker, the chairman of selectors, have a lot to answer for.
There have to be changes. Our one-day cricket has been very poor for 12 months. Our thinking and planning is way behind other countries. It needs a fresh outlook. We are out of date and some of those in charge have to go.
Are you watching the World Cup? Please share your videos, photos and comments here