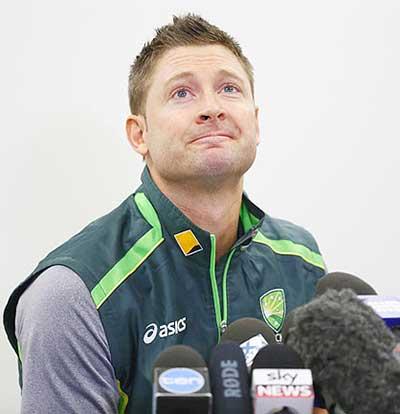 Australia captain Michael Clarke dropped a bombshell on the eve of the World Cup final by announcing he will retire from One-day cricket after Sunday's title-decider against New Zealand.
"Tomorrow will be my last ODI game for Australia," the 33-year-old told reporters at the Melbourne Cricket Ground, adding he had no thoughts of stepping down from the Test captaincy.
"I've never hid behind the fact that I find Test cricket to be the pinnacle of the sport," he said.
"I don't feel bad about saying that Test cricket is the toughest part of our game. I love that challenge.
"I still believe I've got a lot to offer the team as the captain of the Test team."
Clarke has played 244 One-day internationals, accumulating 7,907 runs at an average of 44.42.
He said he felt privileged to play for, and captain, Australia.
"I always dreamt of playing cricket for Australia. I never dreamt of captaining Australia and to have this opportunity and privilege is better than I could have imagined.
"I will sleep no worse tonight than I ever do. I'll be no less nervous when I walk out too bat.
"If we can win that would be icing on the cake."
He suggested he made the decision "about 48 hours ago" after returning home from the semi-final against India in Sydney.
"I think I got back to my house at about 12.30. Kyly was in bed and that's when I spoke to her about it.
"I know I've made the right decision. I told my teammates 10 minutes ago. I told the selectors and James Sutherland (Cricket Australia chief) about an hour ago."
- The World Cup, as never before on Rediff.com
Image: Michael Clarke
Photograph: Mark Kolbe/Getty Images