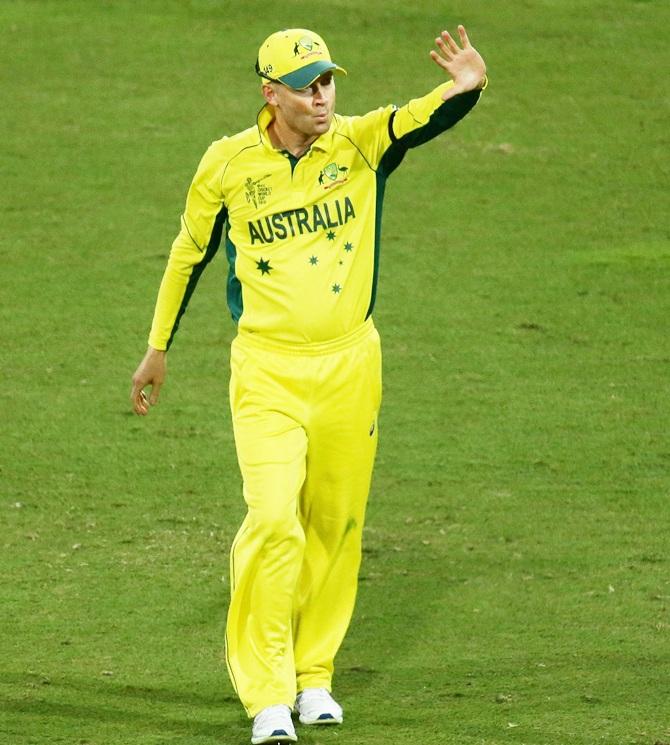 Australia's Michael Clarke celebrates victory after beating India in the World Cup semi-final at the SCG. Photograph: Matt King/Getty Images
Australia skipper Michael Clarke was stumped by a bungled question, which appeared to be about his sex life as he celebrated the World Cup semi-final victory over India at the Sydney Cricket Ground on Thursday.
Let's not make 50-over game like a T20, says Dhoni
World Cup Report Card: Full marks for India's bowlers
Prem Panicker: At the end, you felt for Dhoni
Clarke, who had just led the co-hosts to a crushing 95-run win against the defending champions, was facing the media at the post-match press conference when he was unintentionally asked to comment on 'the tremendous sex' he had enjoyed since taking over as captain.
The embarrassed reporter quickly corrected himself, telling Clarke he had meant to say 'the tremendous success'.
"How well do you know me?" Clarke asked the journalist, as man-of-the-match Steve Smith, who was sitting next to him, banged the table and could not helping laughing.
"It's a question for my wife," said the skipper.
Australia will face trans-Tasman rivals New Zealand in Sunday's final at the Melbourne Cricket Ground and the Aussies will be hopping for more 'sex'…er… 'success'!