'We have not seen double hundreds in ODIs and now in three years' time you see three double hundreds being scored'
'You might as well bring all 11 inside the circle to have more dot balls'
'Let's not make 50-over game like a T20 game because I feel even a lot of sixes and a lot of fours also makes it very boring'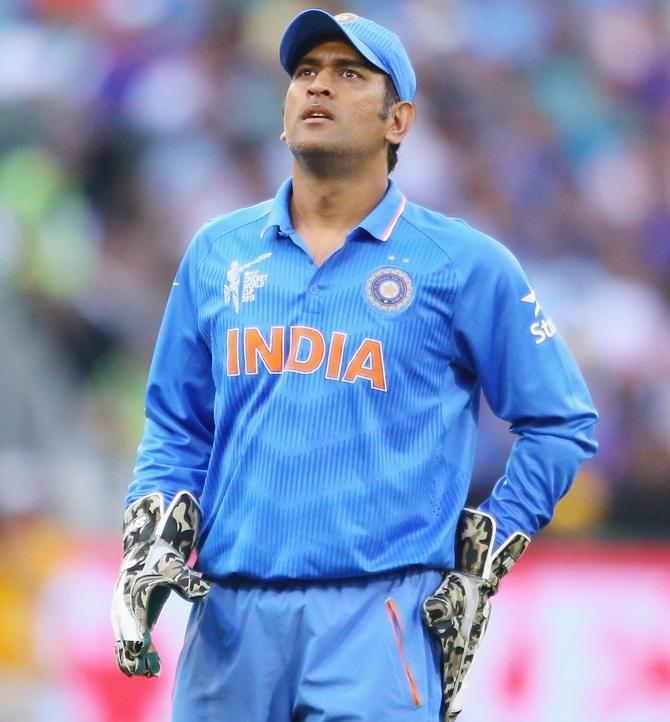 Mahendra Singh Dhoni, captain of India looks on. Photograph: Scott Barbour/Getty Images
A staunch critic of the ICC's four-fielder theory which has led to regular run-riots in One-dayers, India cricket captain Mahendra Singh feels the current rule should be changed as it heavily favours batsmen.
Lacking a seamer all-rounder, Dhoni's struggle was evident on Thursday when his fifth bowler -- left-arm spinner Ravindra Jadeja -- failed to check the flow of runs in the lost World Cup semi-final against Australia.
World Cup Report Card: Full marks for India's bowlers
Prem Panicker: At the end, you felt for Dhoni
Dhoni has time and again made it clear that India's bowling is affected by the rule of not having more than four fielders outside the 30-yard circle.
"It's my personal opinion, I would like them to change it. In the history of cricket, we have not seen double hundreds in ODIs and now in three years' time you see three double hundreds (actual number is six) being scored," India's captain said.
From India only, there are four double hundreds in ODIs, with Rohit Sharma being the owner of two, Sachin Tendulkar and Virender Sehwag one each.
Among others, Chris Gayle and Martin Guptill have scored a double ton each.
"A lot of people might say that a lot of dot balls that are being bowled because of that extra fielder inside. If that's the case (logic), rather than having the option of keeping fielders outside, you might as well bring all 11 inside the circle to have more dot balls," Dhoni said, taking a dig at the ICC rule with straight face.
For someone who enthralled the crowd with his batting pyrotechnics, Dhoni doesn't want ODIs to be a game of fours and sixes.
"We have to see. Let's not make 50-over game like a T20 game because I feel even a lot of sixes and a lot of fours also makes it very boring.
"The main essence of ODI cricket is how you bat from the 15th over onwards until maybe the 35th over. The first 10 and the last 10 doesn't matter as it's more like a T20, but the real essence of ODI cricket is how you bat in the middle overs."
Dhoni was blunt while calling the rule a "harsh" one.
"I feel the rules are slightly harsh. Maybe slightly more harsh on the spinners, who like to deceive the batsmen with their flight or perhaps like to challenge them. Now you have these all batsmen playing sweeps, reverse sweeps and all these different shots, and they have an advantage.
"But you want power to dominate because that has been ODI cricket more than the soft touches and all. You have the option as a captain; if you like this rule, you can bring the fielder inside," was Dhoni's solution.