The ICC on Sunday assured "full support" and welcomed the steps announced by the BCCI to deal with the spot-fixing issue that has rocked the Indian Premier League following the arrest of three cricketers including pacer S Sreesanth.
"The ICC offers its full support to the BCCI's in its efforts to quickly complete the enquiry against the accused players," ICC Chief Executive David Richardson said in a statement.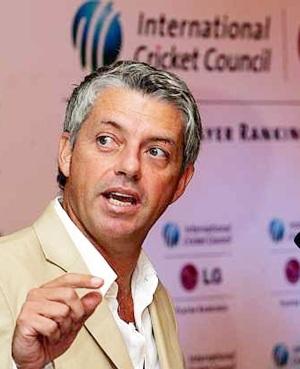 The IPL last week found itself engulfed in a sensational spot-fixing scandal after Indian paceman S Sreesanth and two of his Rajasthan Royals teammates were arrested by the police which claimed that they received upto Rs 60 lakh from bookies for bowling one manipulated over.
"The ICC also notes and welcomes the additional steps taken by the BCCI for the deployment of an anti-corruption official to accompany the teams and the accrediting of all player agents," Richardson added.
A special cell of the Delhi police arrested Sreesanth and his teammates -- Ajit Chandila and Ankeet Chavan -- in Mumbai last Thursday for indulging in spot-fixing in at least three IPL matches as per arrangements with bookies, who have underworld connections abroad.
And Richardson further added, "The BCCI has requested the ICC to provide recommendations for the further strengthening of its anti-corruption protocols for the IPL. We will be submitting our proposals as soon as possible."
Addressing a press conference after an emergent meeting of the Board's Working Committee, BCCI President N Srinivasan promised to take strongest possible action against the players if they are found guilty.
The BCCI appointed its anti-corruption chief Ravi Sawani as the commissioner of inquiry and has told him to file his report "as soon as possible".
Photograph: Kamal Kishore/Reuters