With the Feroz Shah Kotla ground set to lose 2000 vantage seats in the Old Pavilion stand due to lack of clearance from Archaeological Survey of India (ASI), the ICC has appealed to justice Mukul Mudgal to let them utilise the area for spectators and branding during World T20.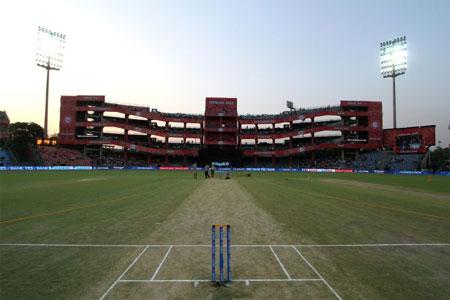 The area in the Old Pavilion stand area falls under ASI and DDCA need to have clearance from them to offer it to spectators.
ICC Chief Executive Dave Richardson met DDCA's observer Mudgal on Friday along with select DDCA officials to discuss the issue.
The ICC wants those seats to be opened for the public as there is no specific order from the Delhi High Court, which had directed the appropriate authority to decide on the issue.
"The ICC is very concerned about the curtailment of another 2000 seats. Now there is a suggestion to put the entire premium seats covered with black clothing. This is something the ICC is not very happy with," a senior DDCA official present during the meeting told PTI on Saturday.
"ICC argument is that since a lot of down the ground shots will be hit, black clothing will make both broadcasters and sponsors wary. It is considered to be an eye sore," the official said.
Asked what's the way out, the source informed that ICC will request Justice Mudgal to consider keeping the seats open for spectators as well as branding.
"They will request Justice Mudgal as only he can take a call in this regard. ICC's concern is that a black out of that area will send wrong signals to the sponsors. Also another argument is that the media centre is also located in the Old Pavilion and if that area can be used, let us utilise this area also," the source informed.
"Another option is to get clearance from ASI before men's matches are hosted at the ground," he added.
The men's main matches will start from March 23 while women matches are scheduled to begin from 15 with a clash between New Zealand and Sri Lanka.
"Look, to be fair, even India versus Pakistan women's match won't attract much crowd. It is the men's matches where the problem will arise. In case India plays the semi-final at Delhi, you can imagine what the situation will be," said the official.