The International Cricket Council on Wednesday confirmed that, after receiving legal submissions from the Board of Control for Cricket in India, it has accepted Ravindra Jadeja's request for an appeal against the recent decision by ICC match referee David Boon.

The India all-rounder was found guilty of an offence under Article 2.1.8 of the Code of Conduct and fined 50 per cent of his match fee for his alleged altercation with England fast bowler Jimmy Anderson during the first Test in Nottingham earlier this month.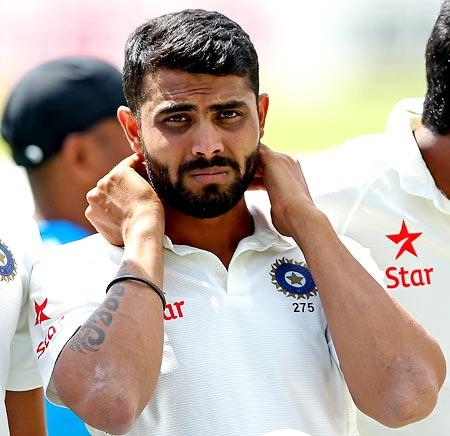 Reportedly, there was an alleged altercation at the lunch break on one the second day of the first Test where the Indian team management accused Anderson of a Level-3 offence as he had allegedly pushed Jadeja after an altercation.
- All you want to know about Anderson-Jadeja altercation...

The England team filed a counter charge of Level 2 offence against Jadeja.

After a hearing, Boon found Jadeja guilty of a Level 1 offence and slapped a 50 percent fine on his match fee which India captain Mahendra Singh Dhoni found unjustified.

The appeal will be heard at the same time as the disciplinary hearing taking place in respect of the charge against James Anderson on Friday August 1, in Southampton. His Honour Gordon Lewis AM, will oversee proceedings via videoconference.
Coverage: India's tour of England 2014
Image: India's Ravindra Jadeja
Photograph: Scott Heavey/Getty Images