An angry India captain Mahendra Singh Dhoni on Saturday lambasted the International Cricket Council's decision to impose a fine on all-rounder Ravindra Jadeja for his altercation with England's James Anderson during the first Test in Nottingham, saying many a thing were neglected in the case and his players cannot ignore if abuse is hurled on them.

Jadeja was fined 50 percent of his match fee after being found guilty of playing against spirit of the game.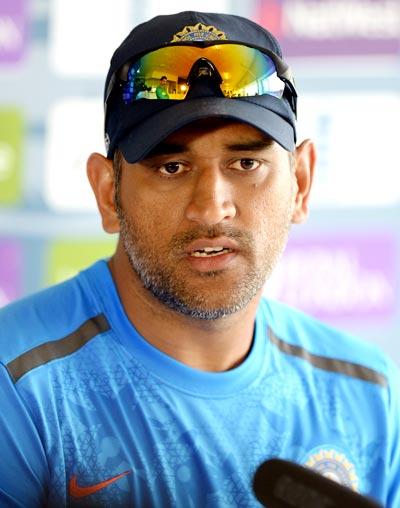 "To me, personally, it is a very hurtful decision. A lot of things were neglected in judging the case," said Dhoni, speaking on the eve of the third Test, in Southampton.
- All you want to know about Anderson-Jadeja altercation...

The Indian skipper then explained his version of the incident at Trent Bridge, saying Jadeja was subject to abuse as the players made their way back to the Indian dressing room at the lunch break during the second day of the first Test against England in Nottingham on July 10.

"If you see what exactly happened, the umpires called for lunch and we started walking towards the pavilion. I don't want to take any other individual's name. We started walking and the other individual started using foul language against Jadeja. I had to step in the middle. And by the time we reached the boundary ropes, I thought the situation had diffused," Dhoni said.

"By the time we were going through the members' area, I was ahead of Jadeja, he was a couple of yards behind me. Then again something happened. Something was said to him. And he just turned across to the individual and after that he was pushed. And he barely gained his balance and he turned to see as to what is happening. And on the basis of that he is fined," he added.

Dhoni then expressed his immense dissatisfaction with the verdict in very strong words.

"It was said that the incident was against the Spirit of the Game. But we cannot ignore what has happened. If someone is saying something to you from behind and you just turn and you look, that is not aggressive. Especially the fact that the bat was under Jadeja's armpit throughout and right from lunch till he entered the dressing room, not one word was spoken by him. So a lot of things were neglected.

"I don't think there was even a little bit aggression in that from Jadeja and that is why I am very hurt by the verdict that has been given," Dhoni said.

Jadeja was found guilty under Level 1 of the ICC Code of Conduct and Dhoni found this amusing as well.

"The allegation was of Level 2 and Jadeja gets punished under Level 1. The beauty of Level 1 is you cannot appeal against it. But BCCI and legal team is working things out. We are definitely not at all happy with the verdict. I have dictated what the facts were," he said.

"Tomorrow, if I ask my players to not say anything on the field, then he will be like whatever happens we will get 50 percent match-fee fine, (so) I am better off abusing the guy and reciprocating in a similar manner. Because 50 percent of my match money is gone because of other guy abusing me," he added, illustrating how the situation could likely get out of hand.

The Indian captain also revealed that he has conveyed to the Board of Control for Cricket in India that he wants them to appeal the fine.

Earlier, the Board of Control for Cricket in India's vice-president Rajeev Shukla reiterated that the Board will appeal against the ruling.

"The Board will go for appeal in ICC. We will put forward our case before ICC and we hope that justice will be done with Mr Jadeja. Right now it won't be appropriate for me to comment about it, but I think injustice has been meted out to Mr Jadeja and we will fight it out in the ICC," Shukla said in Mumbai.
Image: Mahendra Singh Dhoni
Photograph: Tony Marshall/Getty Images