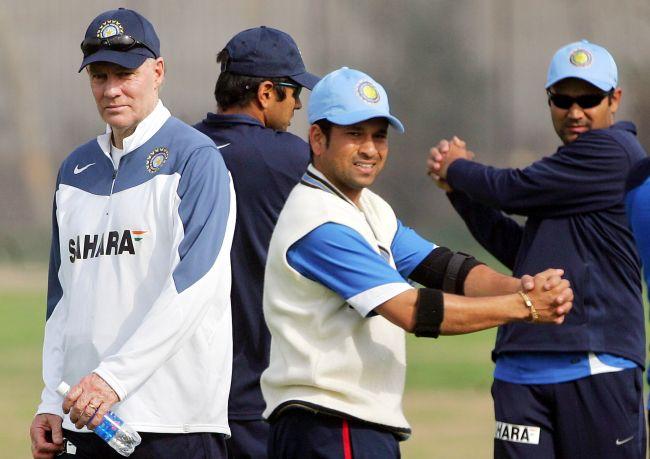 Sachin Tendulkar, Rahul Dravid and Virender Sehwag warm-up as coach Greg Chappell looks on. Photograph: Arko Datta/Reuters
Sachin Tendulkar revealed that a few Indian players did not feel comfortable under former coach Greg Chappell after the first couple of tours, but he was the one who persuaded his teammates to be patient with the Australian and give him more time to get settled.
"I remember precisely the first two tours I missed and there was controversy in Sri Lanka and in Zimbabwe and I wasn't there on both those tours. We played the Challenger Trophy, and driving back from Mohali, Zaheer Khan, Ajit Agarkar, possibly Harbhajan Singh, and a couple of guys were there. We were all travelling together and that is when the players said that we don't feel comfortable under Greg (Chappell)," said Tendulkar, in Mumbai on Tuesday, while interacting with a select gathering of cricket journalists on his autobiography, Playing It My Way.
"I clearly told them he has joined us and we should accommodate him and give him a chance. I said we should let him settle down; for any coach to settle down it does take time, so allow him that. I said, 'I feel you guys are rushing in and it is unfair', and I sided (with) him. But along the period I experienced with him I think, in retrospect, the players were right," Tendulkar added.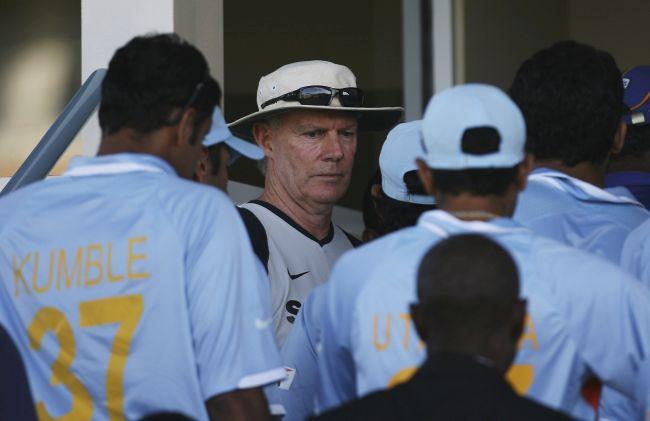 Greg Chappell. Photograph: Clive Rose/Getty Images
In the book, Tendulkar has said that Chappell came to his residence before the 2007 World Cup and suggested about making him India's captain at Rahul Dravid's expense.
Chappell was quick to dismiss the claim. 'The claims made in Sachin's new book were brought to my attention earlier today,' Chappell was quoted as saying by cricket.com.au.
'Whilst I don't propose to get into a war of words, I can state quite clearly that during my time as Indian coach I never contemplated Sachin replacing Rahul Dravid as captain. I was therefore very surprised to read the claims made in the book.'
Asked for his reaction to Chappell's statement, which to some extent implies that Tendulkar was lying, the batting icon was firm in his reply.
"Anjali was with me then, so I need not say more!"
Team environment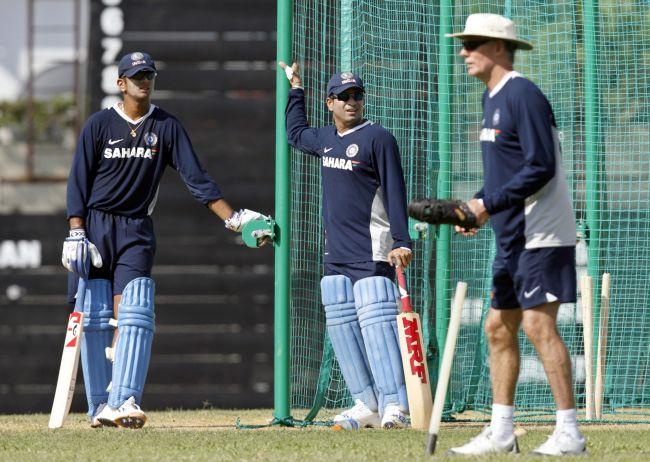 Sachin Tendulkar and Rahul Dravid look on during a practice session. Photograph: Adnan Abidi/Reuters
When quizzed as to why he never spoke to Dravid about it, Tendulkar said he did not want to spoil the atmosphere within the team.
"I didn't want to do all that. As far as I was concerned the matter was over right there because I didn't accept it; so I felt the battle was over. And I didn't want to create that atmosphere in the team because it was just the beginning of my stint with Greg. I hadn't played a single game with Greg till then. I had undergone surgery and it was a few months before the World Cup and that is when he came to talk to me," he said.
'I don't know the logic behind asking me to bat at No.4'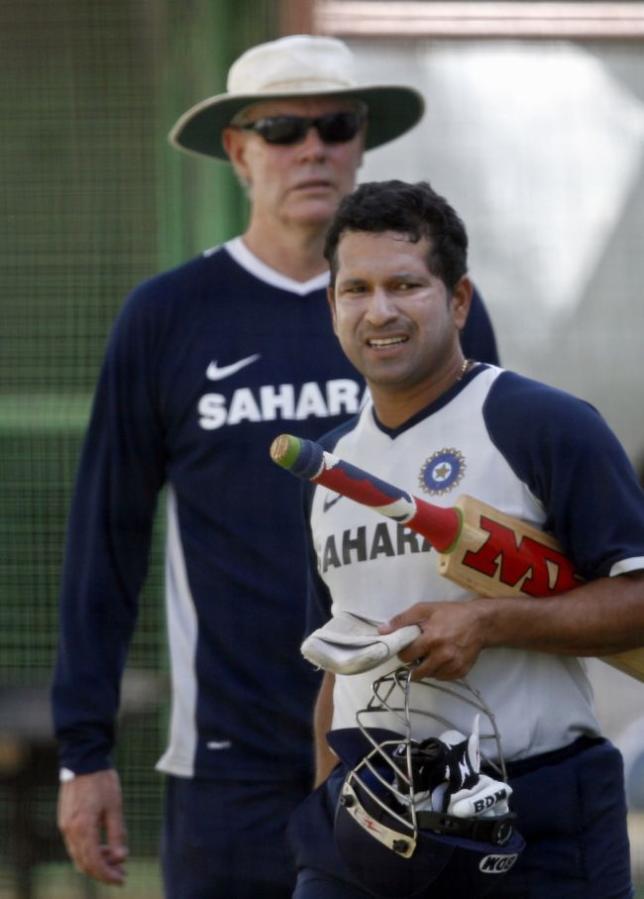 Sachin Tendulkar and Greg Chappell. Photograph: Adnan Abidi/Reuters
Tendulkar, who played in 200 Tests and 463 ODIs and was part of the 2011 World Cup-winning team, was also unhappy with Chappell's decision to make him bat at No. 4 in the 2007 World Cup, in which India failed to progress beyond the group stages.
"Batting at No. 4, Greg told me [in 2007]. I don't know the logic behind it because before that I was opening. Just before the World Cup, we came back from South Africa. It was less than two months before the World Cup when we played three ODIs against the West Indies in India and I was told that I would bat at No. 4.
"If I am not mistaken all the teams had started preparing for the World Cup around 10-12 months or longer than that and all those months I was opening the innings. And I was told then that I would be batting at No. 4 and my logic was that I have been able to contribute as an opener and that is where I have played the maximum number of matches in my career so I should continue doing that.
"I don't know. I wish it could understand what he was trying to do."
Tendulkar also critical of Ian Chappell
Ian Chappell. Photograph: Paul McConnell/Getty Images
Elaborating his point, Tendulkar gave the example of former coach John Wright, who pushed him up to the opening position for the 2003 World Cup.
"John [Wright] came to my room and said, 'in my personal capacity as a friend I am asking you where would you like to bat', and I said, 'if it is from the team's point of view I am willing to bat wherever you want me to bat, but in my personal opinion I should open because I believe that I go out and can control the innings. I can bring much more to the table as an opener; with all the experience I have I think I can do a better job.' And that was my conversation also in 2007," he claimed.
Greg's elder brother, Ian, also drew Tendulkar's ire.
'Before anybody else makes a decision on what will happen to Tendulkar, the player himself has to have a good long look into the mirror and decide what he's trying to achieve in the game. At the moment he looks like a player trying to eke out a career, build on a glittering array of statistics. If he really is playing for that reason and not to help win as many matches as he can for India then he is wasting his time and should retire immediately,' wrote Chappell in a column for Cricinfo in 2007.
Tendulkar said Chappell 'conveniently changed sides' and gone on to praise him in 2007 after initially criticising him.
"I don't think much about him. I showed him the size of the mirror in the VB Series in 2007, so I don't need to go out and prove to anyone. He has got nothing do with Indian cricket and it is just another opinion. Sometimes I feel people are given too much importance. The guy asking me to stand in front of the mirror has possibly failed more times, so it is an opinion and I didn't want to respond to that, and fortunately, by God's grace, my bat did that.
"I don't want all that. But I did tell him when I met him in Durban in 2010 when I was working out in the gym and he said, 'this is the secret of your success'. And I said, 'you have conveniently changed sides'. I have put that in my book. It is not that I am hiding it. Nitin Patel was standing next to me when I told him that.".