Pakistan's One-day skipper Shahid Afridi has said that he is under no threat regarding the World Cup captaincy issue as he had never run after the captaincy in his entire career.
"I have never run after the captaincy in my entire career. It is something for the cricket board to decide. If they feel I am good enough to lead the team in the World Cup they will retain me if not, that is life," Afridi told reporters before leaving for New Zealand for the One-day series, starting from January 22.
The Pakistan Cricket Board (PCB) is yet to announce the final squad and the captain for the World Cup and the performances of Misbah-ul-Haq as captain and batsman in the Tests in New Zealand have made him a strong candidate to lead the team in the World Cup.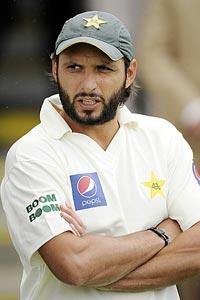 Shoaib Akhtar, Abdul Razzaq, Kamran Akmal and Ahmed Shehzad also left with Afridi to join the national team (playing the Test series) in New Zealand for the six-match ODI series, the last international outing for Pakistan before the ICC Cricket World Cup 2011 to be jointly hosted by India, Sri Lanka and Bangladesh.
Afridi said he was just focusing on the One-day series, which was his immediate task.
"I am taking no pressure over the captaincy. I am a senior pro and I know what I have to do," he said.
"It is obvious that if we do well in the One-day series and I also perform as a player it will help me and the team a lot," he added.
Afridi said the series in New Zealand was an important one for Pakistan as part of their preparations for the World Cup.
"If we win the series it will definitely boost our confidence ahead of the World Cup, although the tournament will be played in totally different conditions," he pointed out.
The flamboyant allrounder who has led Pakistan in T20 and ODIs since last year, said the team management and selectors had more or less finalised the combination for the World Cup.
"But the players selected for the New Zealand series have to perform well so that we can go into the World Cup with our confidence high."
Abdul Razzaq said he was looking forward to the series as a stepping stone to doing well in the World Cup as an allrounder.
"I want to do well in this World Cup, which could be my last. The series in New Zealand offers us a good chance to gain momentum for the World Cup."
"We have a good One-day combination and the way the Test side has been playing, it has put us in a positive frame of mind," said Razzaq.