'Nobody can bowl six out of six yorkers. So you have to mix your pace. You have to bowl bouncers, mix up the pace.'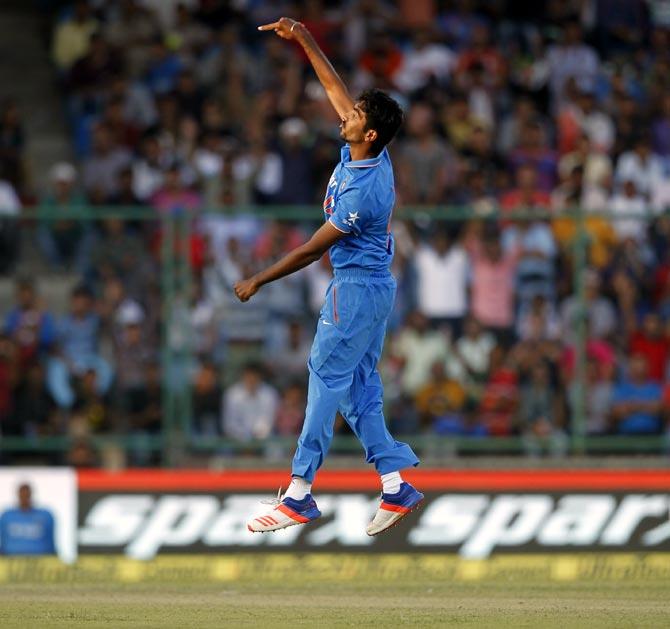 IMAGE: Jasprit Bumrah celebrates a wicket. Photograph: BCCI
It doesn't work if someone becomes a 'one trick pony' in international cricket and India's limited overs specialist Jasprit Bumrah is aware that bowling effective yorkers can't remain his only weapon at the highest level.

"You cannot be successful by just bowling yorkers. Nobody can bowl six out of six yorkers. So you have to mix your pace. You have to bowl bouncers, mix up the pace. In practice, I don't only bowl yorkers," the fast bowler said in New Delhi, on the sidelines of Gujarat's Ranji Trophy match against Bengal.

The 22-year Bumrah, who has been an automatic choice in Mahendra Singh Dhoni's limited overs set up, having played eight ODIs and 21 T20Is, said that for him yorker is like length ball to him.

"It's nothing like that. I practise death bowling. Yorker is similar to bowling a length ball. The more you bowl, the better you get at it. I bowled yorkers for Gujarat and Mumbai Indians. Before that I used to play tennis ball cricket. I don't know but that could also be a reason. I practise. I give proper time to death bowling," the speedster revealed.

The fascination to bowl toe-crushers came to him after watching the famed Pakistan pace duo of Wasim Akram and Waqar Younis along with Australia's Mitchell Johnson.

"As I played a lot of tennis ball cricket, I used to watch Wasim Akram and Waqar Younis a lot. Then Mitchell Johnson. These three used to be my favourites and I would try and copy them. Also Brett Lee (bowled lethal yorkers)."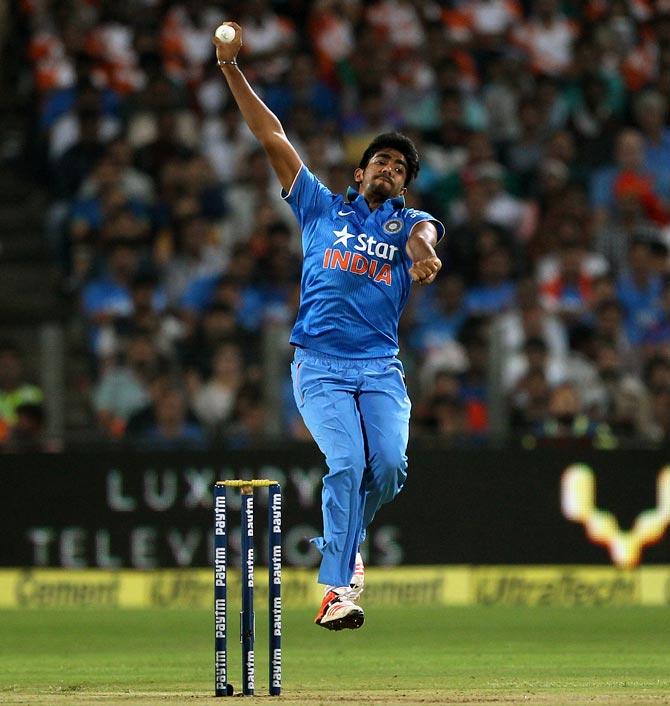 IMAGE: Jasprit Bumrah bowls. Photograph: BCCI
He further stated that interactions with legendary batsmen like Sachin Tendulkar, Ricky Ponting at Mumbai Indians has also helped him.

"Having played for Mumbai Indians, I got to interact with some legends and every input coming from them has been very valuable. I try to use it to my advantage. As a bowler you can always improve, always get better. The more you play, more experience you get and you become a better player."

He had bowled with the pink kookaburra ball during Duleep Trophy but isn't ready to commit about its future.

"Playing with pink ball was a different experience for me. When it's new it does a little bit but after that it becomes soft very quickly and it doesn't reverse. The SG Test ball has something for everyone. Spinners get turn, fast bowlers can reverse the ball."

Bumrah pointed out that Dhoni's clarity in thought has helped him to express himself better.

"He (Dhoni) has been such an experienced captain. Has played India for a long time. He helps us, tells us what do exactly on what kind of wickets. He gives us a picture of what to expect and that helps us to express ourselves. You can then try new stuff knowing that captain has confidence in you."

Bumrah also admitted that he is also keen to break into the Indian Test team.

"I don't think about selections. Wherever I am playing I try to focus on that. I am always focussing on things I have to do in a match. I try to focus on how the wicket will be and what I need to do. If I get a chance it will be dream come true. I always believe in taking it match by match. Right now my focus is Ranji Trophy."