'I am not looking at this IPL for an India comeback. I go into the IPL with a mindset that I have every year.'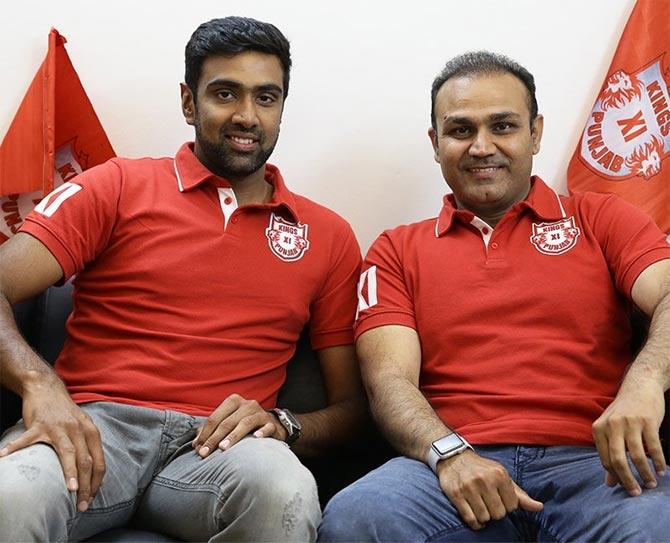 IMAGE: Kings XI Punjab's new captain Ravichandran Ashwin, left, with team mentor Virender Sehwag. Photograph: Kings XI Punjab/Twitter

Senior off-spinner Ravichandran Ashwin insists that he is not losing sleep over making a limited-overs comeback for India and his immediate focus is on the 'big responsibility' of captaining Kings XI Punjab in the upcoming 11th season of the Indian Premier League.

Ashwin, who was appointed KXIP captain on Monday ahead of names like Yuvraj Singh and Aaron Finch in the squad, has lost his place in the Indian limited-overs side alongwith all-rounder Ravindra Jadeja.

The off-spinner last featured for India in limited overs cricket in July last year.
"I am not looking at this IPL for an India comeback. I go into the IPL with a mindset that I have every year. This season I have a big responsibility and I am ready for the challenge. I am not looking for anything else. It (India comeback) will happen if it has to," Ashwin said.

Experienced pinners Ashwin and Jadeja selection for next year's World Cup seems unlikely at the moment with young wrist spinners Yuzvendra Chahal and Kuldeep Yadav doing a fine job for India in limited overs cricket in the last few months.

However, Ashwin's performance in the IPL will hold the key for him not just as captain but also as a senior bowler in the T20 league to be played in April-May.

It is still early days to talk about team combinations but it remains to be seen how new skipper Ashwin handles the senior players in the squad. Yuvraj, Finch, David Miller and Chris Gayle are among the high-profile players in the side this season.

"Having played international cricket for close to 10 years, I don't think I will have an issue (handling the senior players). I am also one of them. It is a strong squad and I feel all the big names you have mentioned will play an integral role," said the 31-year-old.

After being among the most sought after for a few seasons, Yuvraj and Gayle's stock in the IPL has dipped drastically and they both were picked up at their base price in the auction last month.

While Yuvraj is a certainty in the playing eleven, it remains to be seen how the team management makes the best use of Gayle despite having an in-form opening duo of Finch and Mayank Agarwal at its disposal. KL Rahul is another batsman who could open for the franchise.

Punjab had plenty of captaincy options but went for Ashwin, who took no time to accept the challenge. Team mentor Virender Sehwag too has said that he wanted a bowler to be the leader.

"I see it as a natural progression having played cricket for so long at the top level. I have always felt I had it in me to be captain. It is really exciting," said the tweaker from Tamil Nadu.

Ashwin might have the experience of playing 57 Tests, 111 ODIs and 46 T20 Internationals but is forever a student of the game. And that is why, he is hoping to learn from 16-year-old spin sensation from Afghanistan, Mujeeb Zadran.

"I have heard great things about him and I am looking forward to bowling alongside him and hopefully and learn a trick or two from him," he said modestly.

Ashwin added that it will be a different experience playing for a team other than Chennai Super Kings, who will return this season after serving a two-year ban. He played seven seasons for CSK from 2009 to 2015.

"It was special to play for CSK all those years but now it is about doing the job for the team which went after me in the auction. All I can say is that it will be special to go back and play at Chepauk," he said, hoping that the Chennai crowd will continue to back him even though he will be in the opposition camp.