'Obviously they have got a few quality players in there but once you can put a bit of pressure on them I thought we can get through them.'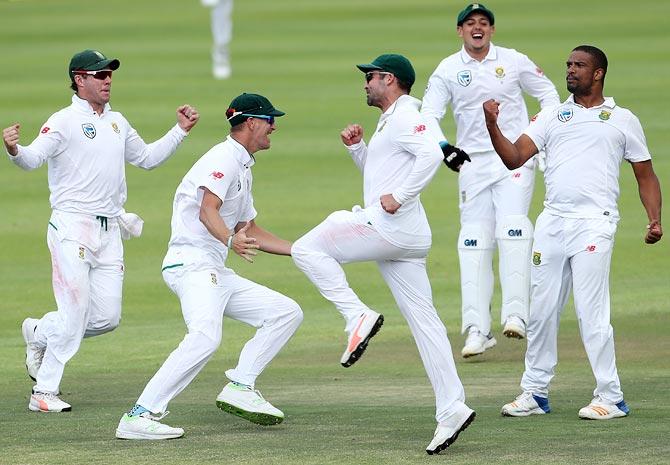 IMAGE: South Africa's players celebrate winning the first Test against India. Photograph: BCCI
The margin of victory was big enough to be called dominant but South Africa captain Faf du Plessis said he was quite nervous about defending 208 against India in the opening Test.

South Africa were dismissed for 130 in their second innings, leaving India with a victory target of 208 on Day 4 in Cape Town, on Monday.
"I was nervous. I knew that the new ball was going to be key for us and that if we could get wickets with the new ball we feel like we can get through their batting line-up," said du Plessis after the match.

"Obviously they have got a few quality players in there but once you can put a bit of pressure on them I thought we can get through them. But definitely I was very nervous.

"I came here this morning hoping to get a 350 lead and bowl to them tonight, so obviously that didn't go to plan."

Chasing 208, India were bowled out for 135 in 42.4 overs with Vernon Philander taking a career-best six for 42 and Du Plessis was all praise for the bowling attack.

"We have got fantastic seam bowlers and if there's anything in the wicket, Vernon Philander and the other two guys are amazing. And if we had Dale Steyn there today, I reckon we would have rolled them out cheaper," he said.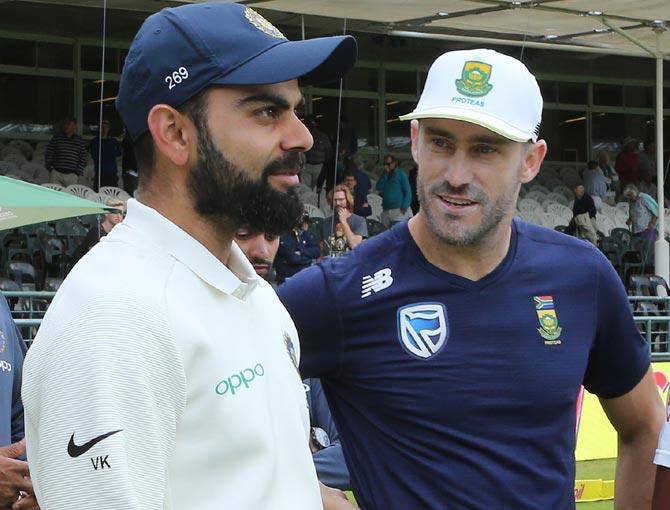 IMAGE: South Africa captain Faf du Plessis, right, with India skipper Virat Kohli. Photograph: BCCI
Philander led the three-man pace attack well in Dale Steyn's absence. The latter did bat but has been ruled out of the series with a heel injury.

"If there's something in the wicket, Vernon is as good as you get around the world. What impressed me most today was he wanted to bowl overs. He didn't say after three or four overs 'That's enough'.

"He wanted the ball and he wanted to make a plan, that's all you ask for from a senior player's point of view."

Du Plessis also said he was left surprised by the selection of India batsman Rohit Sharma over Ajinkya Rahane in the first Test.

He was also surprised at the selection of Jasprit Bumrah ahead of seniors like Ishant Sharma and Umesh Yadav.

"We were surprised yes. We didn't think that Jasprit Bumrah would have played. We know that he's done really well in one-day cricket but we were preparing more for the other seamers because they have played a lot of Tests," said Du Plessis in the post-match media interaction.

"I think the other guy was Rohit Sharma ahead of Ajinkya Rahane. He's been in a bit of form one-day cricket wise so they are probably just running with that," he said.

As for his own team selection, the Proteas skipper also faced a problem of plenty.

"The decision of picking a team was definitely the hardest I have been involved in. There is so much value in both scenarios. Playing seven batsmen that offer a bit more seam is a very good call," du Plessis said.

"But I just thought, if you have Steyn, Morkel, Philander, Rabada -- that's four bowlers you cannot look past. It's a positive move. Yes, Dale hasn't played a lot of cricket but the way he was bowling in the nets, and the way he bowled in the first innings, I think he was one of our best bowlers."

The hosts only managed 286 and 130 in two innings. At one stage in the first innings, they were even stuck at 12/3 but recovered well enough to win the match in the end.

In the second innings thereafter, they lost eight wickets for 65 runs in the morning session of day four.

"This morning felt unplayable when we batted. I think pace and bounce is something that you look for in South Africa. There was movement in this Test match.

"Obviously overhead conditions and moisture could play a role. When we go to Pretoria, we will hopefully get the same and Johannesburg. Those are renowned for being a little bit quicker. Hopefully we will get them there," said du Plessis.

He also praised the Indian pacers.

"When I saw the names (of the Indian bowlers) that have came over, you almost look at what they will offer in these conditions. You know they have also got variety in these conditions," du Plessis said.

"They have got guys that can swing the ball, guys that can seam the ball around and they have also got a bit of pace. It's similar to our attack. So I am not surprised. We wanted the wicket to be a little bit like that, so we expected the wicket to be a bit more bowler friendly.

"You just needed one or two guys to step up and score some runs. So we did that fortunately in that first innings. I felt that one of me, AB (de Villiers) and Quinton (de Kock)could have pushed through
to get an 80-odd and put an even bigger total."