'It's different to what I do in other formats; that keeps me on my toes, keeps me challenged. A different role helps me understand my game better.'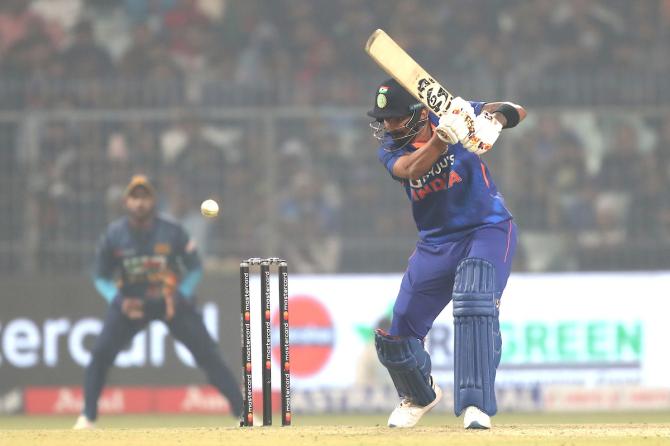 K L Rahul is having to work harder in his dual role of wicketkeeper-batter in ODIs, but has no complaints. After all, his priority is being in India's playing eleven.
The 30-year-old, a regular India Test opener, now not only dons the wicketkeeping gloves in the absence of injured Rishabh Pant, but has also been pushed to No 5 in the batting order, with Shubman Gill occupying the opening slot.
"Obviously, I've done this for a couple of years now. From the end of 2019, throughout 2020 and a few games in 2021. It is not something that's new," he said, at the media interaction after guiding India to a series-sealing victory over Sri Lanka in second ODI in Kolkata on Thursday.
"The team has given me time to settle into this position and role. When you have the backing of your captain and coach it helps you focus and bring your 100 percent concentration, which is what the team is expecting.
"Yes, it's different to what I do in other formats; that keeps me on my toes, keeps me challenged. A different role helps me understand my game better," he added, elaborating on the role the team wants from him.
Rahul is having to work harder on his fitness for the additional responsibility.
"I've to work slightly differently when it comes to batting in the middle-order. Wicketkeeping and batting can be slightly more taxing on the body, because I have not done it for too long. I've done it on and off in white ball cricket.
"That's the tough part. But since I know this is what is required from me, I try to manage my body and work that much harder on my fitness. Little bit of work on my keeping and a lot of work on batting in the middle-order and batting against spin.
"Any role that helps win matches for my team and country is what satisfies me the most wherever I bat. Firstly, I want to be in the playing eleven; that's the most important thing."
Now he has got used to playing different roles for the team.
"Once you are there, whatever the team requires me to do, I try and do that. That's something that I've done throughout. Since the time I've started playing cricket for India," he added, remembering his Test debut in the Boxing Day Test against Australia in 2014.
"Then, afterwards, I went on to open, played at No 6 and when Shikhar (Dhawan) got injured, I opened again, played at No 4 and 5."
Rahul, who also led India in Rohit Sharma's absence last year, said the trust bestowed on him by the team management helps him thrive under pressure.
"I've been all over; I've been asked to keep wickets. It's been fun for me. I've really enjoyed being thrown different challenges. I've really thrived on performing in tough conditions and being put under pressure.
"That only tells me that the team really trusts me and backs me under Virat and Rohit. I've really enjoyed doing that. It helped me understand myself, my game, and my batting better; how I'm under pressure when taken out of my comfort zone."
He occupies the wicketkeeper's slot at the expense of Ishan Kishan, who has been dropped despite his fastest double century in the previous ODI series.
This has also fuelled debate over the selection of Rahul, who is battling indifferent form after coming back from injury during IPL 2022.
Chasing a paltry 216, Rahul bailed India out from 86 for 4 with a knock of sheer patience and perseverance.
He was the only designated batter left in the middle and stitched two key partnerships with Hardik Pandya (36) and Axar Patel (21) to take the team over the line in 43.2 overs.
"There's little bit happening with the ball as well; we handled the pressure pretty well. Games like this are also important. We played one 370-plus and they scored 300-plus."