'Where betting is legalised it is heavily regulated and they work in close conjunction with us, so it does assist us'
'Sometimes these corruptors are like paedophiles and what I mean by that analogy is that they are prepared to spend a long time particularly grooming young players'
IMAGE: Justice RM Lodha (centre) signs the verdict in the Indian Premier League spot-fixing probe in July 2015. Photograph: PTI
The ghost of match-fixing has haunted Indian cricket for quite a while now.
Ever since the Delhi Police uncovered the match-fixing scandal in 2000 involving South Africa captain Hansie Cronje, in which India's Mohammad Azharuddin and Ajay Jadeja were reportedly found guilty, the evil has continued to mar cricket in the country for the last 16 years.
In 2013, three cricketers including S Sreesanth, Ankeet Chavan and Ajit Chandila were banned for their role in the spot-fixing scandal during the 6th edition of the Indian Premier League.
- Full text of the Justice Lodha IPL verdict
- Key points of the Justice Lodha verdict
Recently, the Supreme-Court appointed Justice Lodha committee, which investigated into the IPL spot-fixing saga, had suggested betting is practiced worldwide and should be legalised in India as well.
Ahead of the World T20 which kicks-off next week, International Cricket Council's Anti-Corruption Unit's chairman, Sir Ronnie Flanagan also echoed Lodha's sentiments saying it would be easy to track corruption like match-fixing or spot-fixing if the betting industry is legalised in that country.
"If we talk about countries (like England) where betting is legal and heavily regulated, we have a Memorandum of Understanding with the legitimate betting industry and we find that is helpful because they report to us on any unusual spike in betting about a particular event or a particular time and we investigate it and they stop taking bets when that happens. Obviously, in the black market, the betting industry is harder to track," Flanagan said in Mumbai on Sunday.
Asked if it would help the ICC if India legalises betting, he replied: "I don't think it is for me to suggest what a sovereign nation does. But I do say, where betting is legalised it is heavily regulated and they work in close conjunction with us, so it does assist us. But that is not for me to suggest what a wonderful country like India should do in terms of its legislation or its law. If it decides to pass that then we will be seeking close collaboration with the regulators who would govern then what would be a lawful activity."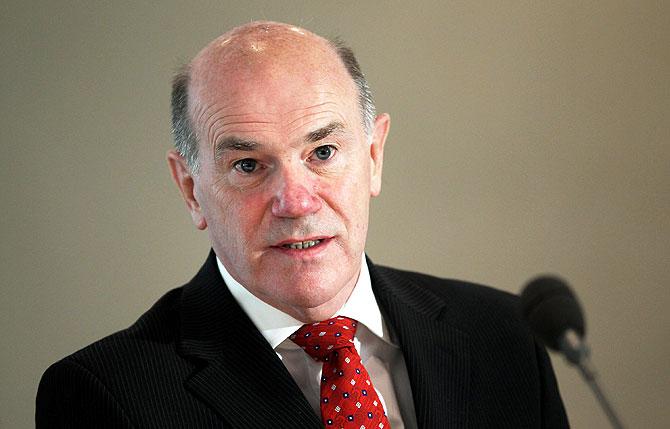 IMAGE: Chief of the ICC Anti Corruption and Security Unit Sir Ronnie Flanagan talks to the press. Photograph: Tom Shaw/Getty Images
Flanagan also does not foresee betting being legalised in the two cricket-crazy countries India or Pakistan anytime soon, but the world governing has devised ways to keep track of illegal betting.
"Some people ask us as to why countries like India or Pakistan legalise betting and then control it? The truth is that for very good reasons it is just not going to happen, and we have to accept that fact. And while that is a fact we have to do our best to research through the methods and find out what is going on in the illegal betting market," he said.
The ICC's anti-corruption chief also made a revelation that there was an attempt made to fix an international match recently.
Without giving any specific details he said a couple of players did try to take money with the intention of under-performing in that match but their efforts were thwarted by timely action from the governing body.
"Quite recently we had reason to believe that members of a particular team had intentions to manipulate events in a forthcoming match. This was an international team but I won't go into details. Without speaking about the details because it is still under our investigation, certain individuals, we believe, had the intention to manipulate events to facilitate betting on those events.
"When we come by a belief that something may happen in the future, bearing in mind that we exist to prevent corruption, we decided in this particular case immediately, we would bring together the entire squad, we would focus on individuals whom we suspected but we would remind the entire squad of their responsibilities. I am certain that our action in that particular case indeed prevent the intention of just one or two individuals and we have taken action in relation to those individuals and will be taking further action as well," he stated.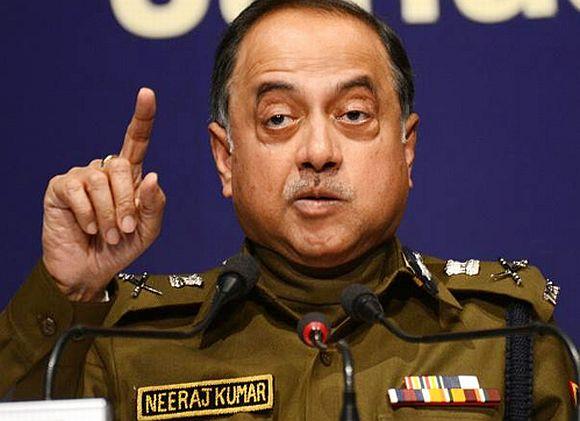 IMAGE: India's Anti Corruption and Security Unit (ACSU) chief Neeraj Kumar. Photograph: PTI
Flanagan also admitted it is impossible to eliminate the evil of 'fixing' completely from cricket.
"Some people ask me whether it is possible to totally eliminate corruption from cricket or from sport. And I tell them that you consider the analogy of medicine. If you tell a surgeon if you can completely eliminate ill health, he will say that it is not possible to completely eliminate it but we can keep improving our methods of preventing and cure. So it is like that with cricket.
"The sad fact of life is that the human nature means that there will always be bad people and there will always be people who seek to earn money through corrupting others," he said.
- 'BCCI cover up failed only because the courts intervened'
- Lodha verdict a big relief, but the damage is irreparable
Former British police officer Flanagan gave details of how young players are lured into the net of fixing by illegal bookmakers in India.
"Sometimes these corruptors are like paedophiles and what I mean by that analogy is that they are prepared to spend a long time particularly grooming young players. It might start with a simple praise after the match where the person might end up giving his contact card and the offering of a small gift which might then develop into offering of a more expensive gift which might some evening end up into a honey trap, trying to draw the young player into a comprising circumstances and maybe get evidence and photographs to blackmail the players.
"We warn the players and constantly educate them as to these methods the corruptors might attempt to employ and through that what we seek to do is make cricket a very difficult environment for those who seek to corrupt the great game and I think we are being very successful in that," he stated.
Flanagan, who will be working closely with BCCI's Anti-Corruption chief Neeraj Kumar during the forthcoming World T20, is confident that the mega-event will be free of corruption.
"I am confident that as we head into the World T20 at the end we will talk about an unforgettable cricket experience, but in the background we will be there to constantly make the game of cricket a difficult environment for those who seek to corrupt players or officials or support staff," he added.