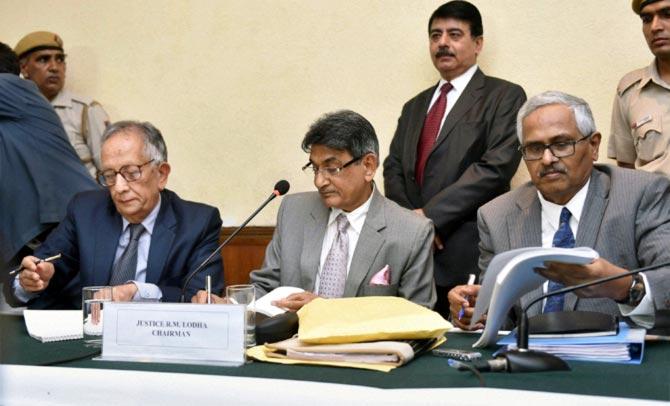 Justice R M Lodha, chairman of the Supreme Court-appointed Lodha Committee (centre), member Justice Ashok Bhan (left) and Justice RV Raveendran at the announcement of their verdict on the Indian Premier League spot-fixing scandal, in New Delhi. on Tuesday. Photograph: Kamal Singh/PTI
As Tuesday dawned, fans of Chennai Super Kings and Rajasthan Royals waited with bated breath, hoping that the three-member Justice Rajendra Mal Lodha committee, appointed by the Supreme Court to determine the quantum of punishment in the spot-fixing scandal, would show mercy on the two franchisees and, at best, impose heavy fines and not suspend them from the Indian Premier League.
In the end, hope turned to despair as the retired Chief Justice delivered the panel's verdict: two years' suspension from the cash-rich Twenty 20 extravaganza for two years.
Set up on January 22, 2015, it also recommended life suspension for Chennai Super Kings official Gurunath Meiyappan and Rajasthan Royals co-owner Raj Kundra from all cricket-related activities.
So what does the verdict mean? Where does it leave the players and teams? Rediff.com takes a look at its key points.
Meiyappan was the face of Chennai Super Kings
Whether the Chennai Super Kings owners believe it or not, the Lodha panel sees Gurunath Meiyappan as the face of the franchise.
He was with the team in the position of owner. He is the son-in-law of Narayanswami Srinivasan, the managing director of India Cements, which owns Chennai Super Kings.
The very fact that he suffered losses to the tune of Rs 60 lakh in bets during the sixth edition of the tournament in 2013 when the scam surfaced clearly shows that he engaged in heavy betting.
Meiyappan was found guilty of betting, according to Article 2.2.1 and 2.2.2 of the anti-corruption code, and is thus ineligible for participation in any cricket-related activity and suspended for life.
Also, there is no evidence of any action having been taken by India Cements against Meiyappan. The order of suspension passed by the Board of Control for Cricket in India post his arrest was not action by India Cements on its official, the panel observed.
Raj Kundra knew betting is illegal in India and yet placed bets
Being a UK citizen it was Kundra's responsibility to ensure his actions were not in conflict with the laws of a foreign country.
Betting is illegal in India and with so much of information available it's difficult to believe he was unaware.
He dealt in betting and was in constant touch with a punter and also introduced the punter to a bookie.
IPL COO Sunder Raman not out of the woods, yet
After examining the evidence on him, the Lodha panel feels there is need for further investigation. They had entrusted B B Mishra with the investigation, but he retired in March. Vivek Priyadarshi will take over.
A six-team IPL tournament now?
It's up to BCCI to take a call on that. Chennai Super Kings and Rajasthan Royals have been suspended for two years, so it could either invite fresh tenders for new teams, or it could hold a six-team tournament.
Can a suspended team be sold?
Here, again, the BCCI will have to take a call.
Chennai Super Kings, Rajasthan Royals players free to play for other teams.
The players of the two franchises are not affected by the latest ruling and free to play for other teams. It could see a fresh auction of players from both the suspended teams.
Srinivasan goes scot-free
The Lodha panel hasn't named Srinivasan directly, so he is safe for now. He can continue to head the Tamil Nadu Cricket Association and BCCI's representation in the ICC. However, pressure is growing on the Chennai supremo to withdraw his representation and move on.
Loss could hit BCCI severely
Chennai Super Kings and Rajasthan Royals are both well-followed teams in the IPL. Their suspension is bound to incur a massive commercial loss.