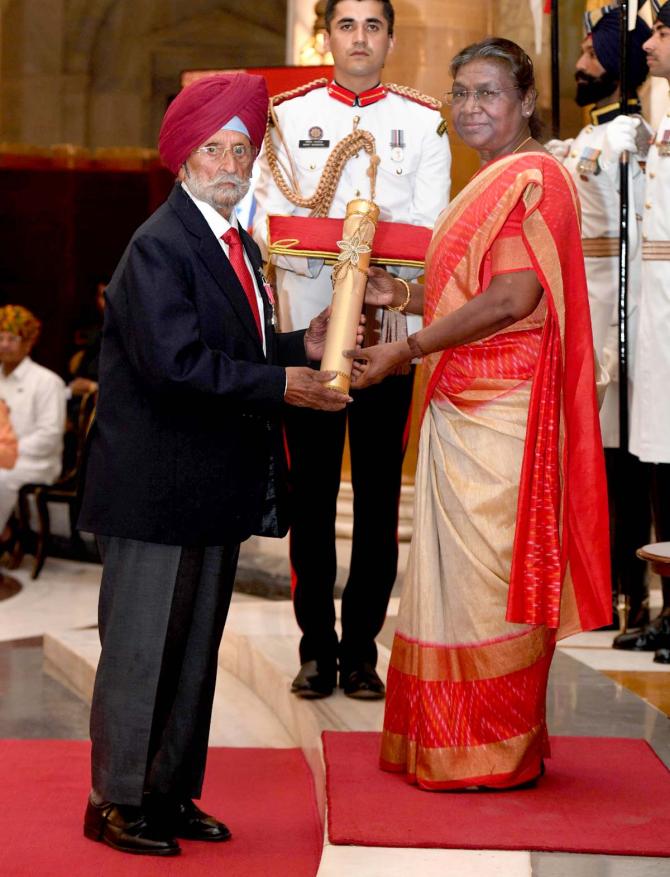 Gurcharan Singh, who has coached hundreds of first class cricketers and many international players, was bestowed with the Padma Shri by President Droupadi Murmu on Wednesday, March 22, 2023.
Mr Singh, 87, first started his domestic career for Southern Punjab before he joined the Railways team where he rubbed shoulders with Lala Amarnath, Dattu Phadkar, B B Nimbalkar, Nari Contractor, Budhi Kunderan and Vasant Ranjane.
He also coached the Indian team for a two-year period in 1986 and produced several international players from Delhi including Ajay Jadeja, Murali Kartik, Maninder Singh, Kirti Azad, Nikhil Chopra...
Mr Singh founded the Dronacharya Cricket Foundation in East Delhi apart from running two cricket clubs, Delhi Blues and National Stadium Cricket Centre, from which more than 100 players have gone on to play first class cricket.
He has been a lifeline for aspiring Delhi cricketers, many of them who could not afford to play cricket, as he paid for their kits and also helped many with their school fees.
'His single passion and dedication in life has been cricket. Guchi paaji has been an example of humility and good old human values. He has been a selfless servant of cricket,' Bishan Singh Bedi was quoted as saying by the Indian Express newspaper.
'Gurcharan Singh has played a fantastic role as a coach and teacher not only to me but also to a dozen international and hundreds of first-class cricketers,' KapilDev told The Hindu newspaper.
Such is his commitment to cricket that he still reports at his academy as early as 5.30 am to help the groundstaff get the outfield and pitches ready for the youngsters to train later in the day.
You may want to read a fascinating profile of Mr Singh in Open magazine here (external link).