'After India lost in England, the BCCI asked him to come in as a team director...suddenly there was a change in the team's fortunes over a period of time.'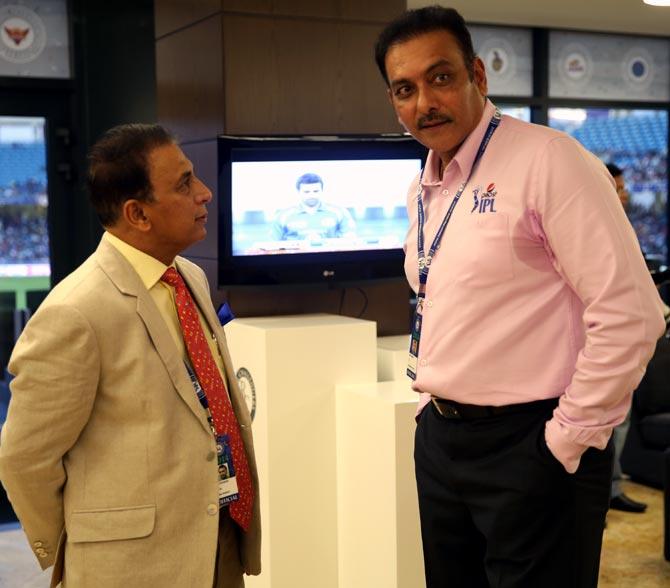 IMAGE: Sunil Gavaskar, left, with Ravi Shastri. Photograph: BCCI
Former captain Sunil Gavaskar feels his ex-teammate Ravi Shastri is the favourite to become the head coach of the Indian cricket team based on the team's impressive showing during his two-year tenure as the team director.

Shastri has become the front-runner for the high-profile job after he formally submitted his application to the Board of Control for Cricket in India.

"Ravi actually was the one (during his tenure as Team Director) the turnaround actually started for the Indian cricket team back in 2014," Gavaskar told NDTV.

"After India lost in England, the BCCI asked him to come in as a team director...suddenly there was a change in the team's fortunes over a period of time. Now that he's applied, he's probably the man who is going to get the job," he added.

Shastri, who served as Indian team director from August 2014 to June 2016, shares a healthy rapport with the players including captain Virat Kohli.

During his tenure, India won limited-overs away series against England in 2014, reached the semi-finals of the 50-overs World Cup in 2015 and World T20 in 2016, won a Test series in Sri Lanka, triumphed in a home Test series against South Africa and the T20 International series in Australia.

The others who have applied for the head coach role are Virender Sehwag, Tom Moody, Venkatesh Prasad, Richard Pybus, Dodda Ganesh, Lalchand Rajput and Phil Simmons.
Anil Kumble stepped down as India's coach last month, following differences with skipper Kohli. Kumble, who took over in June last year, decided not to renew his contract after he claimed that the 'partnership between him and captain Virat Kohli was untenable and hence it was best to move on'.