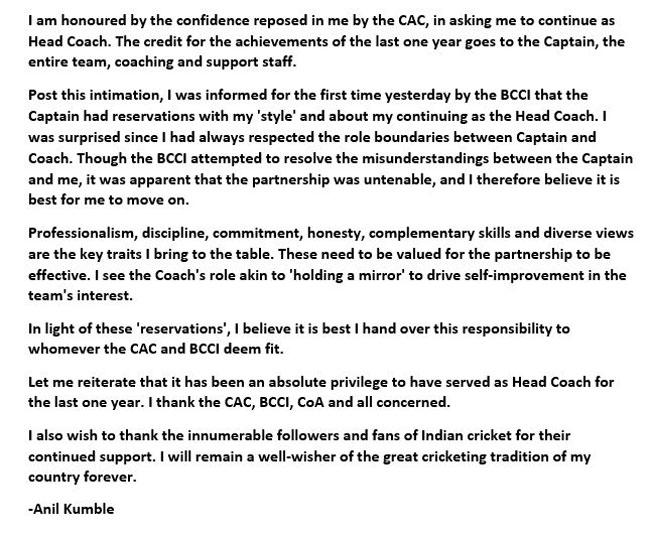 In an open statement following his resignation as the Head Coach of the Indian cricket team, Anil Kumble said that the 'partnership between him and captain Virat Kohli was untenable and hence it was best to move on'.
In a statement he tweeted late Tuesday night, Kumble also revealed that he was informed by the BCCI on Monday that captain Kohli had reservations with his style.
"I am honoured by the confidence reposed in me by the CAC, in asking me to continue as the Head Coach. The credit for the achievement of the last one year goes to the Captain, the entire team, coaching and supporting staff," Kumble's statement read.
"Post this intimation, I was informed for the first time yesterday by the BCCI that the Captain had reservations with my 'style' and about my continuing as the Head Coach. I was surprised since I had always respected the role boundaries between Captain and Coach. Though the BCCI attempted to resolve the misunderstanding between the Captain and me, it was apparent that the partnership was untenable, and therefore believe it is best for me to move on," he further wrote in the statement.
He also thanked BCCI, CAC, COA and India cricket fans 'for their continued support'.
Former India captain Kumble, stepped down from his role of Head Coach on Tuesday after a widely-speculated feud with captain Virat Kohli, marking a bitter end to a highly successful tenure.
In 17 Tests, Kumble saw India win a dozen, drawing four and losing just one against Australia.
India even retained the No 1 stop in Test ranking under Kumble's term.