With several senior players being rested for the West Indies tour, Team India could now be sweating over stand-in skipper Gautam Gambhir's fitness.
Gambhir has been advised for four to six weeks' rest, by Kolkata Knight Riders team physio Andrew Leipus, following aggravation of a shoulder injury, sustained during the World Cup final.
Gambhir was also taken for a precautionary MRI scan earlier this week, and there were doubts over his participation in the crucial Eliminator match against Mumbai Indians on Wednesday.
Though Gambhir played the match, the southpaw confirmed the fact that he struggled with the shoulder and had gone for a precautionary scan.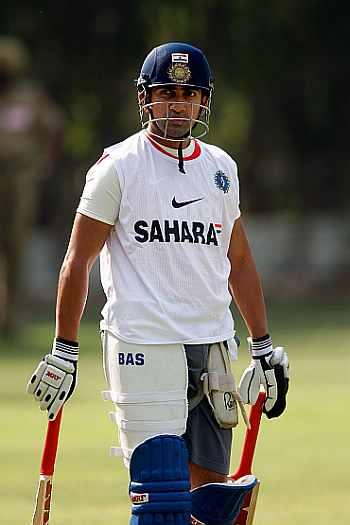 "Absolutely. I haven't got the report yet. I still need to speak to the physio. I will do that after I reach the dressing room, because he did not want to discuss [the injury] with me before the match," he said, after the Kolkata Knight Riders lost to Mumbai by four wickets in the Eliminator.
Elaborating on the injury, Gambhir said, "It's (shoulder) hurting me, I can't throw. During the last game I fell while sliding. After that I threw one ball and then went for an MRI scan, but I don't know what the report says exactly," he added.
Knight Riders' team physio Leipus, in a letter to the BCCI, had said that Gambhir needs at least four to six weeks of rest and also asked the board's medical committee to look into the player's injury management.
"The clinical findings supported the mechanism of the onset of the acute injury, however, he did report having corticosteroid injections on two occasions over the previous few years. In the last match where KKR played MI, Gautam again felt an aggravation of the shoulder pain on one particular throw," Leipus said in his letter.
"On arrival in Mumbai we thought it was prudent to get both an MRI and a consultation with a leading shoulder orthopedic surgeon. Both the doctor and myself believe that he should follow an intensive, supervised and conservative rehabilitation pathway. But for the best outcome, he will need to avoid both throwing and batting for a period of 4-6 weeks.
"In this regard, I would expect that the BCCI medical committee would need to consider the ongoing management of Gautam's shoulder injury beyond the IPL and the possibility of his missing any immediate future tours until the shoulder is fully rehabilitated," the letter added.
If Gambhir is ruled out, then Team India will go to the Caribbean Islands without three specialist openers, Virender Sehwag and Sachin Tendulkar already rested for the ODI series.
Suresh Raina is expected to lead the side in Gambhir's absence.