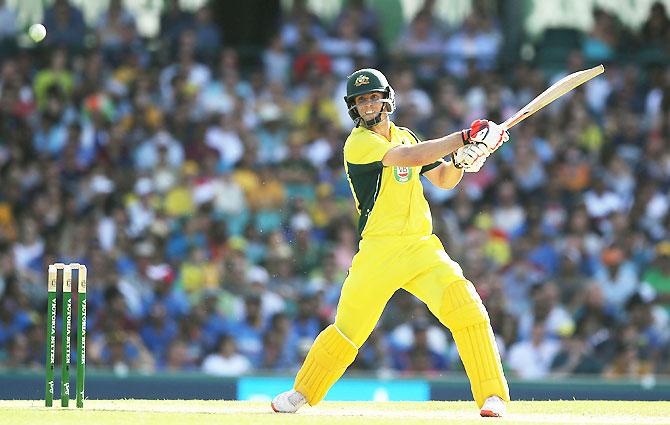 Australian all-rounder Mitchell Marsh is confident to play as a specialist batter for the three-match ODI series against India starting from March 17.
Having recovered from keyhole surgery on his left ankle, an injury he's battled throughout his career, Marsh will be returning to the national side after a three-month injury layoff.
The 31-year-old has not played an ODI since the series against England last November. He missed the entire Big Bash League (BBL) season and will be making his comeback for Western Australia against Tasmania in Marsh Cup on Sunday. He is also expected to play in Marsh Cup final on March 8 before travelling to India for the series.
"It has been a solid three months of rehab, thoroughly planned out," Marsh was quoted as saying by ESPNCricinfo to reporters in Hobart.
"I have had no setbacks and looking forward to getting back into it now," added Marsh.
"I have not started bowling, will progress that over the next few weeks. I am confident to play as a [specialist] batsman for now. It is a bit of a luxury to come back as a batsman and we will see how the bowling goes. But I have done the work, the rehab has gone to plan and I am ready to go," said Marsh.
Marsh is a vital part of Australian white-ball teams because of his powerful hitting and accurate seam bowling. He also is seen as a potential T20I captain following the recent retirement of ICC T20 World Cup winning skipper Aaron Finch.
Marsh hopes to prolong his all-format career with his ankle repaired and aims to end a near four-year drought in Test cricket, having last played the longer format against England in September 2019.
"All formats are on the cards for me," said Marsh, who played 32 Tests between 2014 and 2019.
"I have a lot of cricket left in my body. I always loved being an all-rounder, which allows me to be in the game at all times. I will continue to be an all-rounder as long as I can."
"It [surgery] was not a decision made lightly, especially how much I love playing for Perth Scorchers. For my career, long-term, and with the Ashes, which I am hoping to be part of the squad, and the World Cup this year, I wanted to make sure I had a lot of cricket under my belt," Marsh concluded his point.
Having watched Australia get bamboozled by Indian spinners on turning pitches during the ongoing Border-Gavaskar Trophy, Marsh predicts different conditions for the 50-over series.
"Wickets there for ODIs are fairly flat and high-scoring affairs. I would be surprised if we get anything different. The guys will be well prepared, so they will be raring to go," concluded Marsh.
The first ODI between Australia and India is in Mumbai on March 17, before the remaining two games in Vizag (March 19) and Chennai (March 22).