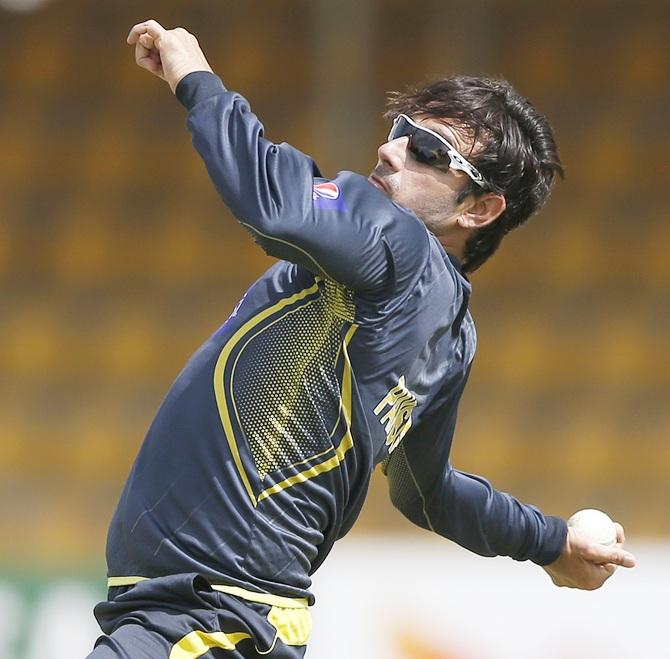 Pakistan's Saeed Ajmal bowls during a practice session (Photograph for representational purpose only). Photograph: Dinuka Liyanawatte/Reuters
In a major crackdown against chucking, a senior official revealed that Pakistan on Thursday suspended 16 domestic bowlers with suspect actions following the ban of ace off-spinner Saeed Ajmal.
- Suspect bowling: Action-Reaction
- Everything you want to know about Ajmal
The International Cricket Council (ICC) had suspended Ajmal earlier this month after he was found to straighten his elbow up to 43 degrees, well above the prescribed limit of 15. The ban jolted the Pakistan Cricket Board (PCB) who wasted no time to take action to avoid further international embarrassment.
The director of domestic cricket, Inthikab Alam, said that they have 29 bowlers reported for suspect bowling actions in the current home cricket season and half of them were reported twice, so they have banned around 16 from domestic matches, The Dawn reported.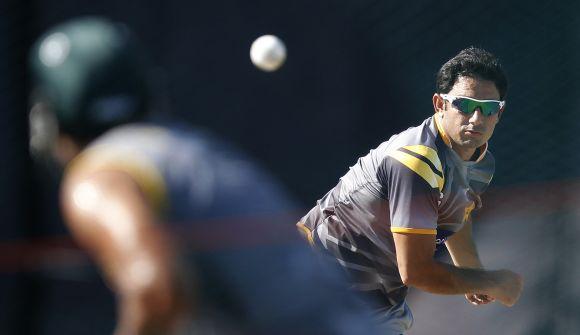 Saeed Ajmal in action (Photograph for representational purpose only). Photograph: Dinuka Liyanawatte/Reuters
Alam, who is a former Pakistan captain and leg-spinner, also said that all these bowlers would not be allowed to play in domestic matches and would go to the national cricket academy to get their actions altered.
To deal with the problem, the PCB has revived its biomechanics laboratory in Lahore this month after it was left nonoperational for seven years over allegations of financial irregularities in buying its machinery.
Ajmal was the seventh Pakistani reported for suspect actions in international matches, joining Shahid Afridi, Shabbir Ahmed, Mohammad Hafeez, Riaz Afridi, Shoaib Malik and Shoaib Akhtar. Even the two spinners called up to replace Ajmal, Atif Maqbool and Adnan Rasool, have been reported.
…meanwhile Sri Lanka allows 'suspended' off-spinner Senanayake to play domestic cricket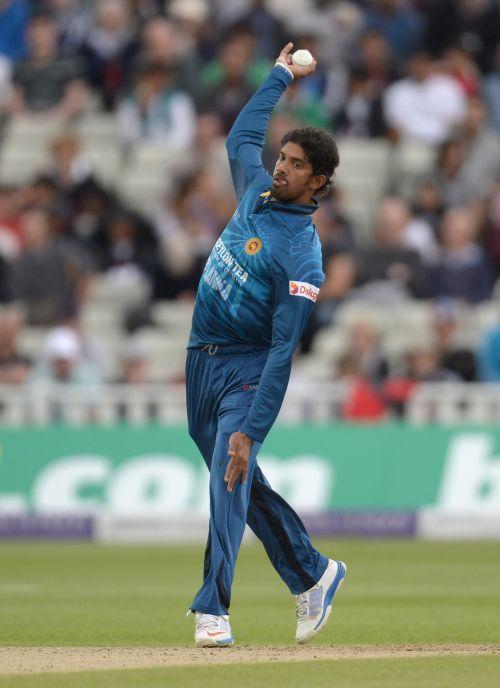 Sachithra Senanayake in action. Photograph: Gareth Copley/Getty Images
Sri Lanka revealed on Thursday that it would allow suspended off-spinner Sachithra Senanayake to play domestic cricket as he is making good progress in remedying his bowling action.
The International Cricket Council (ICC) had said in a statement that Senanayake had worked with some experts in University of Western Australia and made tremendous improvement as the off-spinner continues training with his coaches.
In the meantime Sri Lanka Cricket would allow Senanayake to play in the local commercial cricket tournament, which starts next month, as per ICC guidelines, a significant step for the bowler to return to the game, Sport24 reported.
The ICC guidelines say that a suspended bowler could play domestic cricket with the permission and supervision of the home board.
Senanayake was suspended from bowling in international cricket in July after being reported to be having a suspect action during Sri Lanka's tour to England in May as tests showed that he was exceeding the allowed 15-degree elbow extension while delivering the ball.
Before the suspension Senanayake had played 37 ODIs for Sri Lanka claiming 40 wickets. In 17 Twenty20 internationals he took 18 wickets, the report added.