'I believe that Phil Hughes was a really good batsmen. I think, if not the greatest, he could have one of the great Australian batsmen,' Irfan Pathan tells Harish Kotian in Mumbai.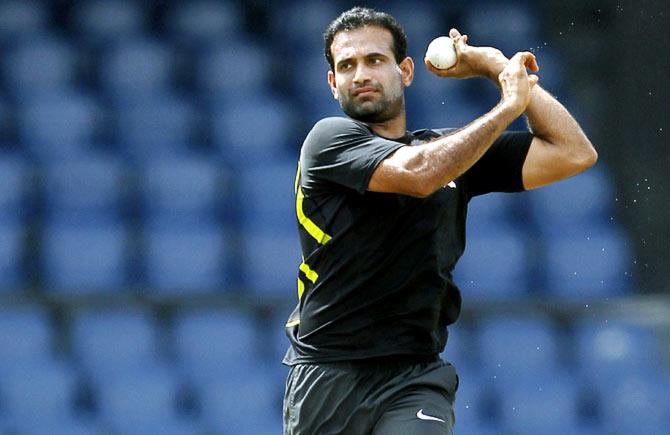 India's Irfan Pathan bowls during a practice session. Photograph: Dinuka Liyanawatt/Reuters
Former India pacer Irfan Pathan says the death of Australian batsman Phil Hughes may have come as a big shock, but fast bowlers never use bouncers to deliberately hurt anyone.

"Fast bowlers never use bouncers to hurt anyone purposely. They just use it to intimidate the batsmen or disrupt their rhythm. Like when a batsman charges down the wicket, they will try a short ball to keep him rooted to his crease. The Phil Hughes incident was unfortunate and I hope it never ever happens again," Pathan told Rediff.com on Saturday, on the sidelines of the Nautica Winter Regatta in Mumbai.
- Clarke breaks down repeatedly as he pays tribute to Hughes

Hughes, 25, died in a hospital in Sydney on Thursday, two days after being struck on the head by a short-pitched delivery from New South Wales paceman Sean Abbott.
The sequence of images showing Phillip Hughes as he is struck in the head by a delivery during the Sheffield Shield match between New South Wales and South Australia in Sydney. Photograph: Mark Metcalfe/Getty Images
Asked if fast bowlers should be banned from bowling bouncers, he replied: "There is already a limit on bouncers and many rule changes have been in the last few decades. In the 1960s and 70s, fast bowlers used to bowl a lot of bouncers but now you can bowl only two bouncers per over in Test matches and one bouncer in ODIs.
- Tendulkar, Rahane join #putoutyourbats tribute to Phil Hughes

"I believe, in sport, there will always be some sort of risk. But no one wants anyone to get hurt or tries to hurt their opponent deliberately. If you have too many strict rules then no one will go out and compete."

Pathan, 30, recalled an incident from 2004 when he hit Zimbabwe batsman Mark Vermeulen on the helmet during an ODI in Brisbane with a quick bouncer. Vermeulen top edged the ball into his helmet and it sneaked in between the grill and visor and left him with a fractured skull for which he had to undergo surgery.

"In 2004, I hit Zimbabwe batsman Mark Vermeulen with a bouncer on the top head which cracked his helmet. He underwent surgery for it and I was really thankful to God that he was okay and nothing serious happened to him. I was really feeling bad for him. After the game I was praying to God that he should be okay. Thankfully, his eye was not damaged in the incident.

"So when I heard about the Phil Hughes incident my thoughts went to that incident. I want to offer my condolences to his family, his friends, his team mates and Australian cricket. I hope and pray that God gives them strength to come out of this stronger. I believe that he was a really good batsmen. I think, if not the greatest, he could have one of the great Australian batsmen," he said.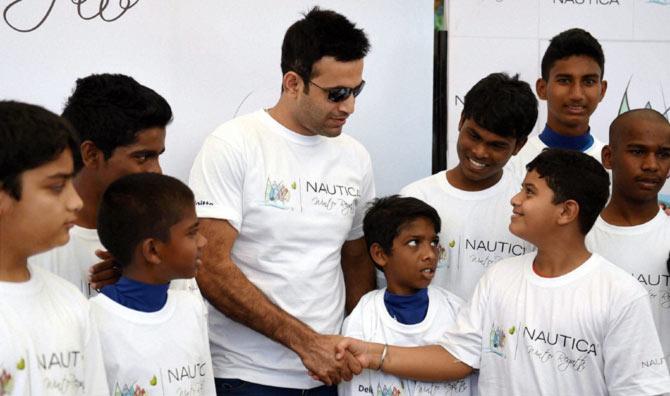 Irfan Pathan interacts with children during the Nautica Winter Regatta in Mumbai. Photograph: PTI
Talking about his own comeback to international cricket, Pathan claimed that he is still working on his fitness and plans to return to competitive cricket next month in the Ranji Trophy matches for Baroda.

"I am a work in progress right now. I want to make sure that when I take the field I am on top of my game as far as fitness is concerned. There have been injuries in the last four years and I want to work on preventing injuries in the future. I have been trying different techniques with my physios and, hopefully, it will work for me. The whole aim is to make sure that I play majority of the Ranji Trophy matches for Baroda... which starts next month and then take it forward from there."
- 12 cricketers called to rest on the field

Pathan was part of the Indian team for the 2007 50-overs World Cup but missed the next edition in 2011. Now he looks set to miss the 2015 event in Australia-New Zealand too.

"Let's see what happens. I believe in living in hope; if you don't have any aim or hope you rather quit or do something else. My aim is to make sure that I keep fit and play good cricket for the next five to seven years. That aim is going to make me work really hard and that hope will never go away."

Pathan has played 29 Tests and 120 ODIs since making his debut in 2003, but has struggled in the last few years with injuries. Interestingly, his last international appearance was in an ODI against Sri Lanka in Pallekele in August 2012 when he scored a quickfire 29 not out and claimed five wickets to be named the man of the match.

"Injuries hampered my career. Unfortunately, some of the injuries I had could not be avoided. But I want to make sure that in the future I avoid all these injuries. I believe in looking forward and not looking back so what I see in the future is hopefully five to seven years of good cricket without any injuries. I believe that if I have an injury-free career I can achieve a lot of things," he said.