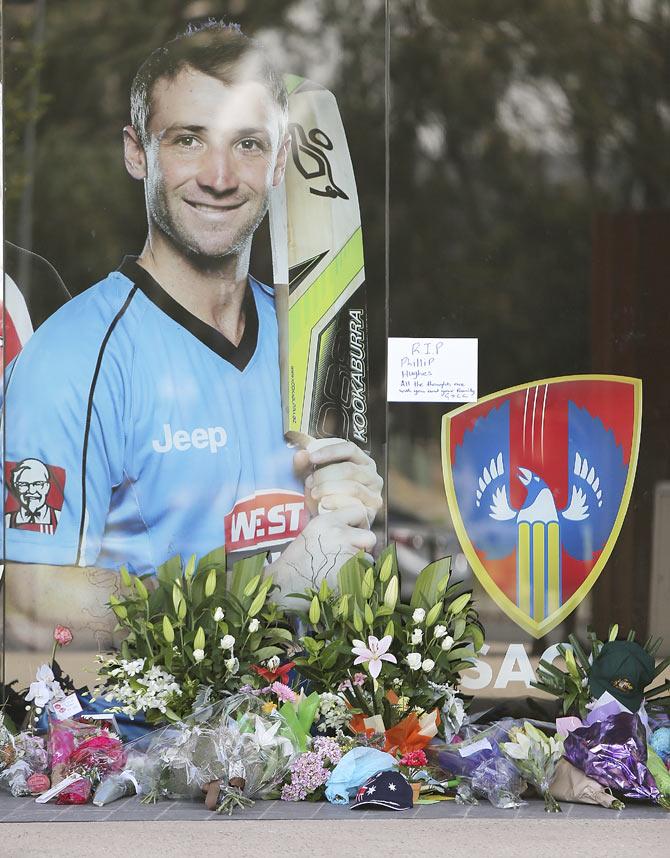 Tributes placed next to a photograph of Phil Hughes outside the Adelaide Oval on Friday. Photograph: Morne de Klerk/Getty Images
Phil Hughes's tragic death has sent a shock wave across the cricketing world.
The 25-year-old Australia international, who was in contention for a Test recall for the coming series against India, died at the St Vincent's Hospital, on Thursday, where he was battling for life after being struck on the head by a short-pitched delivery from New South Wales paceman Sean Abbott in a domestic match.
Rajneesh Gupta lists instances when cricketers died while playing a match.
Darryn Randall (South Africa) – 2013
Randall was competing in a South African domestic match when he was hit on the side of the head while attempting a pull shot. The wicketkeeper-batsman collapsed and was immediately rushed to hospital, but could not be revived upon arrival.
Zulfiqar Bhatti (Pakistan) – 2013
The promising Pakistan player was hit on the chest by a rising ball while batting during a domestic game and collapsed to the ground. He was rushed to hospital, but pronounced dead on arrival.
Richard Beaumont (England) – 2012
Just moments after Beaumont had annihilated his opposition with his fast bowling, taking a five-wicket haul, he collapsed, suffering a suspected heart attack on the pitch.
The match was abandoned and the fast bowler was airlifted to Birmingham's Queen Elizabeth hospital, but was pronounced dead shortly after his arrival.
Alcwyn Jenkins (England) – 2009
Jenkins was umpiring a league match in Swansea when he was struck on the head by the ball after a fielder had thrown it in his direction accidentally. Jenkins was airlifted to hospital but did not recover from his injuries.
Wasim Raja (Pakistan) – 2006
An elegant left-hander and a useful bowler, Wasim Raja died with his boots on, playing in a 50-over competition in Surrey. He had just bowled two-three overs and began complaining of uneasiness. Soon he collapsed on the field, succumbing to a massive heart attack.
Wasim played 57 Tests and 54 ODIs for Pakistan. He also coached Pakistan for a brief while after the 1999 World Cup and served as an ICC Elite Panel Match Referee for two years from 2002.
Raman Lamba (India) – 1998
The former India international was hit on the head while fielding during a club match in Dhaka. Standing at short-leg without wearing a helmet, the opener sustained serious brain injuries and went into a coma three days after the incident before being pronounced dead. As well as India, Lamba represented Ireland in unofficial ODI matches.
Ian Folley (England) – 1993
Folley had been tipped for an England call-up before a left-arm injury saw him retire from the game. He would return in 1991, but was hit below the eye in a freak accident while batting in a domestic match for Derbyshire against Workington. While under an anaesthetic in hospital, he suffered a heart attack and was pronounced dead.
Wilf Slack (England) – 1989
The Middlesex and England left-handed opener collapsed and died at the age of 34 while batting in Banjul, the capital of The Gambia, in January 1989. He had suffered four blackouts either on the field or at nets in the two previous years, but exhaustive tests had failed to identify what was wrong.
Abdul Aziz (Pakistan) – 1959
The 17-year-old Abdul Aziz died during the final of the Quaid-e-Azam Trophy in 1958-59, between Karachi and Services. Aziz was facing an off-spinner when the ball rose sharply and hit him in the chest. He collapsed and was declared dead on arrival at the hospital. The score book entry against his name read: 1st innings retired hurt 0; 2nd innings absent dead 0.
Andy Ducat (England) – 1942
Ducat made a single appearance for England during his career, but the batsman suffered a heart attack while batting during a club game at Lord's in July 1942. He collapsed and died.
George Summers (England) – 1870
Summers was struck on the head while batting for Nottinghamshire against the MCC at Lord's. He initially appeared to recover from the injury and didn't go to hospital, instead returning home to Nottingham by train, but died from the effects of his injury four days later. He was 25. The bowler, John Platts, was so rattled that he never bowled quick again.
Prince of Wales - 1751
The Prince of Wales (son of George II) was hit hard by a ball and the blow caused an internal abscess, which burst a few months later.