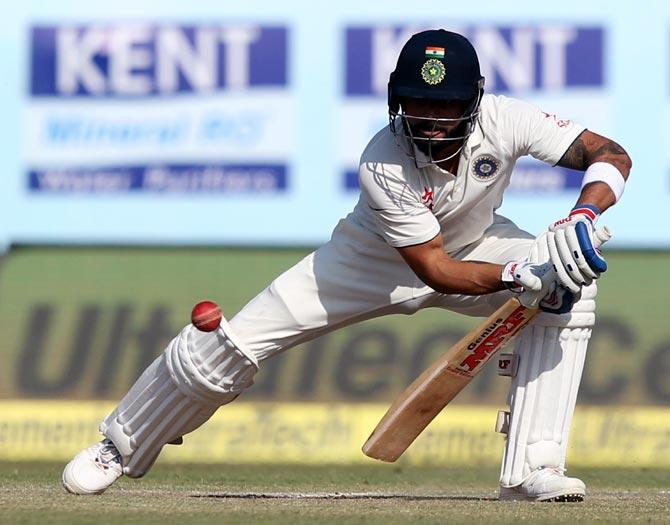 Former England captain Graham Gooch reckons Virat Kohli's "extra motivation" could prove to be dangerous for the home side in what will be a tight Test series due to the prevailing heatwave in the country.
The first Test starts in Birmingham on August 1.
"He (Kohli) is a top ranked player in the world at the moment and I think a dangerous customer for England as he has the motivation to improve his record in this country. Every player wants to be known to be able to play well in all sorts of conditions," Gooch told BCCI.TV in an interview.
A discussion on Kohli led to inevitable comparison with his English counterpart Joe Root and according to Gooch, what sets the duo apart, is their ability to play match- winning knocks under any circumstances.
"Well, they are both world class players across formats of the game. They are both match-winning players. I love watching Virat Kohli and Joe Root bat. They both play all round the wicket and they are both positive, very focussed and I like to see that.
"And I think one thing that people should remember what sets them apart in the modern era -- people who watch shouldn't remember how many runs they score or what innings they played. But (they should remember) when Virat Kohli or Joe Root played an innings that helped them win the match for their team. That's what counts. Not the number of runs.
"It might be 50 in difficult conditions or 150 on a flat wicket but when your performance helps your side win the match, that's when you should be proud of," said Gooch, who had famously 'swept' India out of the 1987 World Cup with a marvellous century in the semi-final in Mumbai.
Gooch, who has a prolific record against the Asian team including his highest Test score of 333 at Lord's in 1990, termed India as an "improved side" that has struggled in the past but now look ready to shed the tag of "poor travellers".
"Sometimes in the past, India have struggled when they have travelled abroad. Obviously they have been very strong at home but they are improving all the time.
"And Virat Kohli is very determined to do well. I think he has got a point to prove, he has got a good all-round side, got some good spinners," said Gooch, who scored 8900 runs in 118 Tests with 20 hundreds.
Gooch feels the current hot weather in the UK could make the upcoming series a more even contest.
"It is going to be a very close series. As you know, we have had very unusual weather in this country. No rain really for eight weeks. It is unheard of. Probably, it is hotter than what it is in India at the moment. I think that will level it up a little bit."
If the conditions are overcast Broad and Anderson will come into play, but flatter wickets will make it a much more closer contest, he said.
"If the ball was moving quite a lot, it would have been a slight advantage for people like Broad and Anderson, who are world-class performers, when the ball is moving around. I think wickets will be a little bit flatter and so I think (it is) quite a difficult series to pick a winner actually. May be, one Test either way," Gooch said.
The former skipper also had a word of caution for the home team, which, according to him, has not performed consistently of late.
"As an Englishman, I would want England to win but our form in Test cricket hasn't been that good recently. We did very poorly in the winter in Australia, beaten 0-4, beaten by New Zealand, drew against Pakistan.
"We are not playing Test cricket as we would like to. We have some very good cricketers but they need to perform," he said.
"India are strong side and you don't get to No 1 rating position without playing well. So, it's going to be a tight series. England will have a lot to play for as they are under performing," he signed off.