England batsman Alex Hales, left, walks off back to the pavillion after being dismissed as Eoin Morgan looks on during the 2nd Royal London ODI match against India at SWALEC Stadium, Cardiff. Photograph: Stu Forster/Getty Images
Dejected after a 133-run loss (D/L method) against India in the second One-dayer in Cardiff on Wednesday, England skipper Alastair Cook said that his team has a lot of improvement to do if it wants to overturn the 1-0 deficit in the five-match series.
"If we play like that we're not going to win many games of cricket," said Cook.
"But the talent in the changing room is there and we've got a lot of improvement to do. We didn't play very well, and we've paid for that today."
'Tomorrow is another day'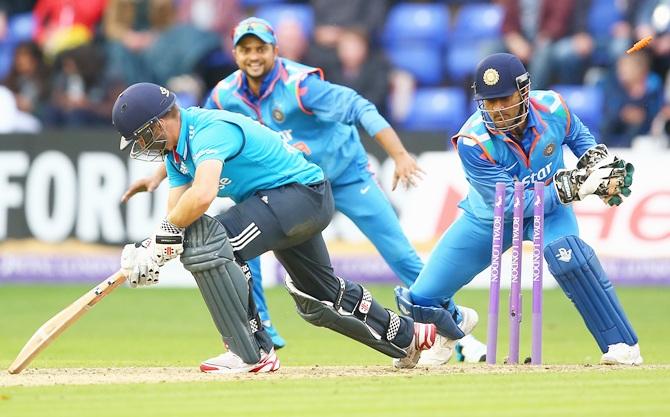 Chris Woakes of England is stumped by MS Dhoni of India off the bowling of Ravindra Jadeja. Photograph: Michael Steele/Getty Images
England can always take heart from the Test loss at Lord's and the 3-1 series win thereafter. Cook also said that 'tomorrow is another day'.
"But it's one game, isn't it? It's one day of cricket. When you don't get it right - like we haven't today - it's not the end of the world at all. It's frustrating. You don't win every game of cricket you play and you certainly don't win many when you play like that. The lads in the changing room will know that. They don't need me to tell them. So, it's dust ourselves off and try to come back and play better next time," he said.
'But we could look at some good spots'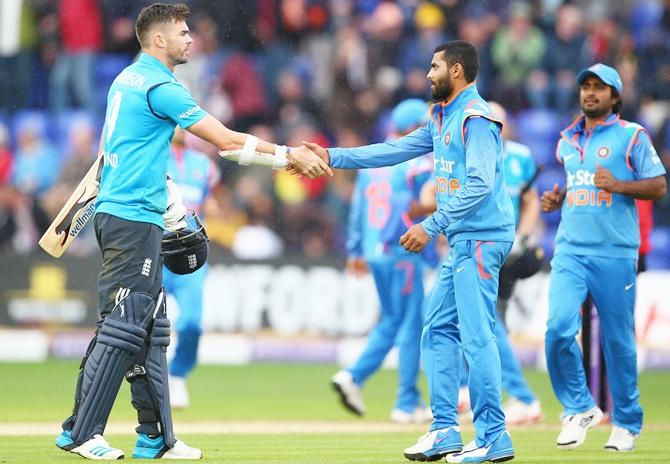 James Anderson, left, of England shakes hands with Ravindra Jadeja of India after India's 133 run victory. Photograph: Michael Steele/Getty Images
Suresh Raina scored a 75-ball hundred as India heaped on 304/6 in their allotted fifty overs. And then Ravindra Jadeja took 4-28 as England were bowled out for 161 in their effort. Cook accepted the batting and bowling failure but took some positives out of the loss.
"Obviously, it wasn't a 300 wicket and it wasn't a 160 wicket," said Cook.
"But we could look at some good spots, I suppose. I thought Chris Woakes (4-52) bowled nicely up front, and came back pretty strong when the carnage was happening."
"Alex Hales played really well. He'll know that scoring 40s don't win you games. But he batted the same way I've seen him play for Nottinghamshire and that's a really good start. He hits a really clean ball, and can win games of cricket. But as a batting unit as a whole, apart from that first nine or ten overs, 160 on that wicket wasn't good enough," he added.
'I am going to be captain in this World Cup'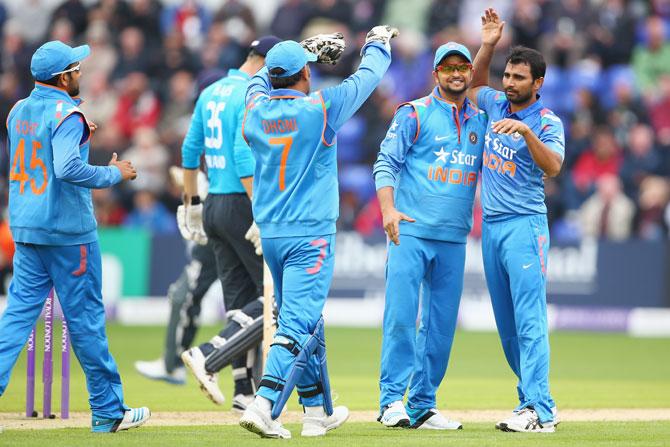 Mohammed Shami,right, of India celebrates with Suresh Raina, second right, and MS Dhoni after capturing the wicket of Alastair Cook of England. Photograph: Michael Steele/Getty Images
It was a surprise seeing Moeen Ali missing out after his recent success against India in the just-concluded Test series and Cook admitted that it was a tough call to leave the in-form spinner out.
"That was another tough call. You saw what James Tredwell brings to the side. He's done really well in his 30-odd games and is a really canny operator. But at some stage, I think we'll see Moeen play because of his huge development this year in Test cricket. If he can make those strides in One-day cricket as well, he gives us another option if we want to play a slightly different side," said Cook.
While the first ODI in Bristol had been washed off, ex-cricketer Graeme Swann had expressed his opinion that Cook shouldn't be England's ODI captain. When asked about this, the skipper replied, "I don't think it's that helpful especially from a so-called friend. But he's entitled to his opinion on it. It's not ideal for me, especially when you get through the summer I've had. It's not helpful at this time, because I am going to be captain in this World Cup. I've done it for three-and-a-half years. We're going to build up to that, and we've got a good chance."
More Related Stories
Cardiff ODI: Raina ton helps India trounce England by 133 runs
'In the next three matches we'll have more support than England'