Peter Fulton and Kane Williamson guided New Zealand through to 77 for one in their second innings at the close of play on the third day of the second Test at the Basin Reserve on Saturday though England were firmly in control of the match.
Fulton was on 41 while Williamson was 16 not out as the hosts are still 134 runs from making England bat again and needing the rain predicted for late on Sunday to arrive earlier than expected to save the match.
While showers are predicted late on the fourth day, New Zealand's MetService has forecast persistent rain for the Wellington region throughout Monday.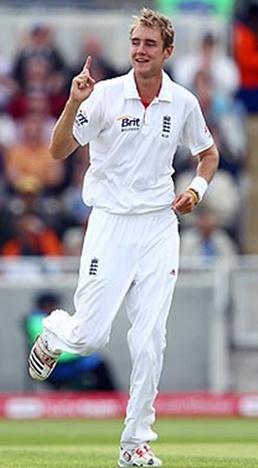 England captain Alastair Cook had enforced the follow-on after bowling New Zealand out for 254 shortly before tea, with the hosts 12 runs short of the required target to put the tourists back in to bat and well adrift of England's 465.
Stuart Broad had rattled through New Zealand's lower order with figures of six for 51 and Bruce Martin was left stranded on 21 not out before Cook enforced the follow-on.
The hosts began their second innings under intense pressure from Broad and James Anderson but left-arm spinner Monty Panesar got the first breakthrough when Hamish Rutherford was brilliantly caught by a diving Ian Bell at leg slip for 15.
Fulton and Williamson, however, survived through to stumps to ensure the game went into a fourth day and gave local fans a slim hope of the team salvaging a weather-influenced draw.
DEFIANT APPROACH
New Zealand had looked like they could avoid the follow on at lunch with Brendon McCullum in an obstreperous mood, having reached his 27th test half century shortly before the break.
The New Zealand captain, who survived an lbw appeal and television review in the first over after lunch, quickly advanced to 69 before Steven Finn got some extra bounce, caught the outside edge of the bat and Jonathan Trott took a simple catch at second slip.
McCullum's dismissal, immediately after he and BJ Watling had brought up their 100-run partnership, left New Zealand on 189 for six.
A reckless shot from Tim Southee, who inexplicably fell into the trap set for him by hooking a short Finn delivery directly to Broad at fine leg for three, left the hosts on 197-7 and teetering on the brink of total collapse.
Watling, the junior in the partnership with McCullum, upped his scoring rate after Southee's dismissal and brought up his fourth Test half century with a punch in front of point off Finn for two runs.
He was supported by Martin in a 42-run partnership before the second new ball ended their resistance when Watling (60) feathered a catch to Matt Prior off Broad.
Neil Wagner became Broad's fifth victim when he fell in exactly the same manner for a 13-ball duck, then the tall fast bowler snared Trent Boult for two to finish with his third-best career figures.
Scorecard
England (1st innings): 465
New Zealand (1st innings): (overnight 66-3)
P. Fulton c Cook b Anderson 1
H. Rutherford c Cook b Broad 23
K. Williamson c & b Broad 42
R. Taylor b Broad 0
D. Brownlie lbw b Anderson 18
B. McCullum c Trott b Finn 69
B J Watling c Prior b Broad 60
T. Southee c Broad b Finn 3
B. Martin not out 21
N. Wagner c Prior b Broad 0
T. Boult c Prior b Broad 2
Extras: (nb-3, lb-10, w-2) 15
Total: (all out, 89.2 overs) 254
Fall of wickets: 1-6, 2-48, 3-48, 4-85, 5-89, 6-189, 7-197, 8-239, 9-252.
Bowling: Anderson 25-6-68-2 (w-1, nb-1), Finn 20-2-72-2 (nb-1), Broad 17.2-2-51-6 (w-1, nb-1), Panesar 26-11-47-0, Root 1-0-6-0.
New Zealand (2nd innings):
Fulton not out 41
H. Rutherford c Bell b Panesar 15
K. Williamson not out 16
Extras: (w-5) 5
Total: (for one wicket, 33 overs) 77
Fall of wickets: 1-25
Bowling: Anderson 5-1-15-0, Broad 7-2-14-0 (w-1), Finn 7-1-30-0, Panesar 12-8-13-1, Trott 2-0-5-0.