New Zealand will stick with the same team that drew the first Test against England and are likely to ask the tourists to bat in the second Test if they win the toss, captain Brendon McCullum said on Wednesday.
"I don't think New Zealand pitches break up a great deal and if there is any advantage it's on day one," McCullum said on a sun-drenched Wellington day. "I think that's probably a trend with New Zealand pitches at the moment.
"We've seen some huge runs scored domestically, even on wickets that are four, five, or even six matches old.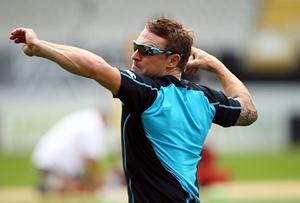 "I wouldn't expect this one to break up a great deal. Then again if you cop a decent swinging day, then you can knock the top off reasonably quickly."
McCullum's reasoning is based on the Basin Reserve wicket likely to offer a bit more bounce than they experienced in the drawn first Test in University Oval.
By bowling first he would take the ball out of the hands of James Anderson and Steven Finn in favourable conditions.
Both were particularly impressive in the limited overs series last month when they bowled back of a length and restricted New Zealand's attacking shots.
"The thing about the Basin is that you can go a whole session where you keep beating the bat and don't pick up a wicket and then very quickly you can pick up five or six in a session.
"You try to gain some ascendancy early in the Test match, hence why I'm looking at bowling first."
Should McCullum win the toss against Alastair Cook on Thursday and choose to bowl, the onus will fall on his young pace trio who bowled 114 of New Zealand's 170 overs in England's second innings of 421 for six in Dunedin.
None had a particularly heavy workload at training over the past three days, McCullum said, though he doubted they would need much motivation should they be required first thing on Thursday.
"It was a little bit of a concern, knowing the volume of overs they were getting through in that last day," he said.
"When you're bowling for a Test win you pull out all stops and those guys, I couldn't get the ball out of their hands to be honest.
"I was concerned about them on that last day, how they'd pull up, but the last three days they've rested up and all three are champing at the bit for another crack with the ball."
New Zealand did surprise England in Dunedin, bowling them out for 167 in the first innings then applying themselves on a pitch that got progressively better to score 460 for nine.
While the visitors batted themselves into a position of safety by the final session of day five, McCullum was ruing the loss of the entire first day and the final session of the third day due to rain.
"I think we were close the other day. Obviously we got 16 and we lost that day at the start of the test match as well," McCullum said.
"If we'd seen that extra day, we may have been able to pick up those few extra wickets in the morning and given ourselves a red-hot crack at it with the bat later in the day.
"We could have chased 240, 220 on that last day and it would have been a great Test match.
"The challenge for us now is how we back that up and how we do it consistently. Not just this Test match but the ones to follow as well."
Photograph: Phil Walter/Getty Images