The Supreme Court has accepted the Lodha Committee's recommendation on age-cap of 70 years for office-bearers of the BCCI.
Former BCCI president Sharad Pawar is 75 years of age and heads the Mumbai Cricket Association.
Tamil Nadu strongman and former BCCI president Narayanswami Srinivasan is 71 and heads the Tamil Nadu Cricket Association.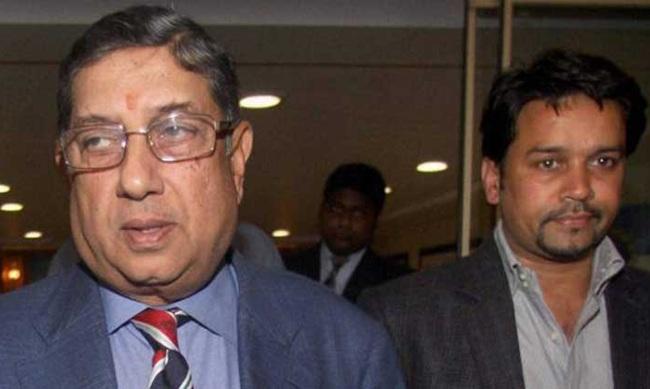 IMAGE: Narayanaswami Srinivasan, left, and BCCI president Anurag Thakur. Photograph: PTI
The Supreme Court's verdict, accepting the Lodha Committee's recommendations on age-cap of 70 years for office-bearers of the Board of Control for Cricket in India, effectively means the end of the road for veteran administrators like Sharad Pawar, Narayanswami Srinivasan and Niranjan Shah, to name a few.
The verdict, as per recommendations, will also mean BCCI president Anurag Thakur (Himachal Pradesh), secretary Ajay Shirke (Maharashtra), treasurer Aniruddh Chaudhary (Haryana) and joint-secretary Amitabh Chaudhary (Jharkhand) will have to give up office in their respective state associations to avoid 'conflict of interest'.
The Board has been given six months' time to implement the recommendations.
While former BCCI president Pawar is 75 years of age, Tamil Nadu strongman Srinivasan is currently 71. Both are presidents of their respective state associations, Mumbai Cricket Association and Tamil Nadu Cricket Association respectively.
Saurashtra Cricket Association supremo Shah, who has served the BCCI for over three decades in various capacities, like as secretary, joint-secretary, treasurer and vice-president, is 72.'
He admitted that he is "disappointed" but has to "respect" the apex court's order.
"Yes, I am very disappointed but this is the verdict of the apex court of the country, which will have to respect," Shah told PTI.
Shah, however, feels that it will at least take another 18 months to fully implement the Supreme Court's verdict.
"The BCCI will have to first implement it at their end and then the state associations will have to also implement the same. In my understanding it will take another 18 months to put everything in order as per Lodha Committee recommendations," Shah observed.
He was, however, non-committal when asked as to who would replace him in the Saurashtra Cricket Association, association where it was a virtual 'one-man show' for over three-and-a-half decades.
"My members had given mandate to work for the betterment of cricket in the region. Saurashtra has one of the best international stadiums right now. We would be hosting a Test match and we have ODIs, and T20s. We have also successfully hosted the IPL," Shah added.
The one state one vote rule will also hit MCA hard as now it will have to play musical chairs with other BCCI affiliates within the state -- Mumbai-based Cricket Club of India, Maharashtra Cricket Association and the Vidarbha CA.
The bar on ministers and civil servants could also rule out quite a few current MCA Managing Committee members who are employed with the departments of Customs and Police,
according to an MCA source.
"We need clarity on these issues. MCA's regular monthly meeting has already been scheduled for July 24 and on that day we expect that a date for another meeting will be
finalised to discuss the ramifications of the SC verdict," a source explained.